10 questions with 'Away with the penguins' author Hazel Prior
It's not difficult to see where author Hazel Prior got the inspiration for her first book 'Ellie and the harp maker'
Published 13th Nov 2020, 12:30 BST

- 5 min read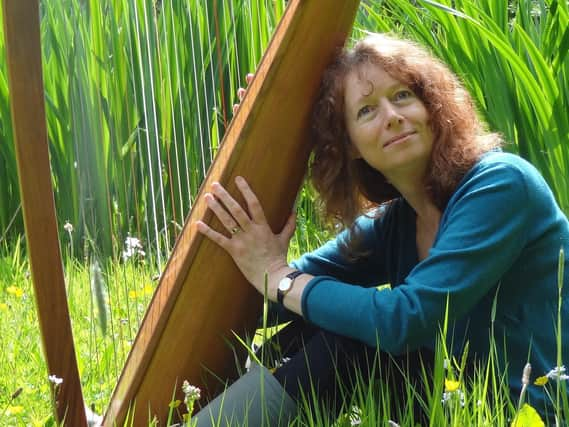 Based in Exmoor, England, where she lives with her husband and huge ginger cat Purrsy, she fell in love with the harp as a student and performs regularly. As well as performing as a soloist, Hazel sings with a cappella vocal quartet 'The Hummingbirds' and plays in Foxwillow Trio. Her short stories have been published in literary magazines and she has won numerous writing competitions in the UK. Her latest book 'Away with the penguins' is out now and published by Penguin, obviously..
1.What's your name and where do you come from?
My Name is Hazel Prior. My home is on Exmoor but I've lived in lots of different places: The Welsh Borders, Bath, Dorset, Edinburgh and Italy. I was born in Oxford, my mother was from Yorkshire and my father was from Sussex. I have a little Scottish blood too, which is maybe why I was drawn to the Celtic harp.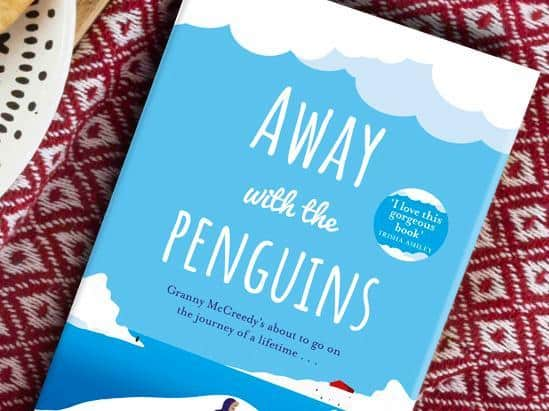 2.Do you write fact or fiction and in what genre?
I write fiction and have so far had two novels published. I am slightly allergic to the idea of genre and I don't feel they fit neatly into any category, although they have both been described as 'Book Club'. There are underlying issues to discuss (ageing, war, teenage pregnancy, drugs, psychological abuse, autism and environmental concerns) but I don't let the story get bogged down in these. I know how many people turn to books during tough times so I try to create an uplifting read. My novels are character-led. While Ellie And The Harp Maker, my debut, is a sort of quirky romance (with lots about music and nature as well), Away With The Penguins is an adventure about a feisty eighty-five year old and her trip to Antarctica to meet the penguins – place it in whatever genre you will!
3.Are you traditionally or self-published and which route do you consider best?
I'm traditionally published, a fact which I still find hard to believe. I've never tried to self- publish so I don't know that much about it. While I like the thought of having control over the production of my books (particularly choosing my cover design!) I shudder at the idea of doing all the publicity and marketing myself. Being traditionally published means I have a team of experts working on my book, making sure I don't make giant, cringe-worthy mistakes, and it also gives me more time for the actual writing. So for me trad publishing is the right route, but I have huge respect for self-published writers. I think it just depends on your vision for your books and how you want to spend your time.
4.What's your work schedule like when you are writing?
It keeps changing! While I know most writers are disciplined in keeping up a certain word count or a set number of hours every day, I don't seem capable of this. I spend a long time mulling over my characters and plot, hinking. I especially think while I'm out walking, which seems to help the ideas flow. When I've finally got enough of them, I scribble. This can happen for any number of hours at any time of day, and it often goes in spurts. I'm incredibly focused once I'm 'in the zone.' For Ellie And The Harp Maker I scribbled the first draft over two months from beginning to end, mostly while sitting in the fields. For Away With The Penguins I scribbled some chapters, typed others, looped the loop a bit and edited as I went along. This was also interspersed with vast amounts of research. But with both the books I gathered pace and upped my daily writing hours as I went on.
5.What advice would you give to budding writers?
Writing comes from a love of reading. I think that anyone who reads a lot is off to a good start because they will have absorbed so many different styles and approaches. I'd recommend writing short stories first rather than plunging straight into a novel. You learn a lot about plot arcs and characterisation, and you can actually finish something. Don't be
afraid to send your stories out to magazines and competitions and, if they're unsuccessful, take another look, tweak them and send them out to more. Welcome any feedback you can get. Get used to rejection but celebrate every success. It's far more difficult than people realise and the amount of competition is ridiculous. When you do tackle the marathon of novel-writing, don't rush it. Keep working on your characters and let them drive the plot. Spend time on the ideas stage and on the rewriting and
editing stage. Far too many books never make it to publication merely because they are sent out too soon, when they're not yet ready. So be patient. Write the book you'd love to read. And above all, enjoy it!
6.Who/what are YOUR favourite authors/books?
I love Jane Austen for her astute character observations and Thomas Hardy for his settings and descriptions. More contemporary writers I admire are Nick Hornby, Joanne Harris, Sue Monk Kid, David Nicholls, Rose Tremain and Maggie O'Farrell. I particularly love Rose Tremain's Music And Silence and the recent stunning Hamnet from Maggie O' Farrell. I'm a fan of historical novels too, particularly Philippa Gregory and CJ Sansom.
7.Are you a plotter or a pantster? (i.e. do you plan out your work or fly by the seat of your pants?)
Naturally I'm a pantster, but I've come to realise it's helpful to have a vague idea where you're going or you can waste a lot of precious time and get in a real structural pickle. If truth be told, I hate planning. I get a nervous twitch when I see photos on social media of meticulously ordered post-it notes and plotting boards. For the novel I'm working on now, I'm writing as the scenes come to me, which is pretty random. I did force myself to make a
chapter-by-chapter plan but I can't stick to it because I keep getting more (hopefully better) ideas as I go along. I know how the story will end, but I don't quite know how I'll get there. I'm looking forward to finding out!
Deadlines. Coffee. Chocolate. Quiet. Headspace. Painkillers. Fresh Air. Loving my characters. Getting enough sleep. Having my computer the right height. A good light. A pen and paper. Being surrounded by books. My cat, Purrsy; he can be distractingly cute but his presence is also calming and strangely helpful.
9.How long did it take you to write your book/books?
Ellie And The Harp Maker, as a debut novel, didn't take long to write but took oh so long to rewrite, with many incarnations. I edited it according to the suggestions of two different agents even before it reached my official editor at Transworld (Penguin Random House). Then I had to wait a further twenty months before it was published. Away With The Penguins was much quicker, just over a year including everything. I'm hoping to write a book a year from now on.
10 .Where can we find your books?
I'd urge you to buy them from your local independent bookshop, who will particularly need your support at this time. You can also find them in Waterstones, on Amazon and, if you're lucky, you might find a bargain paperback of Ellie And The Harp Maker in Tesco while you're shopping for hand gel.