A Girl Made of Air by Nydia Hetherington: A perfect balancing act of action, drama, words and ideas - book review -
An urchin girl who grew up to be the world's best tightrope walker has become a legendary figure in circus history.
Published 16th Sep 2020, 12:30 BST

- 3 min read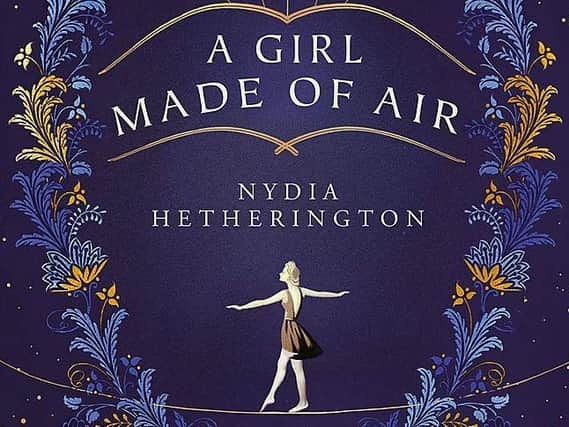 An urchin girl who grew up to be the world's best tightrope walker has become a legendary figure in circus history…
But the meteoric rise of the 'Greatest Funambulist Who Ever Lived,' from decaying, post-war Big Top to the dizzy heights of a Broadway stage, has secretly been overshadowed by the disappearance of a circus child several decades ago.
And until the mystery is solved, the international star will never find the redemption that means more to her than fame and fortune.
If the arrival of autumn has lowered your spirits, escape on a magical mystery tour of fantasy and folklore, heartbreak and high wires as Merseyside-born Nydia Hetherington unleashes her atmospheric and spellbinding debut novel.
But be warned… this lyrically told and richly imagined tale of sequins and sawdust also takes readers to some of the darkest corners of humanity, a place where magic and myth jostle with cruelty and earthy reality.
Born into a circus family, the little girl with no name is unwanted and unloved. Her exotic mother is star of the show, the Great Marina, a woman who nightly dives into a tank and fearlessly swims with crocodiles.
Circus legend says that Marina was a mermaid who was pulled from the sea by Italian ringmaster Flavio Fausto and taught to do tricks by French animal trainer, Manu, who is also the child's father.
Merely 'an inconvenience' to her parents, the neglected girl grows up withdrawn from the physical world and locked inside her own mind, where she is 'a spirit, a girl made of air and clouds' rather than the harsh reality of 'a snivelling infant who cowered in corners.'
But her life is transformed by the arrival of performer Serendipity Wilson who dazzles with her extraordinary hair like 'a shining orange beacon,' her 'heart full of hope' and her desire to love and care for the girl she calls Mouse.
And on the day her mentor takes her hand, kisses her, and pushes her up a ladder and on to the high wire, Mouse takes her first faltering steps on the road to becoming a daring funambulist.
And it's at these lofty heights, where she performs without nets or ropes, that Mouse discovers that she feels protected, like 'a thing born of air, no longer bound to the filth of the earth like the rest.'
But many years later, and now a world famous tightrope artist whose career has taken her from her roots in England to sideshows in America's Coney Island and Broadway cabaret shows, Mouse is still haunted by the child who went missing and was never found.
Finally, she is willing to make her story public, but will it be enough to track down the vital missing link in her life?
Hetherington, who spent her early years on the Isle of Man and went on to build her own theatre company in Paris, harnesses her creativity with some fascinating Manx myths in this poignant and cleverly conjured box of worldly illusions and painful disillusionments.
Using letters, diaries, interviews and newspaper reports, Mouse's remarkable life story unfolds like a series of dramatic circus tableaux, from her tortured childhood hiding in the dirt under trailers to the salvation she finds in Serendipity Wilson's loving arms and heart, and her onward trail to Coney Island and the bright lights of New York.
Stars of the show are the brilliantly drawn eclectic cast of characters, each playing a pivotal role in a story whose vivid imagery, hidden secrets, and air of melancholic remembrance are as much a key to the journey as solving the mystery of the missing child.
Because this is essentially an exploration of relationships – particularly female relationships – the power of memory, and the effects of trauma, all set against the contrasting ethereal otherness and gritty hardships of circus life.
A Girl Made of Air is a work of art, itself a perfect balancing act of action, drama, words and ideas from an author who would seem to have the circus deep within her soul.
(Quercus, hardback, £14.99)