Blunt Force by Lynda La Plante: Compelling new murder mystery - book review -
Kicked out of the Met's fast and furious Flying Squad for an unforgivable transgression, Detective Sergeant Jane Tennison has been relegated to solving petty pilfering in leafy, upmarket Knightsbridge.
By Pam Norfolk
Published 16th Sep 2020, 12:30 BST- 3 min read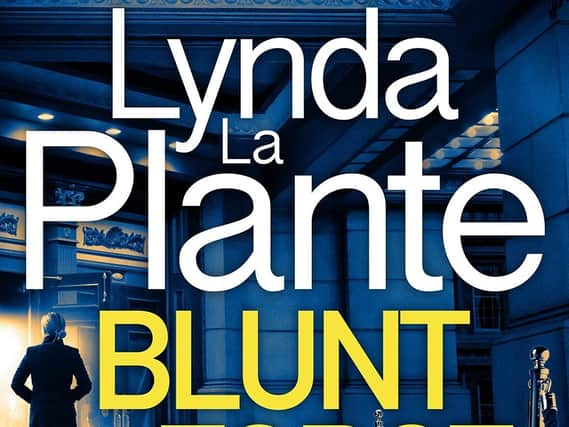 Kicked out of the Met's fast and furious Flying Squad for an unforgivable transgression, Detective Sergeant Jane Tennison has been relegated to solving petty pilfering in leafy, upmarket Knightsbridge.
But when the brutally butchered body of a big-time showbusiness agent is found in his luxurious apartment, the ambitious young detective is determined to prove that she is streets ahead of her male colleagues when it comes to cracking crime.
Lynda La Plante's gripping series charting the legendary detective chief inspector of the award-winning Nineties TV series, Prime Suspect, making her way in a man's world long before she hit our screens, has been garnering new readers and accolades.
And there could be no better time to join Tennison than in this compelling new murder mystery as she heads off to the dark side of London's theatreland on the trail of a brutal killer.
Blunt Force is the sixth book featuring the iconic detective's early years in the police force and while it can easily be read as a standalone, it would be a shame to miss all the retro fun when you can enjoy Tennison's career from day one by reading this nostalgia-packed series in sequence.
La Plante, the Liverpudlian who became one of the UK's most famous crime queens, is something of a legend herself and the past few years have seen her busier than ever with the launch of Steve McQueen's movie, Widows, based on her original thrilling 1980s ITV crime series, and the publication of another Widows book, She's Out, and Buried, first book of an exciting new Widows spin-off series.
But nowhere is this talented author and screenwriter more at home than in the company of her much-loved creation, Jane Tennison, as we reel back time to join the tenacious detective still finding her feet in the tough, male-dominated world of 1980s London policing.
Things can't get much worse for detective Tennison. Feeling blue after turning thirty, and sidelined by the Flying Squad, she has been relegated to Gerald Road, a small and sleepy police station in the heart of London's affluent Knightsbridge.
With only petty crime, like shoplifting and drunk and disorderly offences, to sink her teeth into, Tennison feels her experience is being wasted and her career slowly flatlining. But everything changes with the discovery of a brutal murder. Well-known showbiz agent Charlie Foxley has been found viciously beaten to death at his exclusive apartment. His head has almost been severed, and his body dismembered and disembowelled.
With a substantial list of actors on his cards, Foxley had a lot of powerful friends, but it turns out he had even more enemies, and an actress ex-wife whose repertoire includes histrionics.
Reunited with her old friend DS Spencer Gibbs, a lanky six-footer with a penchant for rock music and motorbikes, Tennison must journey into the salacious world of West End showbusiness to find a ruthless killer before they strike again…
Each story in this cracking early Tennison series opens a window on to Jane's faltering, fascinating rise from uncertain raw rookie to the hard-headed and totally assured chief inspector who ran her police team with a sharp brain and an iron fist in Prime Suspect.
Instead of allowing her unceremonious departure from the Flying Squad to dent her confidence and ambitions, Jane sets out to prove to her macho male team members that her inbuilt female wisdom and acumen can outwork and outwit them all.
And this complex case – with its dark, and timely, undertones of abuse, excess, sexual exploitation and drug addiction – is a test on every level for Jane and the murder squad.
As always, La Plante's stunning police procedural and richly detailed character portrayal are the best in the business, and her fine line in sardonic humour and no-nonsense Eighties-style policing are the icing on this delicious slice of top-notch crime writing.
Don't miss the exhilarating ride!
(Zaffre, hardback, £18.99)