Flappy Entertains by Santa Montefiore: Packed with wickedly funny insights - book review -
Snobbery is a human trait not universally admired… but that's probably because most people haven't yet encountered the unique and irrepressible Flappy Scott-Booth.
Published 9th Mar 2021, 12:30 BST

- 3 min read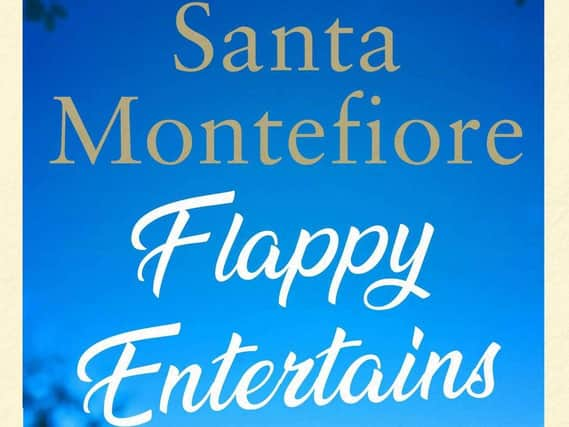 If your search for an uplifting Mother's Day gift has so far been fruitless then treat mum to a trip to Devon… and let the reigning queen bee of picturesque Badley Compton provide some right royal, laugh-out-loud entertainment.
Readers of bestselling author Santa Montefiore's enchanting 2019 novel, The Temptation of Gracie, will already have met the charismatic Flappy – a brilliantly imagined cross between Hyacinth Bouquet and The Good Life's Margo Leadbetter – and will certainly be relishing the bit part player's return, this time at centre stage.
And it's thanks to last year's long days of lockdown, and Montefiore's determination to cheer up both herself and her readers, that fabulous Flappy has been given her chance to shine again in a witty and wonderful tale of manners, mores, rivalries, and a newly awakened passion that will blow the lid off our heroine's hitherto busy but essentially mundane existence.
By her own estimation, sixty-something Flappy Scott-Booth of Darnley Manor is still a strikingly good looking woman… her cheekbones are high, her chin is strong, her skin is flawless, and her perfectly coiffured and coloured hair is cut in a 'precise' bob.
And, of course, Flappy leads a terribly busy life, running her luxurious home with its endless lawns and gardens, organising garden parties, teas, dinners, fancy dress parades, church meetings and, most notably, her popular weekly book club… and all the time, surrounded by friends who hang on to her every word.
Meanwhile, Flappy's husband Kenneth, a 'boy from the wrong side of the tracks' who built an empire of fast food restaurants and then sold it for millions of pounds, was told when Flappy reached fifty that sex (always considered by her to be 'bestial') was now off limits for him and that he should put 'any excess energy' into golf.
So now Kenneth happily spends his days on the golf course and pays the bills while Flappy concentrates on living her impossibly perfect life… until the day that Hedda Harvey-Smith and her husband Charles move into Badley Compton.
In fact, they move into Compton Court, an even grander home than Darnley Manor, and take the front seat on the social scene… which simply will not do. But before Flappy can show Hedda that there is a hierarchy in this town, she looks into the beautiful green eyes of the breathtakingly handsome Charles Harvey-Smith and finds her focus is suddenly elsewhere.
She's only human, after all… the 'white tiger' Charles has 'awakened the beast within' and Badley Compton had better beware because Flappy is a new woman!
Montefiore knows how to please her army of fans and Flappy Entertains is a party from start to finish as our impeccable and definitely not impecunious 'hostess with the mostest' works her ineffable grace, beauty and perfectly cultivated charm on the long-suffering residents of Badley Compton.
From her spectacular home and its immaculately manicured lawns to her stylish wardrobe and a strictly expensive beauty regime, the thoroughly lovable Flappy likes to think of both herself and her life as well, unflappable… until she falls head over heels for the handsome adonis Charles Harvey-Smith.
And when you have built your reputation so high, and become so ultra-competitive (even if it is in the nicest way possible!) there is always the potential for a very long fall ahead.
Packed with wickedly funny insights and throwaway lines, and written with an extra-large helping of heart, this is the perfect escape for anyone in need of a book hug!
(Simon & Schuster, hardback, £12.99)