Scar Tissue by Ollie Ollerton:  Twisting, turning and a brutal journey - book review -
Battle-hardened war veteran and ex-Special Forces soldier Alex Abbott left the Middle East under a cloud and now he has a new foe to conquer… the booze.
Published 23rd Nov 2020, 12:30 BST

- 3 min read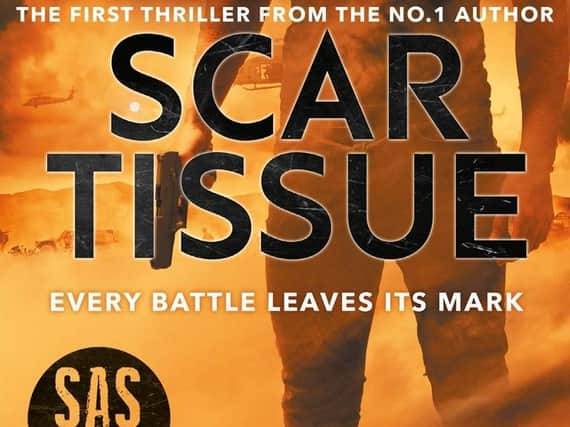 Welcome to the dangerous world of mercenaries, murderous villains and a flawed and fascinating hero in the first explosive adventure in a debut thriller series from Ollie Ollerton, the former Royal Marine Commando and Special Boat Service team leader who magically morphed into the bestselling author of Break Point and Battle Ready.
Ollerton, who was also one of the founding Directing Staff on Channel 4's hit show SAS: Who Dares Wins, reveals he is using his post-military life to help others and, tired of reading about 'heroes who never put a foot wrong,' he brings us instead an all-too-human guy that we can all relate to.
So meet the formidable Alex Abbott, a troubled veteran of war zones who is estranged from his family, making a living as a hired gun, and is far from perfect. A once-promising student, he drinks too much, can't hold together relationships with women, and makes big mistakes, but he's also a man with heart and decency, always ready to risk his life for those he loves and make sure that justice is done.
With years of service in the Middle East behind him, Abbott is still living with the haunting memories of his experiences there and existing hand-to-mouth in Singapore. He scrapes by as a gun for hire but out of touch with his family, including his teenage son Nathan, Abbott drinks to dull the pain and 'take a holiday' from himself.
It's a tough way to earn a living but there is one upside… at least he's not in Baghdad any more. But that is about to change. When a job goes badly wrong, Abbott lands in hot water with dangerous men.
Next he learns that his soldier son, Nathan, is missing in Iraq. Abbott fell out with Nathan when he learned the boy was joining the army against his wishes but knowing instinctively something is wrong and needing to find his son and desperate for redemption, Abbott has no choice but to go back.
On his return to Iraq, Abbott begins searching for Nathan and meets up again with old military acquaintances who are cleaning up in the 'security game' and cashing in on the 'spoils of war.'
Abbott gets a job as a security consultant for a convoy to Baghdad but there's danger ahead and the body count rises as old wounds open up and he struggles to confront his demons. His answer is to self-medicate with booze… it's the only way he knows how.
But when one of his old crew turns up dead in mysterious circumstances and the link with Nathan is clear, Abbott begins to suspect a trap. Who is the hunter and who is the hunted?
Ollerton sets off at breakneck speed in this adrenalin-fuelled and terrifyingly authentic trip to some of the darkest corners of the world and, in true commando style, he holds us prisoner in his powerful grip right through to the brilliant, and unexpected, cliffhanger finale.
At the heart of this twisting, turning and often brutal journey is the unforgettable, complex and compelling Alex, haunted by his past, fighting – and too often losing – his battle with the demon drink, and filled with the kind of fears and insecurities not often associated with tough-nut military men.
With an addictive brand of dark humour to leaven the guns and gore, a broken hero who is always only ever a step away from the grave, and a plot as tightly wound as a coiled spring, Scar Tissue is a cracking start to what promises to be the new go-to series for adrenalin junkies.
(Blink Publishing, hardback, £14.99)