A walk on the wild side with Little Tiger books - by various authors - book reviews -
Independent publisher Little Tiger Press has gone totally wild this autumn with a super, seasonal selection of books that take children on a verbal and visual journey through the wonders of the natural world.
Tuesday, 29th September 2020, 12:30 pm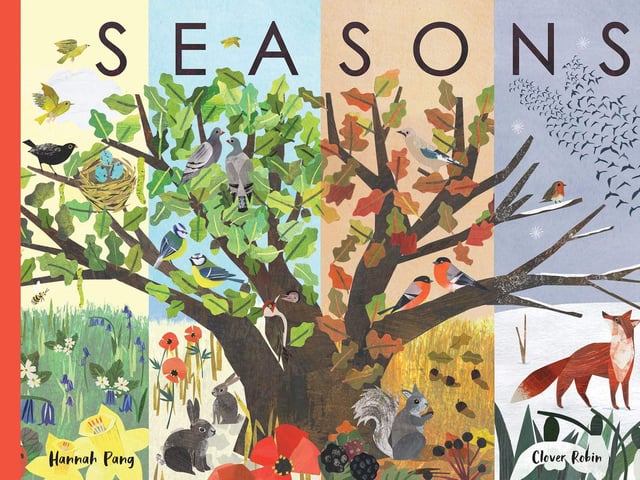 Seasons
Hannah Pang and Clover Robin
Watch breathtaking landscapes from around the world transform in front of your eyes in this beautifully illustrated and dramatic book.
Author Hannah Pang and illustrator Clover Robin work their magic on this fabulous, eye-catching adventure which features six very different landscapes to demonstrate that nature is like a picture that changes with the seasons.
Packed with facts and intriguing, multi-layered pages that let youngsters see the same scene across all four seasons, and all brought to life with Robin's spectacular, richly detailed illustrations, Seasons has been specially created for nature lovers young and old.
A mighty European oak stands lush and green in summer but leafless in winter. The Arctic transforms from midnight sun to midday darkness, while the rivers of Alaska flow wildly until freezing solid in winter.
An Australian mangrove teems with land animals one season, and fish the next. In China's Yellow Dragon Valley, the colours change from white to green and gold, and on the plains of the Kenyan Maasai Mara, battles of life and death are fought and won in seasons wet and dry.
Youngsters will love seeing the seasons bring drama across the globe, and with simple facts about the wildlife and plants that are constantly changing, this is the perfect book to make learning both fun and visual.
(Little Tiger, hardback, £12.99)
Emily Hibbs and Erin Brown
As autumn casts its colours over the trees, discover some of the amazing animals who make their homes deep inside the forest.
Author Emily Hibbs and illustrator Erin Brown combine their talents for this stunning, hardback collection of twenty original tales set amidst the natural world and the changing seasons.
Perfect as a special gift for all ages, or to share with younger children, Tales From the Forest comes packed with warm, engaging storytelling, with each woodland tale perfectly paced for a bedtime read.
The forest is full of life as the seasons change. Climb trees with Bear Cub, explore the night skies with Firefly, stay cosy underground with Mole, and discover the fun of snowflakes with Fox!
Hibbs' enchanting stories are woven around fascinating facts about the natural world and animals as they share adventures and dramas while the Earth moves inexorably through the seasons.
To complement the tales, Brown's striking illustrations are a riot of changing colours, each reflecting seasonal tones and bringing to vivid life the myriad creatures which need the rain, sun and products of the natural world to live and thrive.
And when the stories have finished, youngsters can turn to the back of the book to learn more facts about the amazing creatures they have met along the way.
(Little Tiger, hardback, £12.99)
Sounds of the Wild: Discover incredible island animals
Moira Butterfield and Stephanie Fizer Coleman
Step into the pages of this stunning book and hear the most amazing island-dwelling animals on the planet!
This stunningly illustrated sound book features the mighty tiger roaring in the jungle, the lemur's call as it swings through the trees and the haunting song of a humpback whale echoing through the waves.
There are six truly wild sounds to marvel at as you journey through a host of fascinating wildlife facts and fabulous illustrations. Press the sound symbols on every page spread and hear the mighty bald eagle calling from the sky, an ostrich booming in the Serengeti, a tawny owl hooting in the silent night, and a Chinese nightingale chirping in the mountain trees.
Packed with exciting discoveries, unforgettable animal calls, a map of the world to put each creature in focus, and Stephanie Fizer Coleman's richly coloured and detailed illustrations, this innovative and creative book is the perfect gift for young explorers.
(Little Tiger, hardback, £14.99)
Home: where our story begins
Patricia Hegarty and Britta Teckentrup
There's no place like home!
See nature in its many shapes and guises in this enchanting picture book journey across the world to discover some of the fascinating places where animals make their homes.
A beautiful rhyming text from Patricia Hegarty and the spectacular illustrations of award-winning artist Britta Teckentrup add extra magic to the voyage of discovery as little ones learn about migration, hibernation and all the wonders of the natural world.
'Wherever we may choose to roam, We need a place to call our home.' Follow a little bear as he discovers a host of animal homes… squirrels lining their drey with leaves, beavers building a home from sticks, and rabbits keeping their warrens warm and dry.
With exciting, peep-through pages, teeming with birds and animals as they work by day and night, and packed with Teckentrup's emotive illustrations, this is a picture book to enchant both children and adults.
(Little Tiger, hardback, £12.99)
Patricia Hegarty and Teresa Bellón
Get your little mischief makers off to sleep with this brilliant, catchy tale of a yawn that wouldn't stop growing!
They say that yawns are catching… but is that really true? It started with a yawn that came out of the blue and before one little boy can stop it, his yawn has spread to the dog, the cat, everybody in the family, the cows, the sheep, the mountain tops, the ocean liners, the North Pole… and even outer space!
Patricia Hegary is on her best rhyming form as one little yawn starts to spread and grow, while artist Teresa Bellón takes us on a pictorial adventure to all corners of the big, wide, yawning world.
From animals to astronauts, everyone's yawning! Can you resist the urge?
Everyone will be yawning when they reach the end of this super soporific story…. zzzz!
(Little Tiger, hardback, £11.99)
Nicky Benson and Thomas Elliott
Lull your little one into the land of dreams with a soothing, slumbersome board book that was just made for bedtime.
Time for bed, little deer, Quiet sounds and mind… Settle down, snuggled near, Dreams are what you'll find.
Nicky Benson's gentle, lyrical rhymes combined with Thomas Elliott's exquisite illustrations of baby animals settling down to sleep with their parents, and lots of intriguing, peep-through pages make this the perfect, wind-down book for tired babies and toddlers.
(Little Tiger, board book, £6.99)
Patricia Hegarty and Britta Teckentrup
Light up the night sky with a beautiful board book from award-winning illustrator Britta Teckentrup.
In a stunningly atmospheric peep-through book, Teckentrup and author Patricia Hegarty take little readers on a journey into the shadowy night-time world as we celebrate one of nature's wonders… the moon.
Have you ever wondered why the moon shines in the night-time sky? Turn the dusky-coloured pages to reveal the moon changing shape as it goes through the lunar cycle. As the moon waxes and wanes above, the world below is full of busy night-time creatures. From turtles laying their eggs on sandy beaches, to migrating birds using the moon to navigate their way to sunnier climes and puffins shivering under the glow of the Northern lights, this is a magical way to learn about the moon and its many phases.
Teckentrup is one of the most innovative contemporary picture book artists. Her intricate collage style is strikingly original and here she brings the nocturnal world to life in all its glorious contrasting shades, lights and colours.
Hegarty's lyrical, rhyming text helps little ones to understand the moon's cycle while Teckentrup charts its amazing waxing and waning with peep-through holes, the glowing moon and her brilliantly appealing and expressive artwork.
The perfect way to shine a light on our amazing moon!
(Little Tiger, board book, £6.99)