Wild wonders, money talks and learning to fail by various authors – children's book reviews –
Travel back to the Sixties for a wild and wonderful animal adventure, find answers to all your questions about money, discover how failure can be the key to success, and go monster hunting with a gang of laugh-out-loud friends with a sparkling collection of New Year children's books.
By Pam Norfolk
Published 19th Jan 2023, 15:45 BST- 11 min read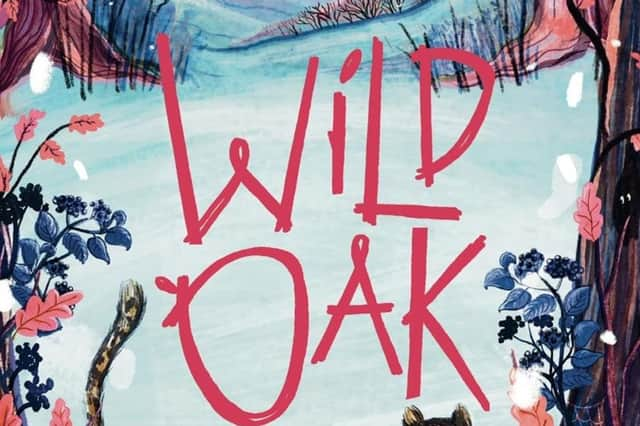 Inspired by watching a speech by Dr Alan Rabinowitz – an extraordinary big cat conservationist who grew up in the 1960s with a severe stutter but was able to speak freely to animals but not to humans – writer C.C. Harrington put pen to paper for an enthralling middle grade debut novel which has all the ingredients of a modern classic.
Wildoak, set in Cornwall during a snowy February in 1963, is a shimmering, simmering tale – packed with haunting and memorable atmospherics – and with an emotionally powerful animal/human relationship at its heart... a plot line based on the one time sale of wild animals like baby elephants, jaguars and leopards from stores such as Harrods in London.
Maggie's stutter makes going to school hard. She will do almost anything to avoid speaking in class... even if that leads to trouble. Sent to stay in the depths of Cornwall with a grandfather she barely knows, Maggie discovers an abandoned snow leopard hiding in the nearby woods. Rumpus was an 'exotic pet' from Harrods that proved too wild. Maggie and Rumpus build an understanding, but when the creature is spotted by others, danger follows. Can Maggie believe in herself enough to save the cub in time... and the ancient forest around them?
Told in the alternating voices of Maggie and the snow leopard cub, Wildoak shines a light on the delicate interconnectedness of the human, animal and natural worlds as the bond between troubled Maggie and abandoned cub is explored with compassion and insight.
A wild and wonderful story with a warm heart and a resonant message for a fragile and endangered world.
(Chicken House Books, paperback, £7.99)
Lift-the-Flap Questions and Answers about Money
Written by Lara Bryan in consultation with Bobby Seagull and illustrated by Marie-Eve Tremblay
Understanding money today is so much more than learning about notes and coins... so giving your youngsters an early lesson in finance is guaranteed to pay dividends.
Experts say that early learning about money is key to building good money habits, and Lift-the-Flap Questions and Answers about Money – the latest book in an illustrated, award-winning series from independent publisher Usborne – comes packed with practical advice and fun facts to help children discover just how money works.
Find out where money comes from, why we have to save, what happens if we click Buy Now, why there are so many different prices, why there are so many bills, what an interest rate is and what value for money means.
Simply bursting with answers to all those BIG money questions, from saving up to online safety and what things are really worth, youngsters will love finding answers to important money questions... and some fun ones too like how much does it cost to fly to space!
Written by Lara Bryan, alongside money management expert and ambassador for the charity National Numeracy Bobby Seagull, and combined with Marie-Eve Tremblay's gallery of colourful illustrations, Lift-the-Flap Questions and Answers about Money's clear, fun and digestible information and special format creates the perfect reading tool for your curious kids.
(Usborne, cased board book, £10.99)
Elizabeth Day and Kim Hankinson
You can't win all the time! That's the message that speaks loud and clear in bestselling author Elizabeth Day's new illustrated book which helps youngsters to turn failure into success. Billed as a handbook for when things go wrong, Failosophy is full of good advice and sound common sense, and is the ideal game-changing guide to being happier, healthier and succeeding better. Illustrated throughout by Kim Hankinson, Day's warm, practical and empowering wise words are based on her own experiences and the personal stories of guests on her award-winning podcast How To Fail. Pretty much all of us, she says, would like to feel happier, less anxious, more successful, and at ease with ourselves, and the key may surprise you... failure! Full of creative and inspiring advice on how to talk openly about failure, turn failure into success, build resilience for when life sends you curveballs, and reframe negative thoughts about yourself, Failosophy encourages teens to actually embrace failure and treat it is an opportunity to learn, grow and accept that you are an awesome human being. A book that can't fail to win hearts!
(Red Shed, paperback, £8.99)
All Four Quarters of the Moon
The uncertainties of new beginnings take centre stage in a beautiful, heartwarming novel from Shirley Marr, a first-generation Chinese-Australian author who describes herself as having a Western mind and an Eastern heart. Writing about 'the space in the middle where both worlds collide,' Marr bases her stories on her own personal experiences of migration and growing up. The Guos are a very traditional Chinese family and everything so far for 11-year-old Peijing (if she had to sum it up) was a string of small awkward experiences that she hoped would end soon. The night of the Mid-Autumn festival, making mooncakes with her grandmother, Ah-Ma, was the last time Peijing remembers her life being the same. Now facing leaving Singapore and moving to a new home in Australia, a new school and a new language, everything is different. Peijing thinks everything is going to turn out okay as long as they all have each other but cracks are starting to appear in the family. Biju, lovable but annoying, needs Peijing to be the dependable big sister. Ah-Ma keeps forgetting who she is, and her mum and dad, Ma Ma and Ba Ba, are no longer themselves. Peijing has no idea how she's supposed to cope with the uncertainties of her own world while shouldering the burden of everyone else. If her family are the four quarters of the mooncake, where does she even fit in? Questions of identity, the challenges and culture shock of migration, and the importance of family are all explored in this beautifully imagined and inspirational tale. Add on some fascinating Chinese mythology, and a warm and vibrant sense of sisterhood, and you have a reading treat for anyone struggling to find their place in the world.
(Usborne, paperback, £7.99)
Monster Hunting: Monsters Bite Back
Ian Mark and Louis Ghibault
If you like your fairy tales to be monstrously funny then dive into the second rollicking romp in Northern Irish author Ian Mark's brilliant all-action fantasy series. Mark's hilarious debut middle grade outing with Monster Hunting brought showers of accolades last year, and this new adventure packs in the same brand of outrageously silly antics and full-on fun entertainment. Promising to turn everything you thought you knew about monsters upside down, Monsters Bite Back stars the same misbehaving monsters and monster hunting team which won every young reader's heart. So meet Jack, his best friend Nancy and Stoop (a grumpy, 200-year-old monster hunter) as they head to Scotland following reports of some mysterious monsters causing chaos in an ancient abbey. And, who knows, maybe they will catch a glimpse of famous monster Nessie! But when they get there, they find some obstacles in their path... whether that's the fog goblins, disgruntled ghosts, some very odd loch monsters, and even a rival monster hunting agency. Oh, and there's also an ancient curse that spells the end of the world as we know it! A monster hunter's work is never done. Packed with Belgian illustrator Louis Ghibault's gloriously anarchic illustrations, this laugh-out-loud extravaganza is a delight from the collection of toothsome monsters hidden under the hardback dust cover to the warmth, fun, madness, mayhem and comedy that spills out from every page. You'd me monstrously mad to miss it!
(Farshore, hardback, £12.99)
Kate on the Case: The Headline Hoax
Fearless young reporter Kate is back for an action-packed new adventure and she's heading to the city for her biggest challenge yet! The third and final story in illustrator Hannah Peck's debut series as an author once again brings youngsters all the intrigue, excitement and colourful characters of an Agatha Christie classic. With its chapter book format, the Kate on the Case series is ideal for emerging independent readers and is brimming with mystery, comedy, an inspirational heroine, some wonderfully witty wordplay and, in this new adventure, a gallery of vibrant, two-toned neon-yellow illustrations. Kate is thrilled because she has received a VIP invitation to visit the headquarters of The Lookout Post newspaper to help her hero, top reporter Catherine Rodriguez. But Kate's dream-come-true begins to sour when she discovers that all is not as it should be at the newspaper. Someone has been tampering with the famous newspaper and smeared rubbish all over the stories... literally! Luckily Kate and her mouse friend Rupert are on hand to unravel the mystery. Will Kate be able to make the scoop of the century and prove herself as a Special Correspondent? It's going to take all the courage she's got to catch the culprit. Peck moves into creative overdrive for this cleverly plotted, sleuthing adventure which lets readers share the fun of following clues, picking out suspects and finally solving the case. Mystery, meddling, mayhem... and all before deadline!
(Piccadilly Press, paperback, £7.99)
Three Original Supertatos in One
Sue Hendra and Paul Linnet
Enjoy a tasty triple helping of Supertato… the most a-peeling veg in the supermarket! Always there when the chips are down, Supertato is a picture book superhero with his eyes firmly fixed on the bad guys and always ready to play out of his skin. His wacky, calorie-consuming adventures amongst fridges, friends and foes have been cooked up by award-winning duo Sue Hendra and Paul Linnet, and if you haven't already met this swashbuckling spud, then here's the chance to tuck into three Supertato adventures in one brilliant book. In Supertato, the first delicious story in the series, our supermarket superhero does battle with a very, very naughty pea who is on the loose and causing mayhem for the other veggies. Can Supertato defeat the evil pea? In Veggies in the Valley of Doom, a night-time game of hide-and-seek turns into an epic treasure hunt when Supertato and the veggies face fearsome foes, the impassable Cactus Canyon and the dangerous Valley of Doom. Will Evil Pea have the last laugh? And in Carnival Catastro-Pea, it's carnival time in the supermarket and Supertato and the veggies are busy preparing for the big day. It's set to be a wonderful celebration of colour and fun but Evil Pea is out to spoil the fun again! Can Supertato stop their colourful carnival turning into a catastro-pea?! Big, bold and bright illustrations help these funny, fast-moving vegetable adventures boil over as the spud with superpowers makes mincemeat of the perfidious Evil Pea. A serving of Supertato always leaves little ones hungry for more!
(Simon & Schuster, paperback, £9.99)
Frank and Bert: The One Where Bert Learns to Ride a Bike
With a good friend behind you, life is a downhill ride! Author and illustrator Chris Naylor-Ballesteros steals our hearts again with another freewheeling, fun-filled picture book featuring Frank and Bert, his stellar fox and bear double act. And this time, the dynamic duo are in the saddle for a celebration of the joys, rewards and strength that come from a true friendship. Frank the fox and Bert the bear are the best of friends. Bert is CERTAIN he can ride his bike as well as Frank, but he is very wobbly! And even when they both try riding Frank's bike, it still goes very wrong. Will the best friends make it all the way down from the big hill? Of course they will! All they need is a little bit of confidence and trust in each other. With its warm heart and infectious sense of fun, this enchanting story – brought to vibrant life by Naylor-Ballesteros' stunning illustrations with their eye-catching use of colour and visual humour – proves that friendship and caring keep the wheels of life turning. And with giggles guaranteed right through to the last page, and a free Stories Aloud QR code audio recording to enjoy, this is a ride your youngsters won't want to miss!
(Nosy Crow, paperback, £7.99)
I Really, Really Love You So
Karl Newson and Duncan Beedie
Everyone's favourite Bush Baby is back... and he's got a whole lot of love to share with his fans! Dynamic picture book duo – award-winning children's author Karl Newson and creative illustrator Duncan Beedie – work their special magic on this hilarious and heartwarming sequel to the bestselling I Really, Really Need a Wee. And the star performer once again is the cute and curious Bush Baby who delivers important life lessons and messages about parental love in the most comical and characterful way. So here is Bush Baby, he's back and he has something really, really important to say... but how?! From climbing a mountain and building a rocket to sailing a stormy sea and wrestling with crocodiles, Newson's enchanting story is packed with extreme and exciting ways to show a special someone that you love them. But sometimes the simplest way to show that you care (a big hug!) is the best way. Newson and Beedie give their imaginations free flow on this heartfelt and fun-filled rhyming romp that features a bold and vibrant gallery of artwork and has love written right through the centre of every page!
(Little Tiger Press, paperback, £7.99)
Eoin McLaughlin and Polly Dunbar
Every sleepyhead needs a goodnight kiss when it's time for bed! Bestselling Irish children's author Eoin McLaughlin and talented illustrator Polly Dunbar steal hearts and minds again with The Kiss, an exquisitely imagined and illustrated picture book with a clever flip-book format, and featuring a new star pairing, Tiger and Crocodile. With a quarter of a million copies sold in their outstanding Hedgehog & Friends series – all books that spoke loudly to youngsters during the worst of the pandemic lockdowns – this inspirational author and illustrator team are back with the same winning formula of subtle simplicity, gentle humour and tenderness. Tiger was feeling sleepy. As sleepy as sleepy can be... so sleepy only one thing could help. Crocodile was also feeling sleepy. As sleepy as sleepy can be... so sleepy only one thing could help. But the animals along the way don't seem very helpful. Perhaps it's those sharp little teeth that they can see when Tiger and Crocodile yawn. Then they see a sharp-toothed shadow... eek! But don't worry it's just Daddy Croc and Mummy Tiger, come to kiss their little ones goodnight! McLaughlin's super-snuggly bedtime story and Dunbar's enchanting and emotive illustrations provide the perfect celebration of blended families and kindred spirits. A beautiful bedtime story sealed with a kiss!
(Faber Children's Books, paperback, £7.99)
Madeleine Cook and Fiona Lee
Love conquers all in this warm and cosy picture book from children's author Madeleine Cook and creative illustrator Fiona Lee. In this beautifully imagined and uplifting exploration of the many ways we express love, young readers watch how children grow, see families immersed in their busy lives, but always finding time and many different ways to say 'I love you.' Love can be a word or a hug, it can be a shared experience or activity, being silly together, cheering when you try something new, or simply offering a helping hand and a friendly wave goodbye. Filled with warmth, cosy charm and family togetherness, this beautiful picture book speaks loudly to little ones about the different ways a cross-section of people express their feelings of love, and at the same time reinforcing the notion that love is the one thing we all have in common. A book of love to share and treasure.
(Oxford University Press, paperback, £7.99)