American sweet treats on sale at new Wigan eatery
Jess Doughty and her partner Leah Moore, from Springfield, have opened Double B's Bakehouse on Gidlow Lane.
Wednesday, 3rd March 2021, 7:00 am
The duo decided to start rustling up their versions of Stateside goodies sold by big city chains and bakeries shortly after moving to Wigan from Manchester and while they were furloughed from their jobs as teaching assistants.
The business was launched on Facebook as a delivery service and as word got around there were so many orders coming in that Jess and Leah realised they would need to move the operation from out of their house and into their own business premises.
They managed to find the right building for Double B's and are now sending out a delicious array of blondies, brownies, cheesecakes, pies and other American desserts and goodies as well as doing a takeaway service..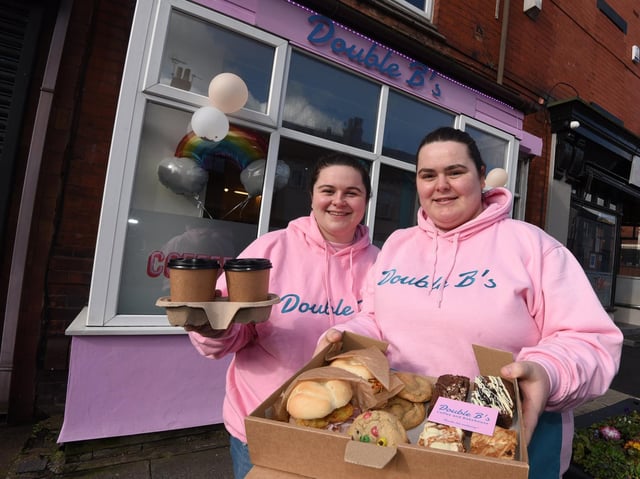 Jess Doughty and Leah Moore outside Double B's Bakehouse
They also have plans to welcome customers into Double B's Bakehouse when the current Covid-19 restrictions are relaxed.
Leah, 22, said: "We loved the bakehouses in Manchester so we just ran with the idea. We didn't have much money coming in on furlough and there wasn't much work.
"It's just grown and grown from there. We started on a Wednesday and by Thursday had orders coming in.
"We were getting so busy at the weekends that we realised we couldn't do it from home any longer. It just wasn't fair on our neighbours. We live on a little terraced street and it was just delivery driver after delivery driver.
"We got the place by chance, we were quite lucky. We had been looking for somewhere for quite a few months and were just driving down Gidlow Lane when we saw the little sign saying the shop was up for rent.
"The landlord was lovely and let us look round the day after. It's just the right size for us at the moment."
Leah says the pair's plan for Double B's is to allow people to sit outside from April if that is permitted and then as Covid-19 measures relax further to create a small, intimate indoor area with about 15 seats.
The bakehouse's array of brownies, blondies and bars include a range of ingredients to tickle the tastebuds, including chocolate bars and sweets popular both in Britain and the USA, marshmallows, cookies and more.
They are also creating a pie and cheesecake of the week along with bagels and American pancakes and eventually hope to run the premises as a coffee shop by day and a dessert bar by night.
Leah said running a business based on cooking from across the Atlantic is something of a dream come true for 24-year-old Jess, while Leah still wants to complete her studies at the University of Central Lancashire (UCLan) and work in the education sector alongside helping her partner.
She said: "This is Jess' dream, running her own business. She's also been to America a few times. I love American food too so we've brought our ideas together for it and it's working well.
"We wanted to bring that idea of the authentic American bakehouse to the North West, there's not much round here doing American sweet stuff."
To find out more, visit www.facebook.com/doublebsbakehouse
If you value what we do and are able to support us, a digital subscription is just £1 for your first month. Try us today by clicking here and viewing our offers