Collectables shop expands in Wigan town centre
The popular retailer of collectables and organiser of Comic Con events has expanded in Wigan town centre.
Friday, 20th March 2020, 9:44 am
Updated
Friday, 20th March 2020, 9:44 am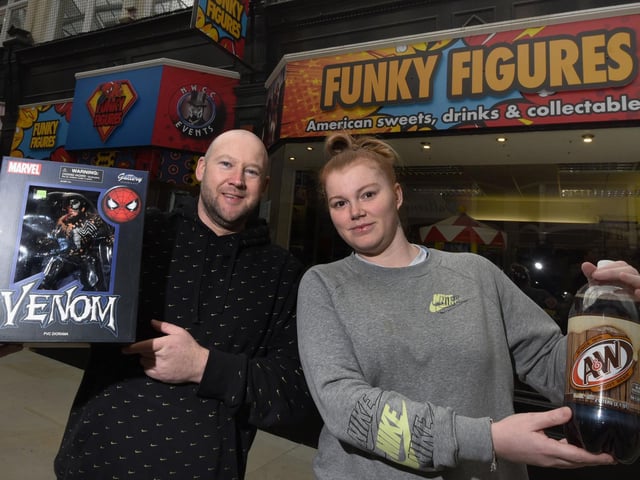 Paul Prescott and Shaunna Marsden outside the new double-fronted premises
Owned by Paul Prescott, the organiser of the hugely successful Guardians of the Galleries events, Funky Figures' new double-fronted premises in Makinson Arcade will enable the shop to increase significantly its stock.
The destination store, which is a firm favourite among anyone collecting TV and film related merchandise, is selling a wide range of Marvel and DC collectables, Neca collectable toys, Funko Pop vinyls, highly sought-after "vaulted" models, Anime-related collections and an increased range of American candy.
Mr Prescott who is an experienced retailer and owner of NWCC Events (who organises Comic Con events around the region) said: "There's a huge amount of enthusiasm and demand for the products we stock and so, following two years of trading in Makinson we have made the decision to move into a bigger and better unit.
"The additional space means we will be able to increase our range, adding new lines and expanding existing ones and customers will have much more space to browse."
The shop will also sell tickets to NWCC events, which can be found online.
Galleries centre manager Simon Tucker said: "We're delighted that Funky Figures has moved into a bigger unit. They have become a firm favourite in Makinson Arcade and have a great following, something that has been made evident by the huge turnouts at the Guardians of the Galleries events."
Funky Figures has been a fixture in Wigan town centre for years, but has moved around quite a bit, having previously had bases on Market Street and in Jaxon's Court.
The Galleries will be holding its next Guardian of the Galleries event on Easter Saturday April 11.