New cocktail bar aims to roll back the clock to 1920s
Punters will be able to take a step back in time when a Roaring Twenties cocktail bar opens on a borough high street.
Wednesday, 12th August 2020, 8:47 am
Updated
Wednesday, 12th August 2020, 9:02 am
Taking over the site of a former bookmakers in Market Street, Atherton, The Plaza will wind back the clock by a century to an art deco New York style bar, offering live and recorded music as well as cocktails aplenty.
The Plaza is a joint venture between Chris Tomlinson and Curtis Whitty - the latter bringing plenty of industry experience, having managed some of the area's most popular bars. Their aim with The Plaza is to add to a unique venue to the town's growing number of trendy bars.
"We want to add back to our town, a town we have been raised in and seen change over the years," said Curtis.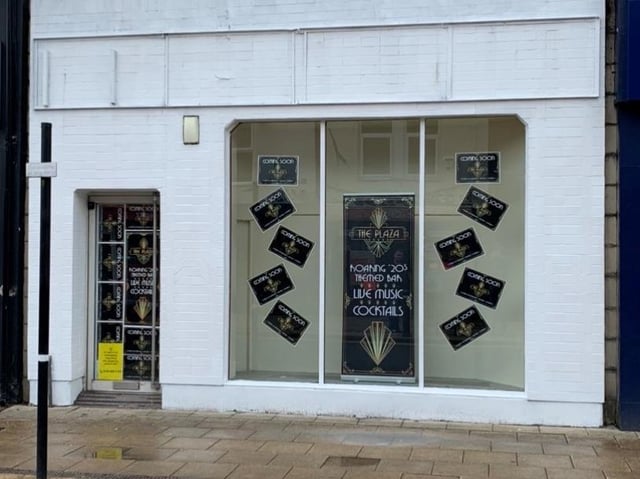 The Plaza, Atherton
"In recent years Atherton has seen an influx of out-of-town customers coming to visit our already-established food and beverage outlets, and we aim to add to the appeal. With the proposed location being centrally based, it will create a large amount of footfall for other local businesses, and also make way for new businesses to have the opportunity to open."
He added: "On the high street already in the last three years, we have seen an influx of new businesses opening, for example new hairdressers, bars and restaurants. But nothing has opened quite like us.
"While there are some cocktail bars on the high street at the moment, there is no bar that currently has our theme. For example we are looking to decorate the interior and exterior in a 1920s New York style hotel.
"This will be completed with staff uniforms being tailored to match the brief. We strongly believe that this will make us stand out from the crowd, while completing the other local establishments.
"Our main aim is to not take any customers from other bars but instead, by using very extensive out of town advertising and responsible promotions, bring people into the town, not just for our establishment but for the other local bars and eateries too."
And it seems Atherton residents are keen to back the new venture. 10 comments have been posted to the council's online planning portal, unanimously in favour of the development, with many saying The Plaza would be "a great addition" to the high street.
One resident said: "I think this Is a great idea and brings something new and exciting to the town, I support this 100 percent, I think this is what our town needs."
Another wrote: "This will be a welcome addition to Atherton, really innovative concept and something that would help boost the town and offer jobs at a time when it is most needed."
"It would be marvellous to see a new cocktail bar run by those amazing boys, rather than a betting shop that supports bad, life threatening habits! I think this bar will be an astonishing addition to the town!"
The planning application can be viewed at planning.wigan.gov.uk using the code A/20/89409/CU