Help local company to celebrate its centenary
A Leigh business celebrating its 100th birthday is appealing to locals to share local photos, footage and personal memories for a special centenary video.
Monday, 22nd June 2020, 9:41 am
Updated
Monday, 22nd June 2020, 9:42 am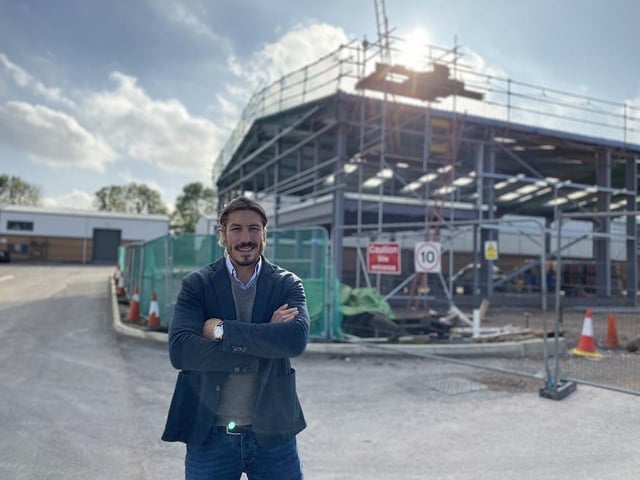 Sebastian Moss
George Moss & Sons Ltd has had a significant impact on the local area over the century, employing hundreds of workers and building many important properties and local landmarks, including Leigh Library, Leigh Market, Tyldesley Swimming Baths, and Leigh Grammar School. It now owns Moss Industrial Estate on St Helens Road.
The centenary video, to be released later this year, will capture how the local area has changed over the past 100 years, as well as the story of George Moss & Sons Ltd and the local people who have shaped it.
Today, the business is managed by the fifth generation of the family, Sebastian Moss. Earlier this year, Sebastian and his father, Philip Moss, worked with local school children to bury two time capsules; marking the start of its centenary.
When the business was first incorporated, in 1920, by Sebastian's great great grandfather, George Moss, it was a joinery business serving the local area. The business continued to flourish despite the huge challenges it faced, such as mass unemployment and economic uncertainty from the Great Depression and World War II.
During the war, then owner, William Moss, struck a deal with the War Department to acquire land on St Helens Road in Leigh, in exchange for land it owned in Risley. George Moss & Sons Ltd then became an industrial property developer and building contractor.
Today, the site is known as Moss Industrial Estate and it has grown significantly over the years. The business now owns and manages over 620,000ft sq of prime industrial property and is a thriving hub for local industry with over 100 business on site trading regionally, nationally and even globally.
MD Sebastian Moss said: "To mark our centenary, we want to show how much our area has changed over the last 100 years and reach out to local people to share their photos, stories and any footage they may have.
"If you have a story to tell or photos to share of Leigh and Lowton over the last 100 years, please send us an email to [email protected] Also, if you have any videos or large files to share, we will send you instructions for how you can send these to us digitally.
"Alternatively, if you have memories or anecdotes, please email them to the same address, along with your contact details and the name, age and job of the person who's account it is.
"We can't wait to bring this important slice of local history to life in a special video to celebrate 100 years of George Moss & Sons in Leigh. It will be a very special keepsake and an important local resource which we look forward to sharing later this year."