Talented Wiganer creates business from artistic skills in lockdown
Scott Wilcock, who runs Snow Graffiti, has made a name for himself creating unusual snow art in windows around the borough during the festive season.
Friday, 11th September 2020, 3:45 pm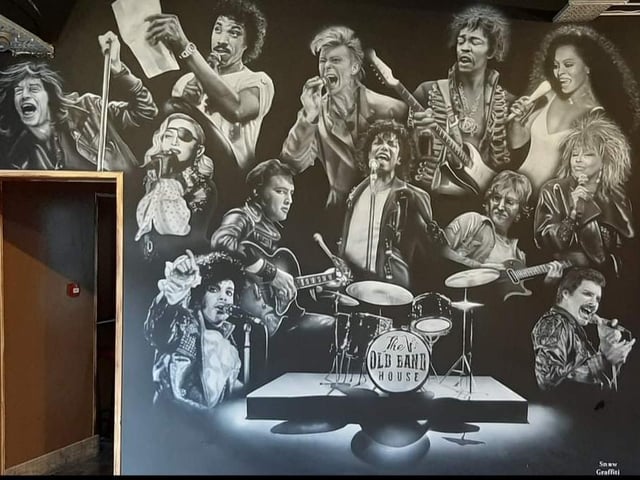 Scott's musical montage at The Old Band House in Ashton
He then reached for his kit once again to do tributes to key workers during the Covid-19 pandemic.
However, having been furloughed he then took advantage of the temporary closure of businesses to create a spectacular series of airbrush murals on the walls of Valhalla Gym in Ashton where he trains.
And having spent the summer transforming tattoo parlours, sunbed shops and other stores he was able to quit his job and run Snow Graffiti full time around a month ago.
Scott Wilcock with one of his creations
Scott, 33, said: "Going full time is amazing. I plan to work four days a week so I can spend a lot more time with the kids. It's just brilliant, it doesn't feel like working at all.
"I always wanted to create an art work at the gym and originally was going to do one wall, but when we went on furlough the idea changed and I thought I might as well do the whole gym.
"I did Dorian Yates, Arnold Schwarzenegger and Eddie Hall, three iconic people, and eventually filled the walls with portraits and full scenes.
"I'm booked up now for the full year. My art has really taken off."
Scott's work as Snow Graffiti uses an airbrush technique
Scott, from Ashton, creates his stunning scenes and portraits using a series of spray guns which hold paint.
This is in addition to the wintry scenes he first created using the technique of spraying fake snow onto glass and then using tools to make the final image by hand.
With his airbrushes he has done work for a professional bodybuilder, created a colour scene based on a Greek island for a sunbed parlour and made a stunning mural of iconic musicians on the wall of Ashton restaurant The Old Band House.
He has even been congratulated by famous strongman Geoff Capes after he created a likeness of him and the picture was shown to the inspiration for it.
Those who have enjoyed Scott's winter wonderlands and festive scenes in the run-up to Christmas will not be disappointed as despite Snow Graffiti's expansion he is still cordoning off the final two months of the year to do snow work.
For more information search for Snow Graffiti on Facebook.