Wigan company raises thousands of pounds for local youth organisation
A Wigan company has raised thousands of pounds for a local youth organisation as its charity partner of the year.
Published 4th Feb 2023, 12:30 BST

- 2 min read
Interact Contact Centres based at Trencherfield Mill worked alongside Wigan Youth Zone in 2022, co-ordinating incredible fundraising activities for the charity
In total, Interact raised £10,000 for the local Youth Charity.
The funds raised by Interact throughout the year will go towards giving young people unique, fun and inspiring opportunities such as residentials, purchasing specialist equipment and supporting yearly memberships for young people.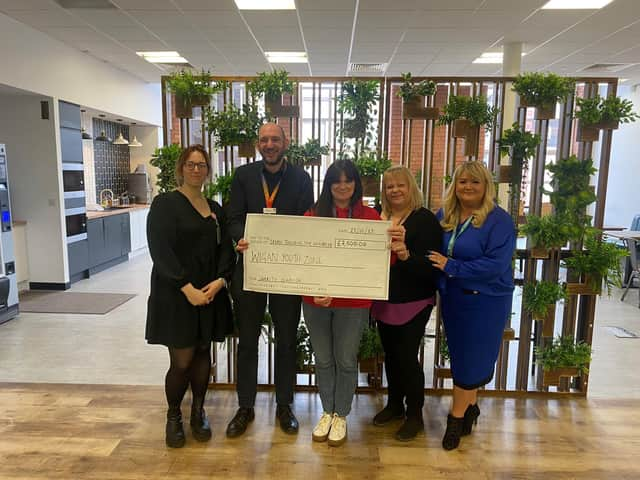 The team raised funds through a number of activities including a 5k sponsored walk, 15,000ft Sky Dive, raffles and talent shows.
Sophie Dorrell, Business Change Manager at Interact Contact Centres said: "As we wave goodbye to 2022, we say hello to an exciting and ongoing relationship with the Wigan Youth Zone.
"It has been an absolute pleasure to dedicate our 2022 charity fundraising efforts to such an incredible and effective organisation – you only need to step inside once to feel the sense of care and nurture that the Wigan Youth Zone embodies.
"We are so delighted to confirm that we hit our goal of £20,000 to split between our chosen charities and couldn't thank both our team, and the team at the WYZ enough.
"From the first email exchanged, this partnership was easy and exciting, revitalising our staff and giving us a huge range of opportunities for events to raise money including a 15,000ft sky dive, talent shows, raffles and lots of amazing treats to sell!
"Best of luck to the WYZ from all of us, whatever the future may hold – we look forward to being a part of it."
WYZ'S Head of Fundraising, Lynsey Heyes said: "On behalf of the charity, I want to thank everyone at Interact Contact Centres for their kindness and for all the support, which is positively impacting thousands of young people.
"It couldn't be more urgent to invest in young people, especially through the cost-of-living crisis.
"Without the support from the local business community like Interact Contact Centres, we would not be able to open our doors seven days a week and support thousands of young people across Wigan and Leigh.
"It is now up to us as a community to continue the legacy by ensuring the sustainability of the provision for the future."