Wigan school hosts career fair to inspire students
A host of businesses attended a Wigan school to help inspire and intrigue pupils about life after education.
Published 24th Mar 2023, 12:30 BST

- 2 min read
Standish Community High welcomed 50 representatives from a range of industries to its in-house career fair, including local engineer Lesley Dean of Altrad RMD Kwikform.
The sports hall was transformed into a marketplace, with each stall offering an insight into what a role in that sector would involve.
Prior to the event, students were asked to consider their interests and potential career pathways, which they then researched by talking to a variety of businesses who had stalls at the event.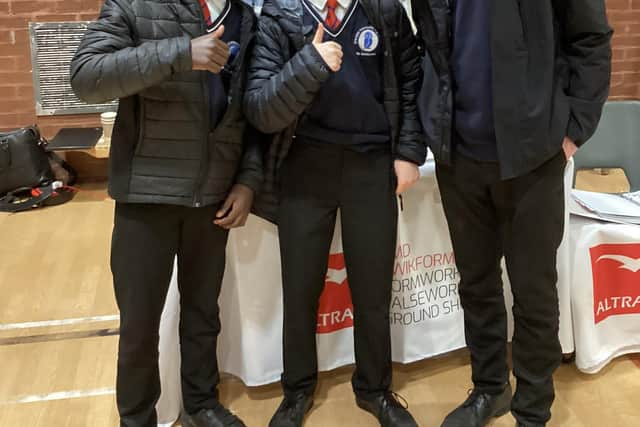 David Prout, Futures Director at Standish CHS, explained the importance of careers fairs: "These events are ideal for our students who are still determining their next step. We know that being face-to-face with employers and people within a particular industry is so important – it could inspire them into a role that they may not have necessarily considered before."
Lesley Dean, groundshoring engineering manager at Altrad RMD Kwikform, was one of the guest speakers and her daughter is a current pupil at the school. A trailblazer in the industry, she has helped create a new division since joining the business eight years ago. As a woman in a male-dominated sector, she wanted to inspire students into a career in engineering, no matter their gender.
Ms Dean said: "When I left school, I had originally chosen a path towards a degree in architecture, but my A-level physics teacher told me to look into civil engineering as a degree as she thought I would enjoy it more. She was right!
"I don't think there is enough emphasis on career advice at schools in general, so when I was given the opportunity to be part of the careers fair at Standish CHS, I wanted to talk to the students and let them know if they like doing something or if you have a talent for something you can turn your skills into a job. I wouldn't recommend any career unless you have an interest and a skill set that can be developed. It would be best to enjoy what you do as it's a massive chunk of your daily routine, and I know I enjoy my job."