Parents consulted on whether village school should become part of academy trust
Proposals have been revealed for a village school to be turned into an academy.
Published 27th Mar 2023, 04:55 BST

- 3 min read
Parents and members of the community are being consulted on whether Appley Bridge All Saints CE Primary School should become part of Cidari Multi Academy Trust.
The trust is part of the Blackburn diocese – which already has links with the school – and currently has 12 academies across Lancashire and Blackpool.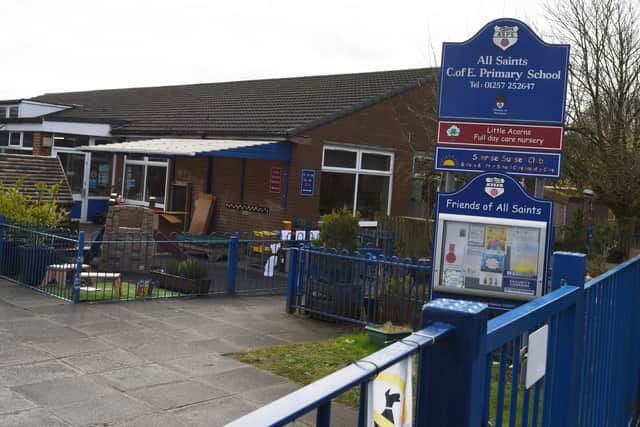 Governors at the Finch Lane school have already agreed to back the proposal and it is also said to have the support of the trust, the diocese and the Department for Education.
A meeting was held last week for parents to have their say, while they can also share their thoughts through the school's website before the consultation ends on Friday, March 24.
Chairman of governors Rachel Edwards Barrott said: "With the support of the Diocese of Blackburn and following over 18 months of research, the governors of All Saints' recently arrived at the decision that academisation offers the best opportunity to secure a strong future for our school.
"At a time when significant pressures are being placed on schools, creating unprecedented challenges and uncertainty, governors are assured that joining a thriving trust will provide the long-term stability to support and enhance the educational delivery for our children and community, whilst retaining what makes our school so special.
"As a voluntary-aided Church of England school, due diligence of the options available led to Cidari being identified as the right fit for All Saints'. The Blackburn diocese multi-academy trust, Cidari shares our values and ethos, and through many discussions with governors and staff have demonstrated their ability to support, grow and nurture schools.
"Cidari's core principles of a school-led system, empowering headteachers to lead their schools and curriculum, whilst enshrining local governance with strong parental and community representation will protect our distinctiveness. Cidari can provide routes to additional resources, support and staff development which are not currently available to our school, whilst the experience and uniqueness that All Saints' will bring to its family of 12 schools will enhance the collective knowledge and strengthen the trust even further.
"As part of the process set out by the Government, the governors are now in a period of formal statutory consultation with parents/carers and other stakeholders. During this period there have been meetings with parents and further opportunities for face-to-face consultation are due to take place."
Academies receive funding directly from the Government and are run by an academy trust. They continue to be inspected by Ofsted, follow the same rules on admissions, special educational needs and exclusions as other state schools, but have more control over how they do things.
A letter to parents states academy status would give "autonomy" to develop the school and there would be "greater opportunities" to work more closely with other church schools and for pooling resources within the trust.
It says the "Christian character, ethos and values" of the school would not change and Janet Dunn would continue as headteacher, with staff currently being consulted on Cidari becoming their employer through TUPE.
Ofsted carried out a short inspection of All Saints in December and found it "continues to be a good school".