West End star swaps the stage for the classroom after beginning teaching career
A former actor from Wigan has left behind the bright lights of the London stage to begin a new career at his old school.
Published 22nd Mar 2023, 15:45 BST

- 3 min read
Daniel Pye has returned to The Byrchall High School as a drama teacher following a training period at the school with the Learning Futures Partnership, an in-house teaching alliance with Hawkley Hall High School and Winstanley College.
With the aim of "growing their own" teachers from its known geographical area, the LFP selects people who are familiar with neighbourhoods and their potential pupils.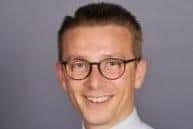 Former head boy Daniel is in his second year of teaching and loves the variety that the job brings particularly getting the chance to teach pupils within the community he grew up in, saying it feels like he's teaching himself from years ago.
He has also described his "come full circle" moment as he now works alongside his former drama teacher and mentor Catherine Lipton, helping him form a great connection with the pupils, school and locality.
Garswood-born Daniel is a talented performer who took leading roles in school plays at The Byrchall and is now directing his own pupils on that very same stage. He also jokes that the school roll of honour, on which his own name is engraved as Head Boy, is something he uses as a visual aid.
He also quips that no other serving teacher's name appears on public display in this way and says that he feels like a part of history.
Daniel said: "I applied to the Learning Futures Partnership because of its location, and I took up the place at Byrchall because I wanted to be trained by my former teacher, Mrs. Lipton
"The moment I first stood in front of a class, I realised how much responsibility I had. You are not just teaching, but influencing – the pupils hang on to your every word!"
After leaving the former Ashton Grammar School in 2011, he went onto study performing arts courses in music, dance and drama at St John Rigby Sixth Form College, eventually progressing on to the University of Central Lancashire for a degree in Music Theatre.
His final year at university saw him star in a UClan production of Candide and securing the lead role under the watchful eye of a West End director. This later proved to be a stepping stone for obtaining a place at the London School of Musical Theatre, which suited Daniel perfectly.
After securing a diploma in musical theatre and possessing an excellent tenor voice, Daniel was promptly snapped up by an agent and secured a role in London.
Family commitments saw Daniel return to the North West in 2018, and when the pandemic hit, his parents encouraged him to redirect his love for the arts into a career in teaching.
Having already spent a number of years studying, he elected the School Direct route, meaning that he was part of the school workforce from day one.
Controversially, drama is not on the National Curriculum and is something that Daniel strongly disagrees with, citing the vital issues covered such as homophobia and The Black Lives Matters campaign.
Alongisde teaching, Daniel still finds the time to perform and is a member of The Rainford Band, playing the tenor in the brass ensemble and is a regular visitor to the theatre.
Deputy headteacher Phil Paul said: "Daniel perfectly personifies the vision and values of the Learning Futures Partnership.
"Having attended one of the founding schools as a pupil himself, he is fully aware of the high standards and expectations we have of all of our learners, and he was able to hit the ground running as a teacher from the very start. He has a great future ahead of him."