Wigan schools, GCSE results and 11th hour BTEC chaos - the latest
Celebration, confusion, anger and upset could be found in equal measure as Wigan's high school students received their exam results - or not as the case may be.
Thursday, 20th August 2020, 1:39 pm
Updated
Thursday, 20th August 2020, 5:01 pm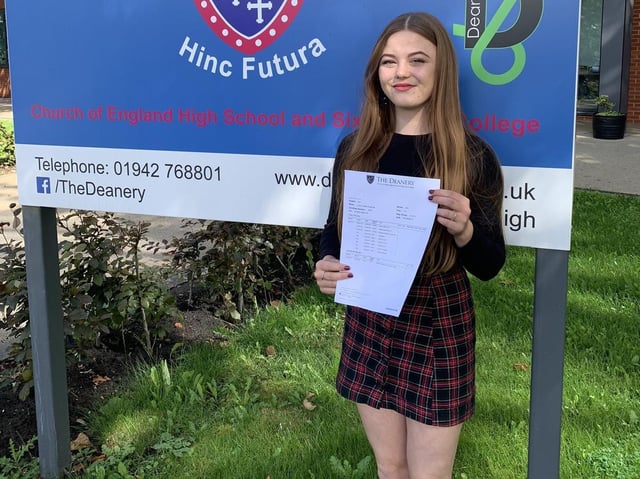 Deanery High School head girl Lucy Coleman who gained an incredible nine grade 9s
After an extraordinary second half to the 2019-20 academic year because of the Covid-19 pandemic, hundreds of pupils in the borough discovered their teacher-assessed GCSE grades yesterday but not their vocational BTECs after an 11th hour aborting of the marks by exam board Pearson for reappraisal.
Nationally there has been a huge surge in higher grades compared to previous years, after Ofqual and the Government withdrew a controversial algorithm which had been branded prejudicial and, more recently unlawful, for underestimating many students' grades at A-level.
This in itself could now create problems for sixth form colleges faced with a surfeit of students to have met their qualification criteria.
Lowton CE High School students with acting headteacher Heather Clare (Students from L-R - Lucy Hardman, Molly Bullough, Lilly Gregory, Alex Moorhouse, Jack Murden and Zach Moorhouse)
Many Wigan pupils received their GCSE grades by email, although some were invited down to school in a socially distanced way to receive them in person.
It has proved nigh impossible to come up with any more statistically meaingful figures about the current cohort so most headteacher statements kept within the bounds of general congratulations to pupils after a difficult year. Percentages of pupils with five or more 9 to 1 grades or the new Progress 8 measure (assessing the value added to a child's education during their time at a school) were barely mentioned.
But one teacher, who asked not to be identified, expressed anger about the BTEC fiasco.
She said: "Pearson sent out an email to schools at 4.40pm on Wednesday telling them not to give out any BTEC results on Thursday as they had changed their minds about what grades to give.
Shevington High School pupil Joel Bark who gained an incredible eight grade 9s and one grade 8 in his GCSEs
"This was 10 minutes after their help desk closed.
"Our school (and probably all schools) had already printed out all the results. Pearson got schools' CAGs (centre assessment grades) in the middle of March. My cat could have worked out a system for grading in five months!"
Pearson said it would regrade Btecs to "address concerns about unfairness".
Despite the rage, the official line from Wigan schools was largely upbeat.
Dean Trust pupils Keisha and Kacey collect their results
Andy McGlown, headteacher of perennial top performer St Peter's High School in Orrell, said: "All the staff at St Peter's would like to congratulate our Year 11 students on achieving a fantastic set of results today.
"They are a fair reflection of your ability and hard work over five years, despite being awarded in this most unusual set of circumstances. We are incredibly proud of what you have achieved, as you should be, and we wish you every success as you enrol at college or on Apprenticeships.
"Throughout the lockdown period, you have shown a maturity and a resilience that you and your families should be truly proud of.
"We are really proud of your efforts and are celebrating the excellent grades you have achieved."
Standish High GCSE students celebrate. Left to Right- Jessica Terzaki, Molly Rose, Gemma Armstrong, Jodie Gibbons, Chelsea Hallam, Katie Cooper, Natasha Bolton, Isla Barlow, & Head of Schooll Lindsay Barker
Shevington High deputy headteacher Zoe Hames said: "Shevington High School students receive their results today after a somewhat extraordinary and unprecedented year.
"Teachers are extremely proud of the resilience of our young people and their outcomes today.
"We are delighted that many of our students have received the grades that will enable them to progress on to their chosen course at sixth form and beyond and we wish them the very best of luck. They have been a truly incredible year group. Well done Year 11!"
Alison Rigby, headteacher of St John Fisher RC High in Beech Hill said: "It has been a really stressful and anxious time for Year 11 across the country.
"I am thrilled and very proud that our pupils have got the results they deserve.
"There are some brilliant individual performances: our top achiever was a young man who achieved 6 Grade 9s, followed by 21 other children who achieved at least one Grade 9.
"Our results have significantly increased which reflects the true nature and ability of this great year group.
"The most inspiring thing about this year group is the resilience and humour they have shown in very challenging and upsetting times. They have been a very cohesive year group and have shown great support towards each other.
"I wish them good luck in the future and look forward to seeing them soon in an appropriate celebration to mark their time at St John Fisher."
Lucy Cropper, head of school at Dean Trust Rose Bridge in Ince, said: "This cohort have faced challenges that no other year group in memory have faced and we are immensely proud of our Year 11 pupils who have received their GCSE results today.
"The grades awarded today by their teachers are a fair and accurate reflection of how we feel they would have performed if they had been allowed to sit their exams in the summer and it has been a pleasure watching their faces as they have opened their envelopes. We wish them all the best in the next stage of their lives and their education."
Golborne High School has enjoyed one of the most remarkable turnarounds in fortunes in recent years, marching up the local league tables from below average to near the top.
Head Alison Gormally said: "At Golborne High School we are celebrating not just the outstanding results of our Year 11 pupils but their resilience and strength of character of which we are all so proud.
"Our Year 11 pupils have suffered more than any year group, not just because of a national pandemic but because of the ineptitude of the leadership of education at a national level.
"The chaos that has been caused by the Government and Ofqual could so easily have been avoided and has created even greater stress and anxiety for a group of pupils who have already experienced great worry.
"The staff and governors at Golborne High School have been humbled by the fortitude of our Year 11 pupils who have shown such positivity and determination in a climate of confusion.
"The results they have achieved are the outcome of five years of hard work and dedication . The fact that these results have been reached by a different route does not and must not diminish the achievements of our pupils. As a Headteacher, I have never been prouder of a group of pupils.
"The journey that our Year 11 pupils have taken has been fraught with difficulties this year but they have risen above the obstacles and approached the challenges with optimism and determination.
"I would like to thank our Year 11 pupils for the contribution they have made to Goborne High School over the last 5 years and for being a delight to work with. I would also like to thank the staff for their absolute commitment to ensuring that Year 11 pupils were supported and did not suffer during this time of anxiety.
"I would also like to thank the parents of Year 11 pupils for their unwavering trust in the staff and their constant support throughout this very difficult time.
"Now, it is time to celebrate the achievements of our incredible pupils and for them to move onto the next stage of their journey with confidence and pride, knowing that they can succeed whatever challenges life throws at them. We will miss our Year 11 pupils and we will follow their success with interest and pride. Congratulations and good luck to all of you."
Atherton Community School deputy headteacher Debbie Gibson said: "The teachers and staff at Atherton Community School are incredibly proud of the resilience and strength of character our students have demonstrated over the last few months, and the outcomes they have achieved. They are a credit to themselves, their families and the school.
"We will continue to support our students as they move to the next stage in their education and training. Although the last few months have been difficult, we know our young people will emerge from this stronger and they are more than ready to take the next steps in their journey. We wish all our students the very best."
A spokesperson for Lowton CE High School said: "This is an exceptional group of students who have flourished in their five years as part of the Lowton family. They leave behind a legacy of not just academic success but of success in many areas: talented artists and photographers; gifted musicians and actors; accomplished athletes, both in and out of school; marvellous ambassadors and worthy role models. They are, without doubt, a tough act to follow.
"Despite being denied the opportunity to sit their final examinations the GCSE examination grades these students have received are a true reflection of their hard work, ability and commitment. Not only have a number of students achieved 9s across the board but so many have exceeded expectations.
"Mock examination results throughout the GCSE course showed how determined these young people were to succeed, which they did! This is a result of the strong partnership between students, staff and parents that exists at Lowton. It is a school invested fully in helping its young people flourish so that they are thoroughly ready for the next stage of their life."
Janet Garretts, head of Fred Longworth High in Tyldesley, said: "We are proud of the way in which our Year 11 students have handled the incredibly difficult circumstances of the last few months, especially all the recent uncertainty about how final grades would be calculated. We are delighted that all the hard work they did before the lockdown has been reflected in the final grades and they can be proud of what they have achieved.
"Although they were denied the opportunity to sit their final exams, they will take with them everything they have learned over the past five years and I would like to wish them all every success in the future.
"I have no doubt that they will go on to great success in whatever they choose to do, as they have already proved themselves to be able to rise to the biggest of challenges."
Deanery High School headteacher Martin Wood said: 'Congratulations to all our students on their very well-deserved success today. We are incredibly proud of all of them and what they have achieved in such difficult circumstances.
"Pupils in Year 11 this year have seen such significant disruption to their final year, with the lockdown, the cancelling of exams and then the government fiasco around the awarding of grades.
"They have shown great resilience in facing those challenges and thoroughly deserve the excellent grades they have received today. Students now have the opportunity to move onto their next steps.
"A large number of our students will be continuing their studies with us in our highly successful Sixth Form and we look forward to welcoming them back in September. Thank you also to our wonderfully dedicated staff for going the extra mile and supporting students to flourish through everything that has happened. We wish all of our students the very best of luck for the future."
Dean Trust Wigan headteacher James Haseldine said: "Our pupils should be proud of what they have achieved. The Year 11 at Dean Trust Wigan faced significant challenges this year, along with other pupils across the country.
"They have shown amazing resilience and determination. The grades awarded today by their teachers are an accurate reflection of how we feel they would have performed if they had been allowed to sit their exams in the summer. We wish them all the best in the next stage of their lives and their education."
Standish Community High head Lindsay Barker said: "I'm delighted for all our students and their families.
"The levels of resilience and determination they have shown since the original lockdown in March up until today has been nothing short of remarkable. They will have learned some valuable life lessons throughout these challenging times and now they also have the grades they deserve to successfully move on to the next stage of their journey. We couldn't be happier that the grades awarded accurately reflect all their talent and hard work."
Geoff Baker, headteacher of Cansfield High in Ashton, said: "We are really so very proud of the class of 2020. They have grown into the most wonderful group of young people. It was gutting to wave them off in March but they have come out with the great grades they deserve."
Headteacher of Bedford High School in Leigh, Helen Phillips, said: "Congratulations to all of our students on their GCSE results. Our class of 2020 has suffered significant disruption to the end of their time at Bedford but their results today reflect their hard work over five years at high school. We are incredibly proud of their achievements.
"With the support of their teachers and families they have shown great resilience in these difficult times and now have the qualifications they need to progress to the next stage of their lives."
And Matt Klinck, head of Hawkley Hall High, said: "We are extremely proud of all of our year 11 students. They have shown great resilience during the pandemic. We wish them the very best of luck as they move into the next phase of their education."
Wigan Council cabinet member for young people's services Coun Jenny Bullen and assistant director for education, Cath Pealing, issued a message of support for nervous school-leavers, as well as revealing the resources available to anyone left disheartened by their grades.
In a statement on social media, they said: "We want to say a huge well done and acknowledge the hard work of all young people receiving their exam results today, in these challenging times.
"We know that the way in which exam results have been awarded this year has not been ideal for many, some of you may have hoped to have the opportunity to sit the exams."
Meanhwile Wigan Athletic Community Trust held a drop-in session at the DW Stadium for newly qualified youngsters to find out more about its courses.