Union warns of NHS staff 'exodus' and waiting list crisis amid pay rise row
The Government is facing fresh warnings of a staff "exodus" and a waiting list crisis if it presses ahead with a controversial 1% pay rise for NHS workers.
Published 7th Mar 2021, 10:41 GMT

- 2 min read
The Unite union, which has more than 100,000 members in the health service, said a lack of a decent increase will lead to a shortage of professionals to carry out vital operations.
The latest warning came as controversy continues to swirl over the Government's recommendation of a 1% pay rise to the independent NHS Pay Review Body.
Ministers have been warned of possible industrial action, while the Unison union is calling on the public to join a nationwide "slow handclap" next Thursday evening to show their anger at the Government.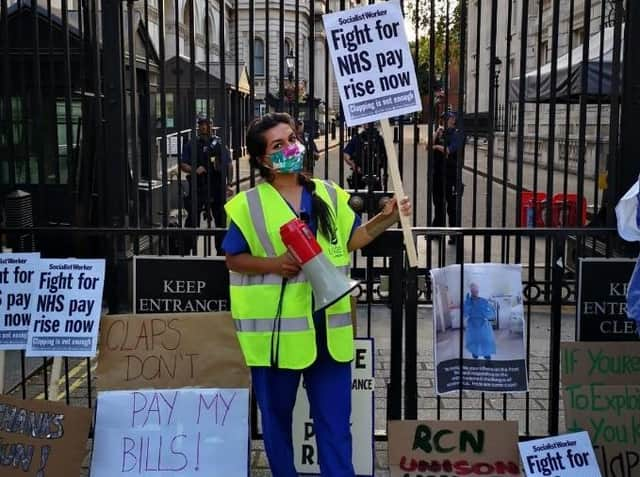 Dr Nikita Kanini, the NHS medical director for primary care, said she is worried that the "incredible" NHS nurses who have "been front and centre of this pandemic" will leave the profession.
She told Times Radio Breakfast they may go "partly because of concerns around pay but partly because of exhaustion" and "so it's really important that our staff get the support and the recognition they need".
Unite said anger felt by NHS staff at the "insulting" government proposal would exacerbate an existing serious recruitment and retention crisis in the NHS.
Assistant general secretary Gail Cartmail said: "The NHS will be a pale shadow of the great Covid-fighting health service we know and love in five years' time, if the insulting 1% pay recommendation is not dramatically revised upwards by ministers.
"NHS staff are exhausted after a year of tireless caring for patients during the pandemic and many are now prepared to leave the health service after a decade of pay austerity which has seen pay packets for many shrink by 19% in real terms.
"The 1% recommendation could be the last straw for many dedicated staff.
"The NHS already has an estimated 100,000 vacancies, including 40,000 nursing posts - and a massive backlog of non-Covid procedures, such as cancer treatments.
"The Tories' tight-fisted policy on NHS pay since 2010 will have a poisonous sting in the tail in the years to come and lead to an exodus of experienced staff that the NHS can ill-afford to lose.
"The British public needs to speak up now for the NHS and additional investment in services and funding for a significant pay rise.
"Otherwise, in five years' time, there may not be the staff to see that your granny's hip replacement is done on time as waiting lists spiral out of control."
Unite said it is liaising with other health unions about the next steps in the pay campaign, including the possibility of a ballot for industrial action.