Free booze as Wigan holidaymaker in coronavirus hotel is no longer confined to his room
Free wine and beer has been laid on for guests quarantined in a Tenerife hotel, a Wigan holidaymaker has revealed.
Published 27th Feb 2020, 16:49 BST

- 2 min read
Updated 27th Feb 2020, 16:50 BST
And Alan Cunliffe reports that the restaurant has re-opened at the seafront facility as those inside expect to be in coronavirus lockdown for more than another week, despite there being no new cases there.
Disinfectant gels and masks have been handed out at the H10 Costa Adeje Palace hotel in La Caleta but not everyone is using them and the Whelley 82-year-old says there is still a lack of information about what happens next.
The former builder had come to the Canary island for the first break on his own since losing his wife Mildred at the end of last year.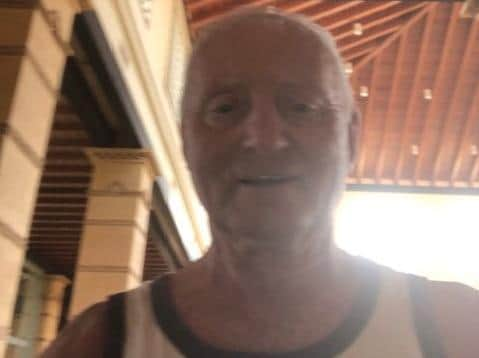 The fortnight break started well enough but then first sandstorms lashed the resort for two days and then, shortly after the clean-up, it was announced that an Italian doctor, who had been a guest at the hotel earlier, had since been diagnosed with coronavirus and so the establishment was put in isolation.
After several days of "cabin fever" Alan, who was due to fly home today, said that he was at least pleased to see that some of the in-house restrictions had been eased.
He said: "The good news is that the restaurant has re-opened - even if the food is fairly basic - and the wine is now free and you can choose what beer you want.
"The staff are being very fussy-fussy now. You can go outside and walk around, which is nice, so long as you stay within the precincts of the hotel of course.
"We've been given hand gel and are supposed to wear masks and gloves. I reckon about 90 per cent of the guests are doing so. That said it's tricky in the dining room trying to eat and drink with a mask on! I got told off by a waiter for trying to get some coffee when I'd given up on mine.
"I've just been down to reception and there was a queue where the guests are being handed out medication.
"We haven't be told about any more cases. Quite a few people are coughing, including a woman in her early 20s who was just sitting near me in the restaurant who hadn't a mask on and didn't even bother covering her mouth.
"I was meant to go home on Friday but I reckon it'll be another eight or nine days yet. And it's still not clear whether us Brits will be quaratined again once we are home."
Alan said that he had encountered few other British tourists and said he was almost totally reliant the phone on which he has five regular callers, including a rep from his holiday agent Jet2.
He added: "There is very little communication with staff face to face. We were told people were undergoing tests but no-one has tested me for anything. I just keep taking my temperature with the thermometer I was given and that's been fine.
"I'm so glad of the phone calls. All this solitude would send you round the bend."