GPs who also work at football clubs join front line of borough coronavirus efforts
Dr Wesley Tensel and Dr James Weems, who work at Rochdale AFC and Oldham Athletic respectively, are helping out on a new ward at Leigh Infirmary.
Published 21st Apr 2020, 15:09 BST

- 2 min read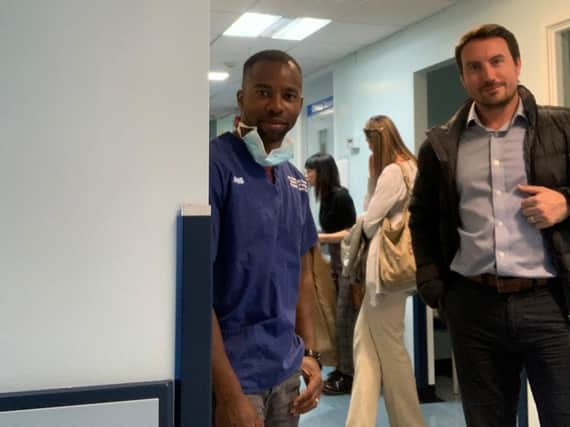 Dr Tensel tweeted a picture of the duo and said that as they did not have any football work at the moment they were able to help Covid-19 patients as well as manage their usual surgery workload.
Dr Tensel is the team doctor for the Spotland outfit while Dr Weems is the club crowd doctor on matchdays at Boundary Park.
They are two of around a dozen GPs who have answered a call by Wrightington, Wigan and Leigh (WWL) NHS Foundation Trust to help staff the ward, which looks after patients recovering from Covid-19 but who still require monitoring and care before they can be discharged.
They are being supported by nurses, pharmacists, other health care professionals and the out-of-hours service.
The GPs have stressed this work is in addition to their practice workload and patients on their surgeries' books should continue to seek help should they require it.
Dr Weems, GP at Brookmill Medical Centre, said: "I felt it was important to give some of my time in this way and support the local hospital trust as we know they are under pressure.
"It's been good to see how the wider healthcare team has pulled together in these testing times with support from the public.
"I must stress that we still want patients to call on their GPs if they have worrying symptoms that they feel may be something serious, For example we are still referring people with suspected cancer.
"We are working hard to make sure we can cover the urgent demand while working in different ways due to the distancing measures now in force due to the pandemic."
Dr Tensel said: ""The hospital was asking for GPs to help them to support patients who were recovering from Covid-19 but who needed some more care input before they could be discharged back to care homes or their own home.
"Patients have heeded the call to stay at home and protect the NHS which has freed up some time for us to be able to help the acute trust in this way."
The hospital trust asked for assistance so it can focus on intensive and critical care.
Wigan Borough Clinical Commissioning Group (CCG) said it was proud of the efforts medical professionals are putting in to help tackle coronavirus.
Dr Tim Dalton, local GP and CCG chair said: "GPs and practices have really stepped up to the mark during this pandemic, and it
makes me so proud to be a GP in Wigan borough.
"The pandemic has really shown the best of the NHS family in our borough. Doctors and nurses are re-learning skills they haven't needed for years and taking on new roles to help in the borough-wide response.
"Retired doctors and nurses are coming back into practices and into the hospital to help too. The response from all NHS staff has been fantastic and I am grateful to them all."
The drive to set up the new ward was led by Dr Gen Wong from Old Henry Street Medical Centre, who is also the GP clinical lead for the Leigh Primary Care Network.