Hundreds of Wigan patients forced to wait more than 12 hours for a bed on hospital ward
Hundreds of patients had to wait more than 12 hours for a bed at Wigan's hospitals last month, new data reveals.
Published 15th Mar 2023, 15:45 BST

- 2 min read
Wrightington, Wigan and Leigh Teaching Hospitals NHS Foundation Trust has faced a busy few months, with the usual rise in patients over winter combined with tackling the backlog from the pandemic and the impact of industrial action.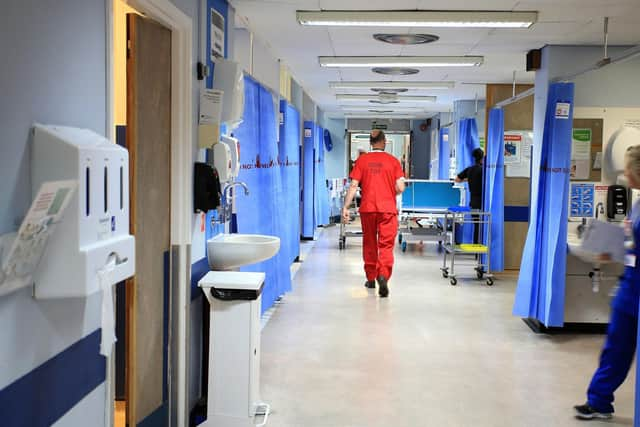 New NHS England data reveals the waits that patients faced, both after arriving at Wigan Infirmary's casualty and once a decision was made to admit them to the hospital.
There were 6,918 attendances at A&E during February, down 5.1 per cent from 7,291 in January and 7.6 per cent from 7,487 in February 2022.
But only 48.1 per cent of patients were seen within the target time of four hours, falling from 48.4 per cent in January and 54 per cent in February last year.
A further 3,724 attendances were recorded at Leigh Walk-In Centre, up 2.6 per cent from 3,628 the previous month.
There, 99.2 per cent of patients were seen within four hours, pushing the overall performance of the trust to 66 per cent.
Nationally, 71.5 per cent of people were seen in that time at casualty departments, while 56.8 per cent were seen at larger centres such as Wigan Infirmary.
There were 2,310 emergency admissions in Wigan, down 11.7 per from from 2,617 in January.
But once the decision to admit was made, 1,386 people waited more than four hours for a bed and 383 waited more than 12 hours.
That compared to 1,465 four-hour waits and 299 12-hour waits in January, and was a huge increase from 968 people waiting four hours and 52 waiting 12 hours in February 2022.
Across England, the number of people waiting more than 12 hours stood at 34,976 in February, down 18 per cent from 42,735 in January.
The number waiting at least four hours fell 11 per cent from 142,139 in January to 126,948 in February.
Deputy chief executive Mary Fleming said: "Ongoing winter pressures and a sustained high level of attendances to our emergency department has meant that unfortunately patients have experienced longer waits.
"The trust is tackling this issue in different ways, such as utilising our same-day emergency care unit to divert patients away from A&E to a more appropriate level of care, which includes rapid assessment, diagnosis and treatment without being admitted to a ward, and, if clinically safe to do so, a return home. Our pioneering virtual ward service is also playing a huge part, allowing patients to be monitored and treated within the comfort of their own homes.
"Our clinical and community colleagues are also working together with our primary care partners across the Wigan borough health system to better understand our patient population and their needs, including at how to better provide care in the community, while recognising that primary care systems are also under pressure."
She appealed to people to collect their loved ones from hospital when they are ready to be discharged and to seek medical care elsewhere if their condition is not life or limb or sight-threatening.