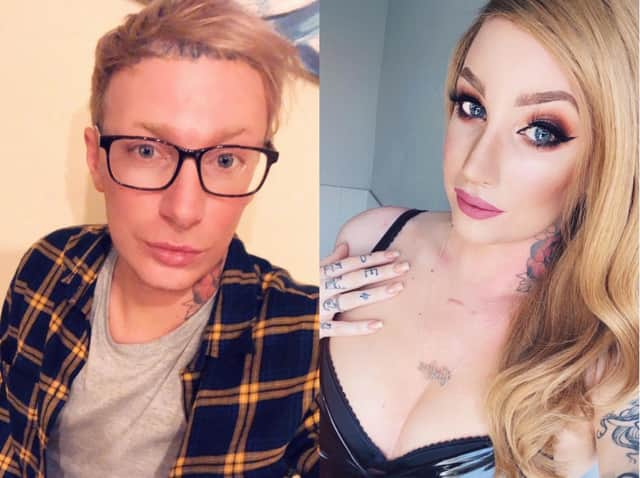 Chelsea Burwin before and after surgery
A transgender woman has opened up about her transition in a bid to promote more positive attitudes towards the LGBTQ+ community.
Chelsea Burwin has spent thousands of pounds to undergo extensive surgeries, and admits she has lost some of her closest friends in her quest to become her true self.
And now, the 33-year-old, who owns Alchemy Tattoo Studio in Wallgate, spoke to the Post about her experience so far of transitioning from male to female, to show others that that "life is far too short to be unhappy in your own skin."
Chelsea, who began hormone replacement therapy (HRT) last May, said: "My transition has been a very long process. I'd been putting off starting major steps until I was ready for sure and knew it in my own head.
"It's been something I'd been trying to start for a long time but never had the knowledge or education on the subject.
"I did a bunch of counselling before I started, and did it all through a private GP because the waiting list for the NHS is super long.
"The things I've learnt the most apart from how to really be myself is who my real friends are. I've lost some of the longest friends I've had because they didn't think it was really me."
So far, Chelsea has spent around £25,000 on her transition, including travelling to 2pass Clinic in Antwerp, Belgium, where Dr Bart van de Ven performed several facial surgeries including: a jaw and chin reshape, liposuction, lip lift, rhinoplasty, forehead and brow bone reshapes and a hairline recontour.
"It isn't the best that it costs so much, but I also believe a lot of people will take it for granted of it was free or easier to afford," said Chelsea.
"The procedures I had on my face alone were very intense, so it's not something that just any surgeon could do or especially specialise in."
"I feel a million times happier now than I did before I started HRT. My surgery has already given me a bit more confidence in my appearance and it's not even healed yet.
"I always hated my appearance and it for me down on nights out etc but I can't wait to take my new face for a spin!
"I'll be honest, Wigan isn't the greatest for the whole trans scene but it's better than it was five years ago so I guess it's always progressing."
She added: "People should be themselves as long as it's not hurting others. If you want fillers, surgery, tattoos, to wear certain gender's clothes, then do it.
"Life is far too short to be unhappy in your own skin. Just be yourself because no one else can."