Wigan man who beat cancer twice backs campaign to kickstart vital research
An inspirational man who twice survived cancer is backing a new campaign to help more people like him beat the disease.
Saturday, 13th June 2020, 7:00 am - 4 min read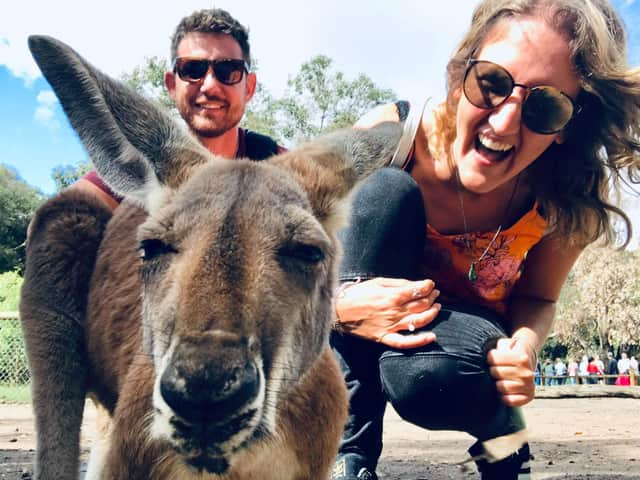 Chris with girlfriend Sarah
Chris Koppens, 30, was diagnosed with testicular cancer at the age of 19, then again eight years later at 27, after spotting unusual lumps.
He was successfully treated with surgery, chemotherapy and hormone replacement therapy, and he celebrated his remission last year with a once-in-a-lifetime trip to Australia with his girlfriend Sarah.
Chris, who works as a welder, said: "Going through cancer makes you realise just how precious life is. I've been through a lot over the last few years, but my story is one of survival.
"I'm determined to turn my experience into a positive and do what I can to help other people beat this disease. Research into cancer is so important and I'll do whatever I can to make sure it continues."
Chris, from Tyldesley, is an active charity fund-raiser and is sharing his story to help tackle the loss of funding for cancer research caused by the Covid-19 outbreak.
With fund-raising events cancelled and the charity's shops closed, he is vowing to help Cancer Research UK continue its life-saving mission as it launches an urgent new television appeal to drive donations.
By sharing the current experiences of people affected by cancer, the ad brings into sharp focus the threat the virus poses to research into new and better treatments. The message is clear – to save lives tomorrow, Cancer Research UK needs the public's support today.
Chris in hospital on the day of his operation
For Chris, it is a compelling call to action for people to donate now and support the charity's pledge to carry on the fight against cancer.
After two successful orchidectomies (surgery to remove the testicle) and a round of chemotherapy to help stop the disease coming back, he is now cancer-free.
Chris said: "It was really tough to be diagnosed with the same type of cancer, not just once but twice. On both occasions, I'd noticed unusual lumps down below and gone straight to the doctor to get checked out. As a young man it wasn't an easy time, but thankfully there was treatment available and for that, I'm extremely grateful."
Sadly, Chris lost his dad to cancer between his own diagnoses, which has given him added motivation to make sure research into the disease continues.
He said: "Dad and I were best of friends in many ways. We were always together. We worked together, we socialised together, we set up a business together.
"My second diagnosis was just a few months after dad passed away. It really floored me as I was still grieving for him. But with the support of amazing friends and family, I got through treatment to the other side. I definitely like to think he'd be proud of me.
"Cancer is very personal to me and my family and by boosting funding now, we can all help more people in the future. So, I hope that people across Wigan will be inspired by the charity's determination to carry on beating cancer and give what they can."
Thanks to the generosity of its supporters, the charity currently funds around 50 per cent of all cancer research in the UK.
However, as a direct result of the coronavirus pandemic, it expects to see its fund-raising income decline by up to 25 per cent in the next financial year – putting this life-saving research at risk.
Anna Taylor, Cancer Research UK spokesperson for the North West, said: "Chris' story is one of hope and inspiration. We're incredibly grateful to him for his support and we hope that he will inspire others to support Cancer Research UK and help bring forward the day when all cancers are cured.
"We've always said 'together we will beat cancer'. But the truth is, Covid-19 has slowed us down. Right now, clinical trials are being postponed and we're having to delay vital research.
"But we will never stop. Around five people are diagnosed with cancer every hour in the North West, which is why we are absolutely determined to continue to create better cancer treatments for tomorrow. However, we can't do it alone.
"Every step our scientists take towards beating cancer relies on every pound donated. So, with the help of people in Wigan we believe that together we will still beat cancer."
Donate now at cruk.org/donate.
A message from the Editorial Director, Gillian Parkinson:
Thank you for reading this story on our website.
But I also have an urgent plea to make of you.
In order for us to continue to provide high quality local news on this free-to-read site and in print, please purchase a copy of our newspaper as well.
With the coronavirus lockdown having a major impact on our town centres and many of our valued advertisers - and consequently the advertising that we receive - we are more reliant than ever on you buying a copy when you pop out for your essential shop or subscribing for delivery.
Our journalists are highly trained by the National Council for the Training of Journalists (NCTJ) and our content is independently regulated by IPSO to some of the most rigorous standards anywhere in the world. Our content is universally trusted - as all independent research proves.
As Baroness Barran said in a House of Lords debate this week on the importance of journalists: "Not only are they a trusted source of facts, but they will have a role to play in rallying communities and getting the message across about how we can keep ourselves and our families safe, and protect our NHS. Undoubtedly, they have a critical role."
But being your eyes and ears comes at a price. So we need your support more than ever to buy our newspapers during this crisis. In return we will continue to forensically cover the local news - not only the impact of the virus but all the positive and uplifting news happening in these dark days.
We thank all our readers and advertisers for their understanding and support - and we wish YOU all the best in the coming weeks. Keep safe, and follow the Government advice. Thank you.
You can subscribe for delivery by contacting us at [email protected] or calling us on 0330 4033004 for details of a participating newsagent near you.