Review: BMW xDrive23i M Sport
Frederic Manby drives the new X1 the diminutive SUV from BMW
Published 30th Mar 2023, 09:31 BST

- 4 min read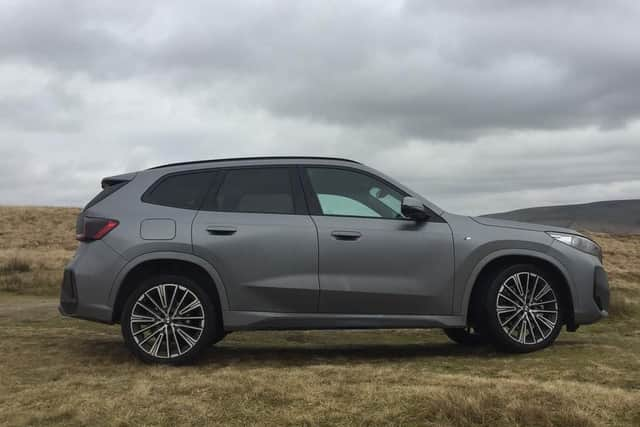 Large SUVs have solid appeal but they can be unwieldy. For everyday use I'd suggest something a bit niftier, smaller but still with big-car quality. There are lots of contenders, mostly from Germany. I give you the very latest SUV from BMW, the new X1. It is larger than before, still the smallest in the X1 to X7 series of all-roaders, with a starter price of £33,775 plus all those extra-cost baubles in the catalogue. There are two petrol engine options, two diesel engines and two plug-in hybrids and the electric iX1 xDrive30.
This X1 is bigger and nodding towards the hunky, bolder styling of the latest SUVs from Japanese makers. There is accentuated sculpting of the bonnet, a square-jawed face, a chunky rump.
We were sent the xDrive23i M Sport, costing £40,345, plus a hefty £2,100 for the dull, 'frozen pure grey' paint taking the total to £42,445. Other options took the final bill to £48,999.99. One sixth of this went in VAT to His Majesty's government.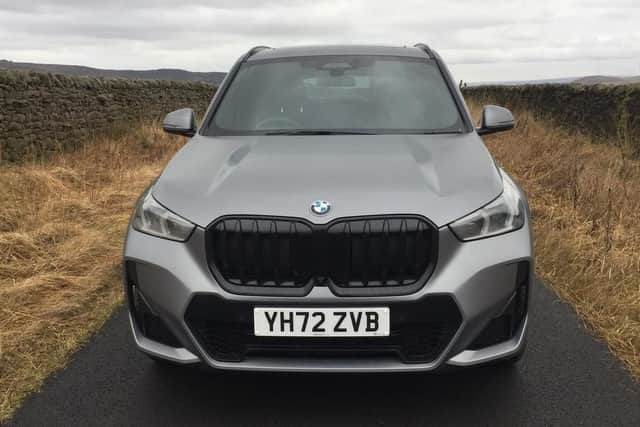 Of interest, was the £1,000 full-length sunroof with a front section which could be opened and closed by voice control, with th response "no problem". The practical sliding rear seats were value at £300, allowing variations in luggage space and leg room. Things like the head-up display, adaptive LED headlights and heated steering wheel were among other extras you may like.
Yet that £33,775 sDrive20i is worth considering. Its 1.5 litre three-cylinder petrol engine delivers 168 brake horse power and 62mph in 8.3 seconds through a seven-speed automatic gearbox. It is rated as low as 134g/km of CO2 and around 45 to 48 miles gallon. It has mild hybrid electrical assistance meshing with the Steptronic dual clutch gearbox which starts the engine and adds a little muscle to the petrol engine.
The 23i engine in our xDrive loaner is a two-litre four-cylinder petrol turbo with 215 bhp, more than sufficient and getting to 62mph in just 7.1 seconds. The official mpg ratings are in the low 40s, some 10mpg higher than we achieved in general motoring with very little fast stuff.
The 20-inch Continental summer-tread tyres were fine on grass with the active all-wheel-drive system. Hill descent grip control with adjustable speed helped on tricky declines.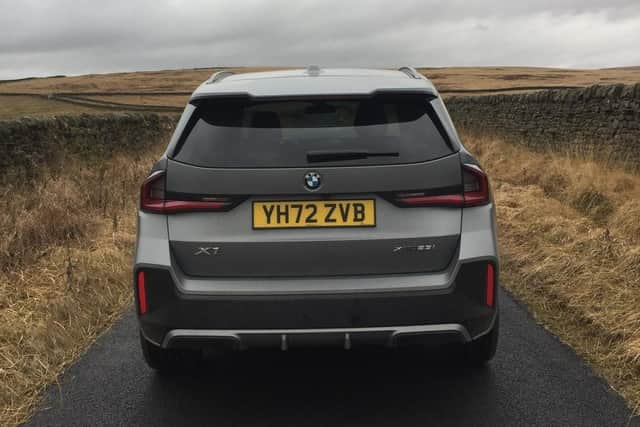 This year's X1 changes are more than cosmetic. Out of sight, there are significant changes to the suspension and dampers. In various ways they improve comfort, steering response, body lift and sway and bump suppression. The M Sport has adjustable dampers with smoother operation, a slightly lower ride and quicker steering response.
In plain sight is the almost square grille, finished in gloss black with opening vanes which meter the air intake. At the rear the side lights extend, a la mode d' Orient. It is a confident move away from the last X1, which suddenly looks so yesterday but more urbane and a good used-buy.
Indoors the dominant feature is the curved glass screen, two feet long, which stretches along the fascia. It has a touch screen for apps and widgets and general and specific data and input. There is a seamless transition to the switchable display for speed, revs, fuel and even a motion sensor. It took some getting used to but I got there using video guides.
On the low edge of the screen are touch pads for the cabin climate settings. The steering wheel carries fumbly small knobs for speed control and driving menus.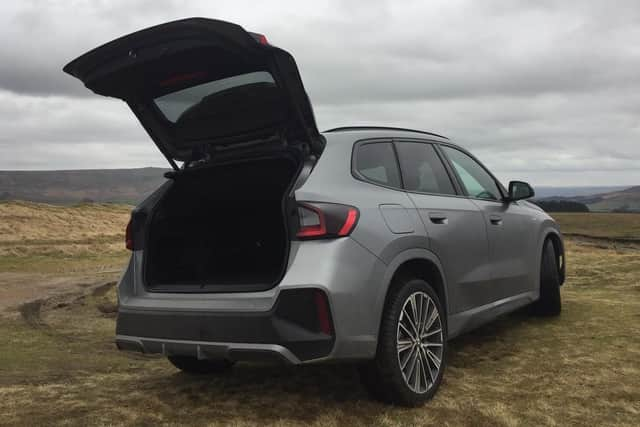 A floating pier extends between the front seats, carrying a shallow lidded tray, the gear selector, engine starter button, radio controls and mode selector for personal, sport or efficiency. Each mode has its own colour display across the screen, with the dominant colour banding along the fascia and front doors. There are other background displays in lurid psychedelic whorls. The sort of abstract delusions in a bad drug-induced dream.
Rather more restful is the white arrow overlay on the navigation map, giving advance warning of a turn, and then more urgent chevrons as it gets imminent: excellent.
I like the "app" showing local roadworks and the driving rules and info in other countries. There's a lot of interaction. Hark, a distant dinner gong warns of a critical drop in the outside temperature.
Verdict: My sort of everyday, every season car.
It is: Almost all-new version on BMW's smallest SUV, made in Regensburg, Bavaria. Longer, wider, taller, stiffer, more agile. Choice of front-drive sDrive and all-wheel-drive xDrive, petrol or diesel of plug-in petrol hybrid. Fully electric version is the iX1. All are automatics.
Tested: The xDrive23i M Sport
Economy: 41 to 42mpg combined and 154g. We got just 32mpg.
Performance: Quick, to 60mph in less than seven seconds. Maximum 145mph.
Power: Two-litre petrol turbo with 215bhp and 258lbft.
Length: 177 inches (4.5m).
Price range: X1 £33,775 to £45,500. Diesel from £34,845. PHEV from £41,300. Electric iX1 xDrive30 £52,255.