The Red Lion, Mawdesley, review: We head out for Sunday lunch to this Lancashire pub with a warm heart on a very hot day
It was the hottest of days when we went for Sunday lunch in a Lancashire pub that is quickly becoming a community talking point.
Published 28th Jul 2022, 15:45 BST

- 3 min read
Updated 5th Aug 2022, 13:00 BST
Watch more of our videos on Shots!
and live on Freeview channel 276
Visit Shots! now
It transpired it wasn't actually the hottest of days at all. That was to come two days' later.
I hope you've now recovered.
And I hope the chef of the Red Lion in Mawdesley has also recovered from the challenge of meeting folks' food aspirations in a heatwave.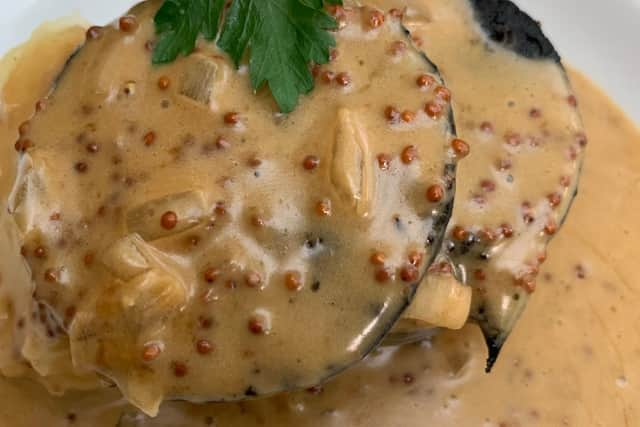 Right now the pub is on the crest of a community wave.
Locals Ian and Sarah Hewitt – and their family – stepped in before Christmas as the community was worried another local pub may disappear.
Much rejuvenation has gone on. The kitchen now serves themed menus in a revamped room (I have wallpaper envy).
My friend Kitty and I visited with Her Chap, and a Chap Friend - and blimey, we weren't just hot, but also hungry.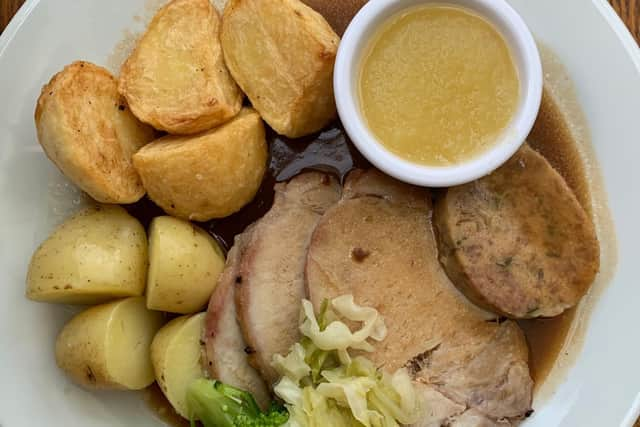 The Red Lion has a dedicated Sunday menu, with selections across starters, mains and desserts. Price options are one course (£11.95); two courses (£15.95) or three (£19.95).
And when it came to starters, for me it was a no-brainer.
I'm like Gollum, drawn to his Precious, when I see black pudding on a menu.
Even in the heat of the day, I craved my fix.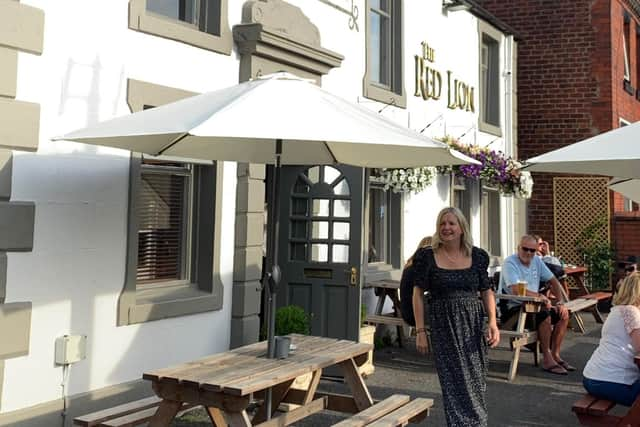 Starters, among others, also include warm goats' cheese, classic prawn cocktail, and salt and pepper chicken strips. One of the Chaps – the only one to join me at the starter end of this outing – opted for breaded mushrooms with garlic mayonnaise.
I demolished the couple of soft, melting discs of pudding, cushioned by a ladle of lightly seasoned mash, hugged by velvety wholegrain mustard sauce. My precious, very nice.
Across the table, an ample supply of mushrooms was greeted enthusiastically and wasn't long for this world.
In my foodie contract with life, Sundays are for roasts.
The Lion's offering is topside (with Yorkshire); pork loin (apple sauce, stuffing); and chicken supreme (pigs in blankets).
Non-meat eater Kitty was reeled in by Fleetwood fish and chips, peas and tartar sauce from the other mains' options.
Food Envy misted my eyes.
The fish had the perfect battery-crunch; a silky interior which fell apart; and the chips were grand too. They were so grand, the Chaps gave a helping hand.
For people with fish cravings, the Lion holds a Chippie Tea Night on Fridays, plus another themed steak night and regular specials.
Back to Sunday. To fulfill my contract with life, I'd chosen pork loin. The roasties looked as fatigued as the chef probably was.
Broccoli, carrots, cabbage, and new potatoes were more invigorating. The ample serving of apple sauce was more than I expected but I craved a Yorkshire. Perhaps I should have asked for a sneaky one which was my fault.
The Chaps went down a chicken route. Their nodding heads, silence and chip stealing said it all.
Two of the table had room for pudding. A goblet of ice cream and an angular-sliced chocolate brownie happily filled the gaps.
Our mix and match of food options for four came to £67.80. A menu-browsing gin and tonic was £5.50, lager was £4, and a 250ml glass of house white (post-dinner, lovely new beer garden) was a sun-sipping £6. We shared a bottle of pinot noir (£25).
The staff were super-friendly and efficient in this pub with a warm heart on a very hot day.
Details:The Red Lion, 68 New Street, Mawdesley, L40 2QP