LNER maintains focus on attracting record customers to rail with new Deal Finder
London North Eastern Railway (LNER) is proud to launch 'Deal Finder', offering customers inspiration, ideas and great value getaways at the touch of their fingertips.
19th Jan 2023, 3:16pm
- 2 min read
Updated
19th Jan 2023, 3:18pm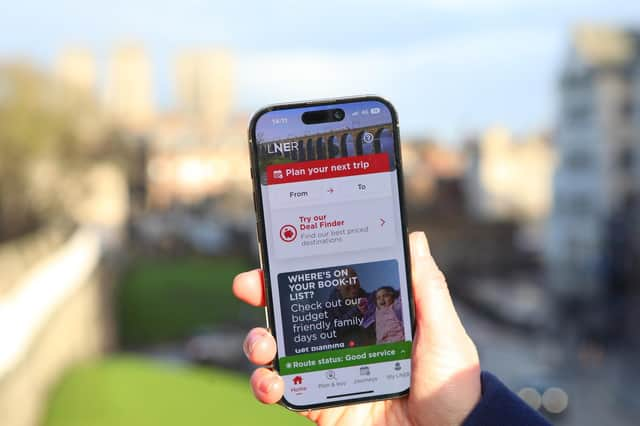 LNER Deal Finder is the latest enhancement to the LNER mobile app making it simpler and smarter for those planning short breaks or memory-making trips. It offers customers the opportunity to set their own budget and see a list of destinations available for them with the lowest available fares shown.
Once they have selected the station they wish to travel from, customers can either choose from the range of dates and times offered or add their own preferences. LNER Deal Finder then does the hard work, browsing through a huge range of journeys to reveal a list of the best value destinations they could discover across the 956-mile LNER route. Deals cover single or return journeys on LNER services in both First Class and Standard.
Danny Gonzalez, Chief Digital and Innovation Officer at LNER, said: "At LNER we are driven by building the best-in-class digital experience for our customers. This fantastic new addition to our award-winning app now gives people an even greater choice and flexibility when it comes to planning their trips and it will also save them time. We are proud to be continuing to welcome more customers onboard compared with pre pandemic times and we hope our new Deal Finder on the LNER app will inspire even more people to explore our East Coast route."
LNER secured a lead over the share of the air market from June 2021 with 59.7 per cent for journeys between Edinburgh and London.
It is anticipated this innovation by LNER will continue to build on the company's continued success in attracting more people to rail and leading the railway's recovery in growing customer numbers and promoting sustainable travel.
The latest data published by the Office of Rail and Road (ORR) shows that LNER has continued to welcome more customers onboard than compared with pre pandemic times, with passenger journeys now at 105 per cent when compared with the same period for 2019.
The LNER App won the App of the Year Award at the 2022 UK Business Tech Awards. Customers can already sign up for live journey updates, personalised notifications and One-Click Delay Repay via the app. Should they wish to change their journey or upgrade to First, they can do so with ease. Fee-free seat reservations can also be made up to five minutes before their planned departure. The app is free to download and offers customers £5 credit for signing up to the popular loyalty scheme. LNER Perks now has more than half a million members with customers earning two per cent credit on bookings to use on future journeys.
London North Eastern Railway (LNER) is on a mission to transform rail travel for the customers and communities it serves. Its new modern Azuma fleet of trains will continue the LNER tradition of setting new, higher standards in comfort, reliability and customer experience. LNER calls at more than 50 stations along the East Coast route, totalling 956 miles including major towns and cities between London, the East Midlands, Yorkshire, North East of England and Scotland.