Heroic stranger restores faith after vandal attack on memorial bench in Wigan
A Wigan mum said she was "heartbroken" when vandals wrecked a bench placed at a beauty spot in memory of her brother.
Friday, 9th April 2021, 7:00 am
Leanne Rhead was devastated to discover the wooden seat at Worthington Lakes in Standish had been damaged.
It was placed there as a tribute to 35-year-old Jonathan, known as Karney, who died by suicide in December 2015. It seemed like a fitting location, as he spent a lot of time there both as a child and as he got older.
But Leanne was told by a friend on Saturday that she had seen photographs of damage to the bench posted on a Facebook group.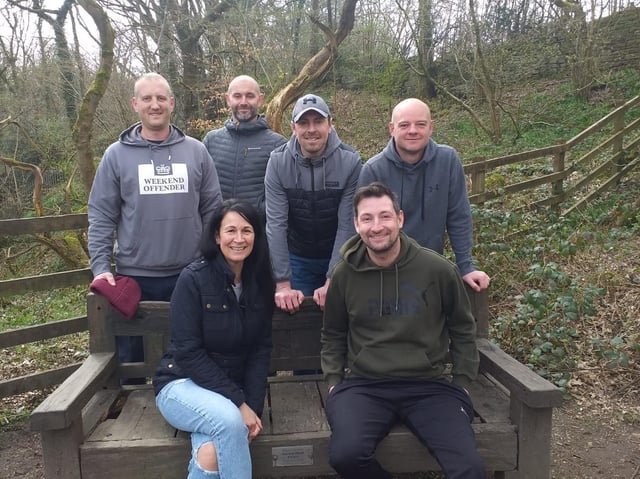 Leanne Rhead and her brother's friends at the bench
Leanne, 43, who lives in Standish, said: "As a family we go a lot. I personally go when I'm happy, when I'm sad. When something is troubling me I will go and sit on his bench and I love it. I will go with my daughter as well.
"There's always a robin that comes and sits on the bench. Often we will take food and this robin will come and sit on the bench. It's so nice.
"The bench was put there after Jonathan died. It has been a place where other people go, friends of his. People who walk around Worthington Lake will use the bench too. It was really quite horrible to see the bench damaged. It was just awful when I had to tell my mum."
Leanne said she was "heartbroken" that anyone would ruin the bench.
She said: "Knowing the reason for the bench being there and because it was for my brother, it was horrendous. It was my safe place to go. I am there quite a lot and I was heartbroken. I couldn't stop crying."
She went to survey the damage with her mum Beverley Rhead, and friends of Jonathan's had offered to repair the bench the following day.
But before they could get there, a stranger placed new wood in the bench to fix it.
Leanne, who has an eight-year-old daughter named Niamh, said: "It was so nice to see someone who doesn't know my family has gone out of their way to help and been so kind to try to fix it before we can do it ourselves. It's a lovely act. It does make you realise there are so many good people out there."
Leanne went back to the bench on Sunday with Jonathan's friends so they could restore it to how it was originally.
Thankfully, a plaque at the bench in memory of her brother, which said he was "everybody's friend", was still there.
She said: "It was emotional that his friends said straight away they would fix it. I have had lots of offers from people to do it. It's shown how kind people are."
While Leanne is happy the bench has now been restored, she is still upset that it was damaged at all.
A stranger repaired the bench, using different wood
She does not know who or why it was targeted, but says there have been groups of youths gathering at Worthington Lake in recent months.
Broken glass bottles were left nearby and fencing was also damaged.
She said: "It's not very nice and I will never get over it.
"I will always worry when I go if it's okay, but now it is as if it never happened because they have done such a good job."
She added: "There have been so many kind words from people I know and strangers. I absolutely want to thank everybody for their kind words. I have been overwhelmed."
​Thanks for reading. If you value what we do and are able to support us, a digital subscription is just £1 for your first month. Try us today by clicking here