LUKE MARSDEN: welcoming a Wigan town centre shop opening
​Wiganers, we can rejoice: we have actual shops opening in the town centre!
Published 21st Apr 2023, 04:55 BST

- 2 min read
​It may be hard at the present moment to see the wood for the trees when it comes to how the landscape of Wigan is looking. It's, frankly, a demolition site and even harder to see a future vision that retains Wigan's heritage but is usable for current and future Wiganers.
But anytime a new (or old business relocating in this case) opens in our town we need to shout it from (what's left of) the rooftops.
Fifteen years on from my stint in a certain reality TV bungalow, I still have the pleasure of attending and ribbon-cutting at grand openings and they don't much grander than the Grand Arcade.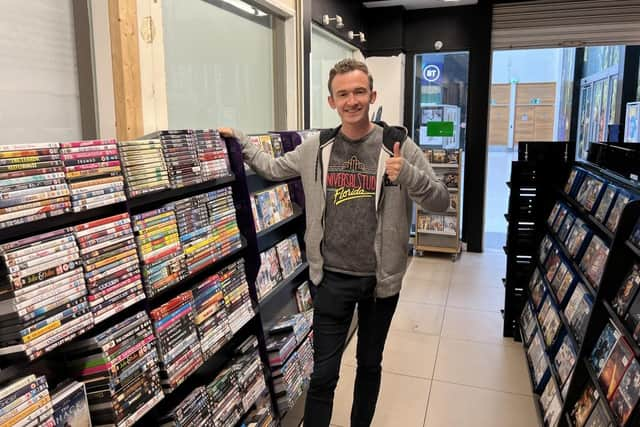 Shoppers may remember GamesnMore at a few different sites across Wigan.
Unfortunately, the shop was forced to close as the demolition of the Galleries commenced.
It's been a tough long year but GamesnMore is back with a bang, located in the old Wigan Warriors shop at the bottom of the Grand Arcade.
I was asked to do the ribbon-cutting ceremony last weekend, although there was no actual ribbon.
The shop, unsurprisingly sells, new and retro video games and much more, from CDs to vinyl records.
It was refreshing to see Wiganers enjoying shopping. I spoke to one guy who had been saving up his old video games for a year so he could trade them in at his favourite store.
The move is a big gamble for store owner Tony Porter and he hopes he can make it work there. He wants a permanent home and doesn't want to have to relocate a fourth time.
If you're reading this and have some old retro games or even new ones lying around gathering dust, get yourself down there and trade them in.
You'll be able to interact with like-minded Wiganers who often just want a chat. The store doubles as a gathering place for gaming and music enthusiasts and this is exactly what we need more of in Wigan.