Review: The meandering first episode of the new courtroom drama on BBC1, You Don't Know Me, shows you shouldn't rush to judgement
I love a good courtroom drama, so I was delighted when You Don't Know Me (BBC1, Sun/Mon, 9pm) began in your archetypal court room with a bewigged judge telling the jury some technical legal stuff.
Published 10th Dec 2021, 17:00 BST

- 2 min read
Watch more of our videos on Shots!
and live on Freeview channel 276
Visit Shots! now
My delight didn't last long, however, as this drama veered off at an unexpected tangent, away from "objection!" and "forgive me, m'lud" and on to a story about love, identity and expectations of class and race.
The first episode, which introduced our hero, known only as, well, Hero, moved at a glacial pace.
Using Hero's closing statement to the jury in his murder trial as a framing device, we saw him meet and fall in love with a girl on the bus, Kyra – in a meet-cute which just about avoided charges of stalking – who turned out to have a deep, dark secret.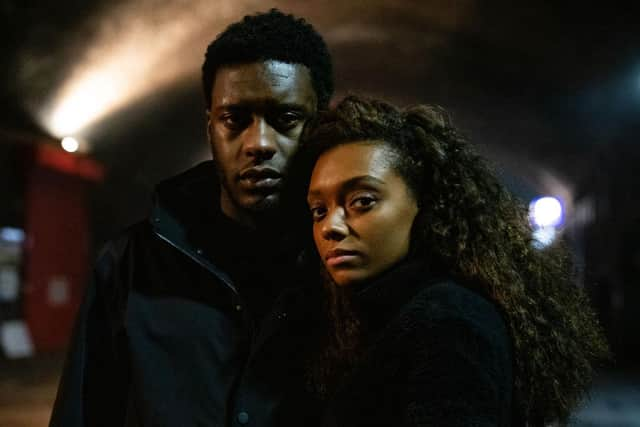 It was all nicely shot, and well-acted, but seemed to meander all over the place.
Meanwhile, you were left wondering just what the judge was doing letting Hero talk for so long, introducing new evidence and new lines of inquiry.
However, the second episode of the drama saw the pace pick up. We had a little less of Hero in voiceover from the courtroom, and the characters became more fleshed out, particularly Kyra, who initially was just a cute bookworm.
As the title suggests, you don't know these people, as they don't know each other. The pleasure comes in finding out. Even Puffa-jacketed not-so friendly neighbourhood drug dealer Jamil moves from one-dimensional to, at least, 2D.
I haven't seen the final two episodes yet, but on the basis of episode two, I'm looking forward to it. It's just a shame we had to get through that lengthy opening statement first.
Ragdoll (Alibi, Mon/Tues, 9pm) was a very weird watch, veering from broad comedy to gruesome horror, often in the same scene. It was so strange I couldn't work it out and had to give up.
I think it might be time to put Have I Got News For You (BBC1, Fri, 9.30pm) out to grass. I mean, Paul Merton has given up on satirising something that's beyond satire, and just berates the audience.