Tom Jones of the Whalley Wine Shop always likes to keep up with new wine trends
Orange Wines are essentially white wines, but have been left with their skins for a prolonged period of time and as a result have absorbed some of the colour from those skins.
Published 12th Nov 2020, 15:45 BST

- 4 min read
Watch more of our videos on Shots!
and live on Freeview channel 276
Visit Shots! now
Orange is the new white when it comes to wines are white wines, but white wines that have been left with their skins for a prolonged period of time and as a result have absorbed some of the colour from those skins
The Whalley Wine shop always likes to keep up with new trends and the recent one for more and more 'Orange Wines' is no exception. But what exactly does this mean?
Well it does NOT mean that any oranges were used to make the wine! It's still purely grapes. Rather, it refers to the colour, with the wines exhibiting a colour ranging from a gentle amber to a vibrant orange.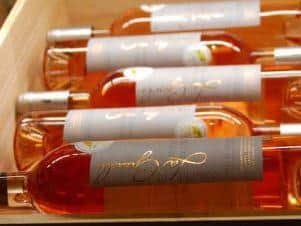 Essentially these are white wines, but white wines that have been left with their skins for a prolonged period of time and as a result have absorbed some of the colour from those skins to become 'Orange Wines'. So technically Orange wines are better called 'Skin Contact White Wines', but it's not quite as catchy or appealing!
For more understanding of these wines it's worth quickly exploring how the colour in all wines is created.
The pulp or flesh of nearly all grapes is clear and as a result the juice is also clear. Red grapes like Merlot for example produce clear juice. The colour only occurs when you leave that juice with the red skins.
Red wine will spend anywhere from a few days to three weeks with the skins and juice together to produce the wonderful ruby colour that we expect. A rosé spends less time with the skins to produce the desired colour, from as little as 8-12 hours for the soft pink tinges that is the fashion in Provence to almost the same time as light reds for the darker rosés. White wines normally spend no time or just a few hours but not enough to colour the final wine. Until recently!

The main reason for leaving the wine with the skins is actually not to add colour, but rather to add a more unconventional array of flavours and textures not normally expected with a white wine. These orange wines will often show a very different 'mouthfeel' and a more full bodied and rounded texture than other whites. They may also exhibit more 'tannins', a characteristic more commonly found in red wines and a more unusual spread of flavours.
Basically Orange wines are pushing the boundaries of what you expect from a white wine. Similar to how a gastronomic restaurant plays with your expectations of the flavours and textures of certain foods. As a result of being close to the edge of the 'normal' flavours, a lot of these Orange wines won't be to everyone's taste. They can be a bit unusual and certainly very different, but if you're feeling adventurous and experimental then they are worth a try. Here's a few I'd recommend:
The Cramele Recas 'Solara' Orange Wine – Romanina, 2018, 12.5% is a fantastic introduction to Orange wines at the less extreme end. It has a lovely soft amber glow and shows apricot, nectarine, ripe pear, blossom and a lovely chalky texture adding weight. At just £9.99 it's the perfect opportunity to explore and sample an Orange wine;
The Attis 'Sitta' Orange Albarino – Spain, 2019, 13% at £21.90 is a much darker orange wine displaying notes of dried tangerine, marmalade, burnt sugar, peach and winter spice notes. An intriguing wine that pairs nicely with seared hake with roasted Mediterranean veg.
Although we're just exploring 'Orange wines' I have long been a fan of the darker rosés that spend more time with the skins and similarly seem to have a bit more texture and character than the super pale wines.
The Lunar Apogee Tavel Rosé – France, 2017, 13% at £16.49 a bottle is the perfect example. Traditionally producing dark rosés from the Grenache and Cinsault grapes in the Southern Rhone Valley, this estate is biodynamic and produces wines in a very natural fashion.
This shows excellent fruit with notes of strawberry but also those darker notes creeping in with touches of blackcurrant and little hints of dark crushed rock. It's the texture of these wines that really impresses though.
We have a further range of dark rosés to explore including Charles Melton 'Rose of Virginia' – Australia, 2018, 12.5% at £21.99 and also the Garage Wine Co 'Old Vine Pale' – Chile, 2018, 12.5% at £18.99.
Just for a bit of fun, here's an A-Z of wine grapes, perhaps for those going into lockdown and starting the online pub quizzes again! How many of these have you tried?
A = Assyrtiko; B = Bobal;
D = Dornfelder; E = Espadeiro;
F = Feteasca Alba (the grape in our Romanian Orange wine!);
H = Huxelrebe; I = Inzolia;
N = Negroamaro; O = Oseleta;
P = Pinot Noir; Q = Quagliano;
R = Rondo; S = Shiraz; T = Tannat; U = Uva Rara; V = Verdellho;
X = Xinamavro; Y = None!!;