A 16ft tall mechanical fox on a scooter is to pay a visit to Wigan town centre!
A five-metre-tall fox puppet on a scooter is coming to Wiganas part of a Historic England project to "celebrate the identity and history of high streets".
Published 19th May 2023, 12:30 BST

- 2 min read
The mechanical puppet, which will be animated by two puppeteers from the inside, has been called Farrah, meaning joy in Arabic.
Historic England said that a fox was chosen as they are "known for their resilience and ability to adapt – just like our high streets have done over the years".
The tour, called Hi! Street Fest, is part of the High Streets Heritage Action Zones programme – a £95m government-funded initiative led by Historic England.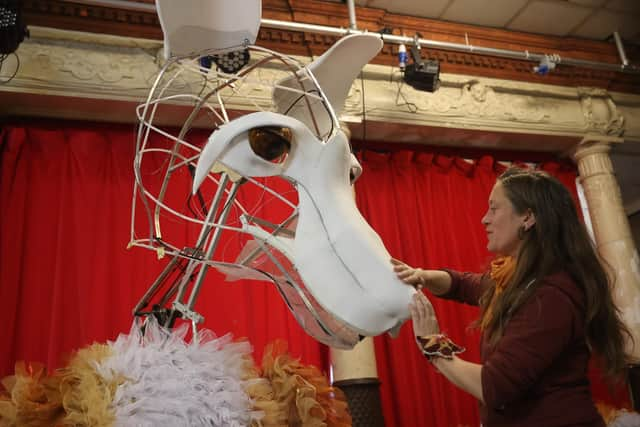 The initiative, designed to secure lasting improvements to high streets, has restored historic buildings and given them new uses, and also has a cultural programme.
Hi! Street Fest is the largest and final commission of its cultural programme, which has additional funding from Arts Council England and the National Lottery Heritage Fund.
The fox puppet is being constructed and will be completed by early June.
It will tour seven places across England, meeting specially created host puppets at street parties and parades, and celebrating each location.
In Wigan Farrah will appear in the first day parade of the Streets Apart Festival in Wigan town centre on Saturday and Sunday July 8 and 9 and featuring live music, DJs, catwalks and live performances.
Another giant character called Frankie created by youngsters from Arts Organisation Everyday (formerly Wigan STEAM) and representative of all things Wigan.
The programme is led by The Old Courts in partnership with Wigan Council and six other borough-based organisations:
Healthy Arts, Stolen Thread Productions, Wigan Little Theatre, Wigan Local History and Heritage Society, Wigan Buildings Preservation Trust and Wigan Youth Zone.
Duncan Wilson, chief executive of Historic England, said: "Our high streets aren't just places to shop, they are places where we can come together and celebrate, to have parties and enjoy carnivals.
"This is what Hi! Street Fest is all about and as the finale to our High Streets Heritage Action Zones cultural programme, it will be our largest cultural event to date.
"We know that cultural events on our high streets increase a sense of pride in local places, encourage people to visit their high streets and connect with their local community.
"That's why these projects are so crucial.
"A giant fox on a scooter visiting locally-created puppets to celebrate the identity and history of high streets is not something to be missed."