Children's delight as animated stars take to Wigan streets
Animated stars of the screen have been going for a stroll around the streets of Wigan to cheer up local youngsters during the lockdown.
Published 17th Apr 2020, 09:02 BST

- 2 min read
Updated 17th Apr 2020, 09:03 BST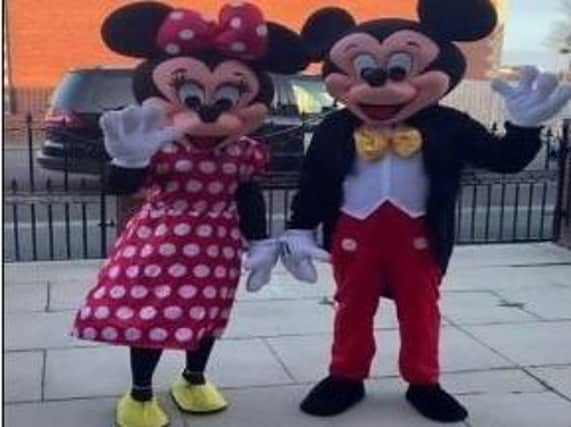 Residents across the town may have been surprised to bump into Mickey and Minnie Mouse, Woody and Jessie from Toy Story or even a pair of Minions from the Despicable Me cinema franchise while taking their daily exercise over the past few days.
The costumed capers are the brainchild of Mark Berry, who runs Party Maskots in Pemberton and has also got his 15-year-old daughter Mia Boyd involved.
Mark noticed while out walking his dog that there seemed to be a lot of children around fed up with having to stay at home all the time.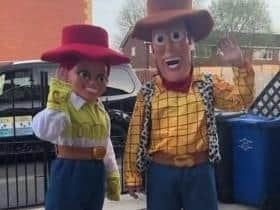 He decided to put some smiles on faces by dressing in one of the business' stack of costumes.
Since then the whole thing has snowballed dramatically, with Wiganers flocking to their windows to see the cartoon characters go past and photos of the pair in their various outfits sparking lots of comments on social media.
Mark, 36, said: "I was walking the dog every day and saw all these kids in the windows looking bored. I've got four myself and they're all bored.
"So I went out in a Mario costume for fun. Children were banging on the windows, waving, running into the gardens.
"We decided we would give them something to look forward to every day.
"I've had messages from mums whose kids have autism saying they are very upset to have lost their routine but this is giving them some of that back, waiting at the windows to see us. I'm trying to go to their areas every day.
"It's giving us something to look forward to as well, we're enjoying it.
"I think some of the adults are enjoying it as much as the kids. We've noticed people who are always at the window waving and taking photos.
"We've got quite a lot of costumes but we can use some again. I think Mickey and Minnie will be out again, the kids enjoyed them. I can see in that costume as well!"
Mark and Mia have covered areas including Norley and Worsley Hall, Kitt Green, Marsh Green and parts of Orrell and Winstanley.
A post appears each day on the Party Maskots Facebook page saying which roads and places the characters will be visiting before they head out in the early evening.
Mark says he intends to continue the daily trips out in costume until the lockdown comes to an end.