Grassroots culture event arrives in borough
The first Leigh Fun Palace, part of a national campaign using arts and culture to bring communities together, has taken place.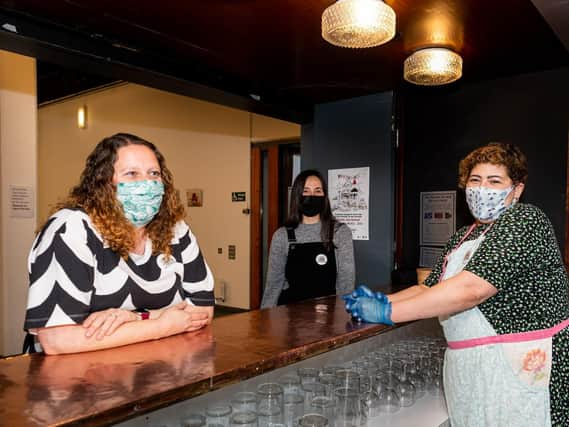 The event was put together by a team of volunteers from The Turnpike Centre, the arts hub in Leigh town centre.
Altogether there were 10 activities for residents to enjoy, although the Covid-19 pandemic meant these had to be a mixture of in-person events and digital ones.
However there was still an impressive array of things to do as part of the Fun Palace, which celebrates all kinds of arts, traditions and skills.
The Leigh event ranged from screenings of short silent films to art exhibitions to cooking up a storm in the kitchen at the Civic Square venue.
Although the elements were definitely not in the organisers' favour, with heavy rain on the Saturday in particular, the team felt their first event was successful enough to give them something to build on for the future.
Jennifer Lowe, one of the main organising team alongside Amy Banks and Sophie Strain, said: "It was good although not surprisingly we were hindered by the rain.
"There was something for everybody. Even people who were shielding or self-isolating could click on the links and do some art at home.
"We've already got lots of ideas for next year and are talking to people about how we can do it again.
"We're now on the Fun Palaces map in Leigh and we're really pleased with that.
"It wasn't as busy as we would have liked but the weather was against us and people are still a bit unsure about coming out.
"Hopefully next year we won't have the same Covid restrictions and will be able to be more interactive."
The Turnpike hosted a number of events including drawing Fun Palaces to display at home and creating an alphabet trail.
Leigh Film Society showed silent movies while Amy taught people a homemade soup recipe, with the leftover food being distributed to homeless people in the town centre at the end of the event.
Bedford High School held an online art exhibition and there was also a digital photography gallery.
Art installations were also held at a couple of other locations in Leigh with work celebrating nature and gardens.
The organising team also hailed the efforts of Amy's daughter Zoe Alexander in making the Leigh Fun Palace a reality, while the weekend's events were photographed by local professional lenswoman Livia Lazar.
To find out more visit https://funpalaces.co.uk/fun-palace/leigh-fun-palace