Last push for couple to raffle home and begin Aussie dream
A couple, who are raffling off their £255,000 home and car, are making one last push in the hope of realising a long-held dream move Down Under.
Wednesday, 6th January 2021, 3:11 pm - 3 min read
Updated
Wednesday, 6th January 2021, 4:05 pm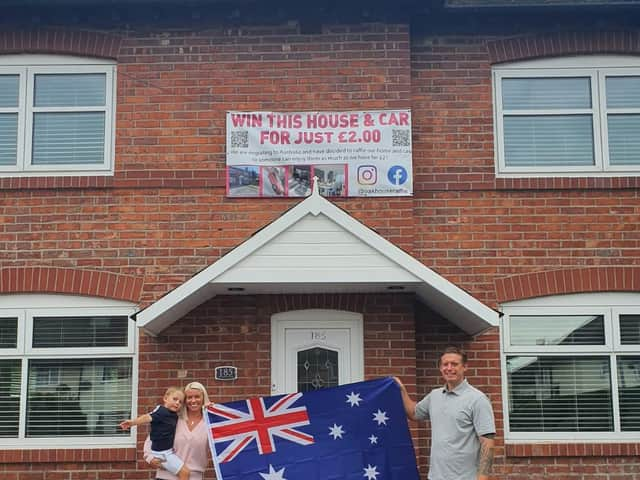 Gemma, Anthony and Max outside the home
So far Gemma and Anthony Reid, orignally from Wigan, have sold more than 110,000 tickets at £2 each, as they bid to fulfil their ambition.
The pair are using a platform called Raffall which sells the tickets and generates a winner for their house, which they have struggled to sell by more conventional methods in the M7 post code area of Salford due to the Covid-19 pandemic.
All Gemma 37, and 38-year-old Anthony have to do is advertise the raffle.
Lucky winners will get a three bedroom family home and VW Polo car with the end date for the raffle being January 30.
That leaves the couple until then to sell 135,000 tickets, which is a reduction from the 200,000 they were originally going to sell.
They said that 135,000 tickets is what will cover their costs - anything less and they would be struggling to sell the house.
Gemma, who has a four-year-old son Max with Anthony, said: "The reason we've reduced this is when we first started off we had to choose a round figure of tickets to sell so we chose 200,000.
"But we only really wanted to sell 140,000 to 150,000 tickets, so as we're getting near the end, we've settled at 135,000 tickets to cover costs.
"If we don't sell the house, 75 per cent of the ticket sales will go to the winner of the raffle and the remaining 25 per cent to Raffall, which would mean we may have to go back to the drawing board and sell the house again.
"So we're desperate to get to target as everything is ready to move to Australia."
The couple first went live on Monday, September 7, and pair have a Facebook and Instragram page @oakhouseraffle with more than 3,000 followers.
They have been able to count on celebrity support, with David Potts, from Ibiza Weekender and footballers Angel Gomes and Ravel Morrison, backing them.
Since 2009, the couple have owned the house, and after Anthony's mum Winnifred died of lung cancer in 2018, her wishes were for the pair to go and live their lifelong dream in Australia.
Currently they are in the process of moving to the other side of the world and have renovated the house which they put on the market in March last year, just a week before the Covid-19 outbreak and this caused a struggle to sell the house.
So now, the couple hope to sell the tickets they need to and secure the visa which they're still waiting on.
Gemma, who lived in Wigan for a number of years where she went to Abraham Guest High School in Orrell and lived in Pemberton on Ormskirk Road, said: "We're still waiting for the visa to be granted and it should have been by now.
"Due to Covid they've been dealing with a backlog but it should be ready for January to February time this year."
She added: "We're really hoping we get to the 135,000 ticket sales as soon as possible so we can move to Australia and someone else gets a dream family home."
People can buy tickets from raffall.com/oakhouseraffle.