Little girl with rare condition to get therapeutic hot tub
A little girl, who suffers from a rare condition which affects her growth, is to get her own therapeutic hot tub.
Published 23rd Oct 2020, 07:00 BST

- 2 min read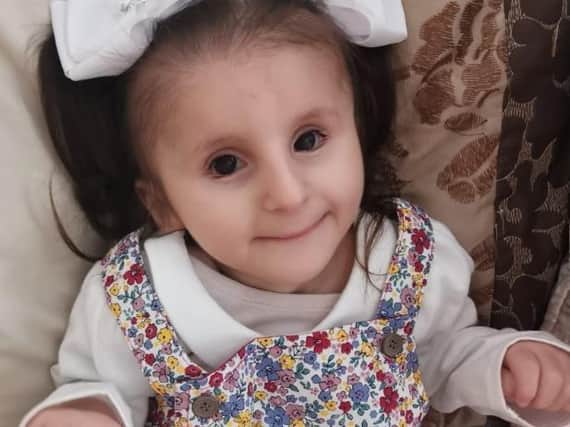 Lily-Mae Esfangiary, from Up Holland, is often mistaken for a baby, despite actually being four years old.
The toddler suffers from Cockayne syndrome, an incredibly rare illness that affects one in 500,000 babies.
The rare disorder is characterised by small stature, microcephaly (small head), developmental delays and premature aging.
Cockayne syndrome can also be difficult to diagnose early on, as birth weight and head size are often normal, as is a child's early development - so much so that mum Sally was only told the news when she was one.
To cheer Lily-Mae up, her family were hoping to take her on a dream holiday abroad to Florida organised by The Make a Wish Foundation, but the trip got cancelled due to coronavirus restrictions.
And the charity, which helps fulfill the wishes of children with a critical illness between the ages of two-and-a-half and 18 years old, suggested they could give her something else.
Her family decided Lily-Mae would benefit from a hot tub from the charit as she enjoys going in them - and with the help of the community, a canopy has been built to go with the £4,000 hot tub for when it arrives.
Grandmother Sue Hodson, 56, said: "Brooks Bros UK, who are a wood merchants in Skelmersdale, donated all the wood for the canopy.
"Then a local joiner, Ste Longworth, from Up Holland, donated his time to put the canopy together, and Lily's granddad John Hale has been flattening and decking the area ready for the hot tub, so I'd like to thank them all.
"She was supposed to be going on holiday to Florida organised by The Make a Wish Foundation but she wasn't able to due to coronavirus restrictions.
"So they suggested we could have something else and that's when we decided on the hot tub.
"I have a hot tub myself and I put her in the baby life support ring and I hold her while she is going round but she doesn't like that.
"She likes the independence and going round herself so we decided it would be nice for her to have her own little hot tub."
Sue said it is now hoped the hot tub will arrive in mid-November, and in the meantime she has formed her own little support bubble with Lily-Mae and her mum Sally.
She said: "Lily-Mae can be prone to chest infections and has now been put on long-term antibiotics.
"I have my own support bubble with Sally and Lily-Mae so we can stay in close contact."
She added: "I'd also like to thank LTC Tree Surgery and Fell's Tree Services for cutting down the trees in the garden and taking them away to make space for the hot tub.
"My thanks also go to Mike Evans, from Edmundson Electrical Ltd, and Ash Cullen, from Murphy's Electrics, who did all the electrics, and then AR Skip Hire in Wigan and Brian Hall Heating and Plumbing in Up Holland, who helped out with that side of things.
"Lily-Mae will be delighted."