Mum's horror as son collapsed in supermarket with brain haemorrhage
A mum has relived the moment she discovered her "fit and healthy" son had collapsed in a supermarket with a devastating brain haemorrhage.
Tuesday, 4th May 2021, 10:02 am
Jackie Chadwick says there were no signs that 36-year-old Karl Hawkins was about to be left fighting for his life.
It was during a visit to Tesco in Leigh on April 24 last year that Karl collapsed in the first aisle.
Jackie, who lives in Leigh, said: "Luckily I had gone into town that day to pick a prescription up for myself. I got a phone call to say Karl had collapsed in Tesco from my eldest son.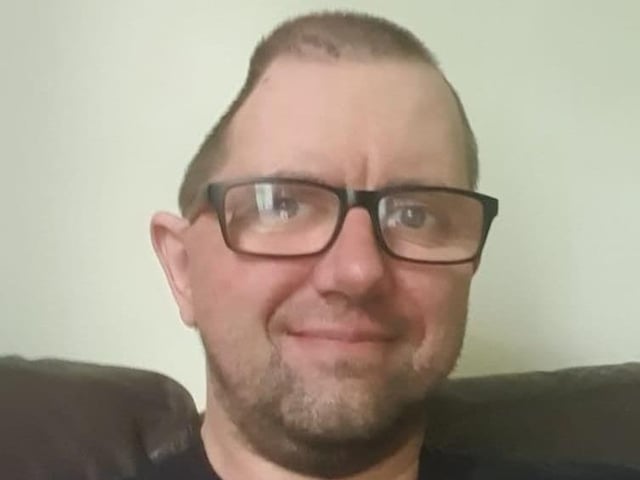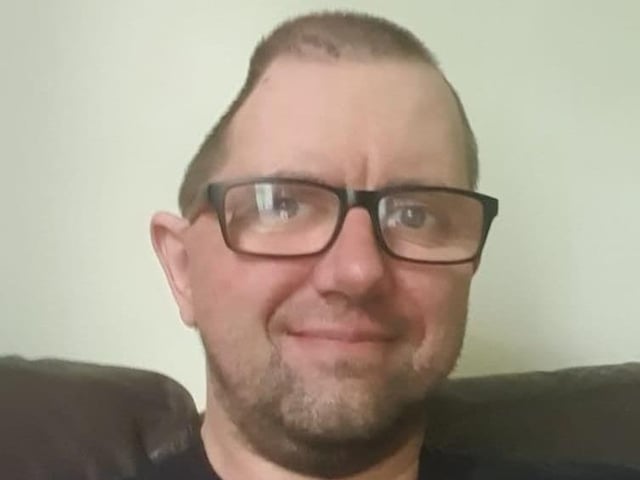 Karl Hawkins had part of his skull removed due to the brain haemorrhage
"I went there and I went straight in, even though they were queueing in the car park. It was absolutely horrifying to see the way he was at the time.
"By the time I got there a paramedic was already there treating him and they took him to Salford. I didn't see him for eight weeks.
"He was operated on straight away. He was touch and go, they said. They told me to be prepared for the worst that evening."
Karl had suffered a brain haemorrhage and doctors worked to stop the bleeding on his brain.
Karl Hawkins before he collapsed
But they had to remove part of his skull to relieve the pressure and he spent eight weeks in a coma, with his mother unable to visit due to coronavirus restrictions.
Karl was transferred to Trafford General Hospital for rehabilitation and was only discharged in August.
He went to live with his mother, as he could no longer live independently.
Karl has also been unable to return to his job at the Thomas Burke pub in Leigh.
Jackie, 61, said: "He is up and down now. He has problems with his memory, he has problems with his speech. He's only in the last couple of weeks been able to use his hand again. He's only just been able to use his knife and fork - that's been a massive achievement."
It is hoped Karl's condition will continue to improve.
"We have got to really work on him remembering things. Even when he is talking to me, he will start talking about something, I will listen to him and when he stops, he has forgotten what he was talking about," his mother said.
Karl has started having seizures since the brain haemorrhage, having 10 between November 7 and February 13.
Jackie said: "Luckily he has not had any more since then. We have finally got the medication right I think."
It has been a "nightmare" year for Jackie and her family and she says Karl is "totally different" now.
But she praised the "brilliant" carers from Excel who visit Karl three times each week and the supermarket workers who cared for him.
Jackie said: "The staff at Tesco in Leigh were absolutely fantastic that day. He walked into the store and collapsed in the first aisle.
"Luckily both the store manager and another manager were just behind Karl when it happened, so they got to him straight away. They put barriers across so people couldn't go near him and the paramedics could work on him."
The family also has the support of Jay Kenny, a life-long friend of Karl's who is aiming to raise £3,000 to make sure he has everything he needs.
He has pledged to run 101 miles from Carlisle to Leigh in 24 hours and is asking people to sponsor him.
He will run on June 11 and 12 and hopes to organise a concert or other kind of fund-raising event to take place in Leigh while he is running.
It will be a big challenge for Jay, who went to school with Karl and has also worked with him, but he is determined to succeed.
He said: "It's going to be mentally tough and physically tough, but I will have Karl on my mind. I can do it for 24 hours and get my body through lots of pain to help him."
He hopes the money will make a real difference for Karl, who he described as "everybody's friend".
Sponsor Jay at www.justgiving.com/crowdfunding/jay-kenny
​Thanks for reading. If you value what we do and are able to support us, a digital subscription is just £1 for your first month. Try us today by clicking here