Random act of kindness portrait by Wigan borough artist features in new exhibition
A portrait based on a random act of kindness is on display at a borough arts hub.
Published 26th Feb 2023, 12:30 BST

- 2 min read
Artist Lisa Michelle, from Leigh, has created a special portrait of Ollie, a dog who lost his eye in an attack by another dog, as a random act of kindness.
The portrait, entitled Ollie's Bravery Award, was created by Lisa, based out of Creative Spin Studios at Leigh Spinners Mill, after following Ollie's story on Facebook and feeling moved by the impact the attack had on him and his owner, Abi Cunliffe.
The artist, educator and illustrator was in the process of creating a number of commissions last year when The Turnpike Gallery advertised their Open Exhibition.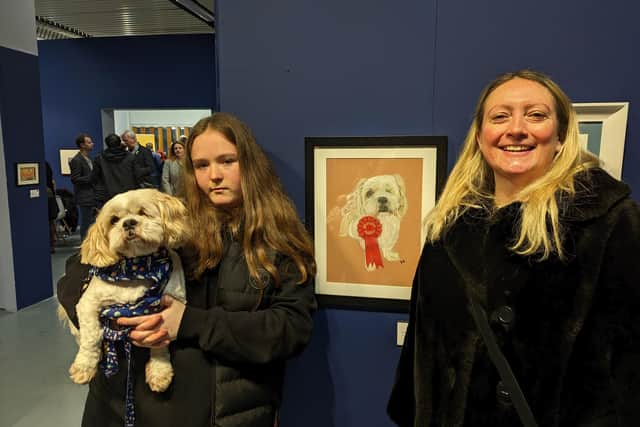 Lisa decided to enter the portrait into the exhibition, hoping to bring attention to Ollie and Abi's experience and offer them a gesture of kindness.
To their delight, the portrait was accepted into the exhibition, which opened on January 28.
Abi, her grandma Rhona, and Ollie himself were invited to attend the launch, allowing Lisa to finally meet the recipient of their kindness in person.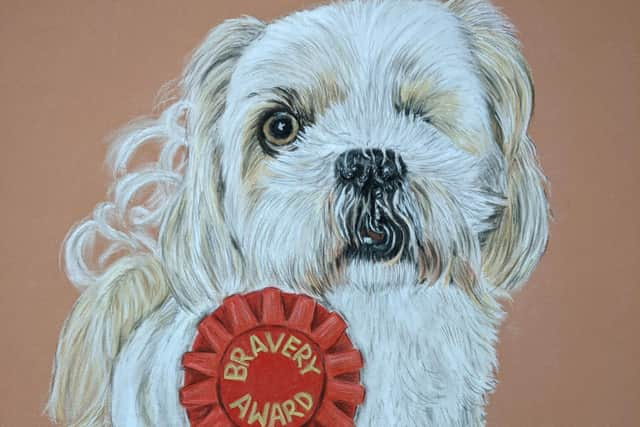 Ollie, who has made a full recovery, enjoyed his first art exhibition and showed that he has bounced back from the attack and is enjoying life to the fullest.
Once the exhibition concludes, the portrait will be gifted to Abi who will be able to take it home forever.
The portrait represents Ollie's bravery and serves as a reminder for other dog owners to be responsible so similar incidents can be prevented in the future.
Lisa said: "I felt so sorry for Abi and her family and wanted to do something nice to cheer them up.
"Creating this portrait of Ollie was my way of expressing my support and showing them that they are not alone in their experience."
The Ollie's Bravery Award portrait serves as a touching testament to the resilience and bravery of dogs and the love and kindness of those who care for them.
The exhibition at the Turnpike Gallery, which runs until March 18, is open to the public and offers a unique opportunity to view the portrait and to support Ollie and Abi's story.