Royal fans at Wigan Little Theatre will be cheering on Charles at his coronation after their recent meeting
Members of Wigan Little Theatre will be glued to their TVs on May 6, when Charles lll is crowned.
Published 2nd May 2023, 04:55 BST

- 4 min read
They feel they know him very well since his visit to the theatre in 2019.
We will be celebrating by lighting up the theatre on that day.
For us it's going to be an opportunity to enjoy the pomp and ceremony which this country does so well and as everyone knows, we love a great production.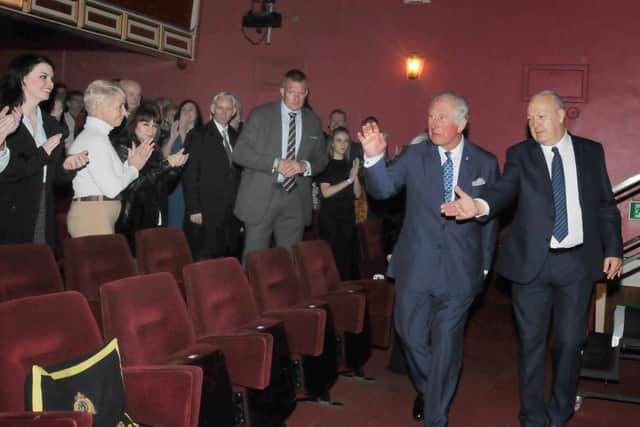 We'll definitely be dining out on our experience of meeting the now Charles lll who we all remember for his warmth and encouragement for everything we do. He is a staunch supporter of arts and culture in all its forms.
Recollections of the support we experienced on his visit will stay with us for many years.
The phone rang and a voice said "Good morning, this is the Lord Lieutenant's office. We a pleased to tell you that His Royal Highness, the Prince of Wales would like to add Wigan Little Theatre to his schedule when he visits Wigan. Please keep this information completely confidential and inform only the trustees necessary to ensure the visit is secure and successful."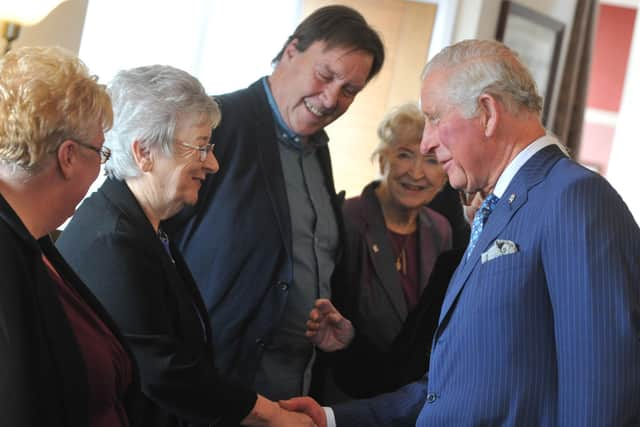 This call took some time to absorb, I was filled with anxiety about keeping the secret, planning the day and making it an occasion memorable for members and maximising the time allotted to the visit as rich a possible.
Intent on keeping the top security nature of the visit, I phoned the Exec members whilst walking the dog on a secluded pathway. I don't know whether my breathlessness was due to the pending visit or the vigorous dog walking.
The cast of Ladies Down Under was alerted to recreate a scene from their recent performance. Actors brushed up their lines, props were re-ordered (airline seats in particular, which are not something we keep in the props cupboard). Time off work had to be arranged, somewhat tricky when you weren't allowed to tell you employer who you would be performing for.
Youth Theatre members were selected and prepared a comedy sketch fit for royalty. It would be something the Prince knew very well, as it was the To Be of Not To Be sketch, which he himself had appeared in with the great and good of the National Theatre in their 50th Anniversary performance. Sealed letters were given to the young people to give to their headteacher, telling them their pupils' day off was requested for our special guest.
It's common knowledge that the royals love theatre, the stories of the pantomimes performed by princesses Elizabeth and Margaret are well documented. It was very clear that Charles thoroughly enjoyed his look at the workings of amateur theatre. He obviously admired the enthusiasm of those who do it for fun for many years.
WLT President, Margaret Kinley accompanied the Prince to his seat and throughout the visit and after the performances he came to meet and greet other members of the theatre. He went onstage to shake the hands of the performers and then walked through the heritage corridor where the history of WLT is well documented and speaks to the dedication and hard work of volunteers for almost eight decades.
He met the committee members and previous chairmen as well as many people as could be crammed into the bar.
We had asked what refreshments we could provide and told the Prince liked honey in his tea. As it happens, we have members who produced honey from their home in Red Rock, which was, after being served to the Prince was gifted to him. The honey-makers just happen to be the daughter and son-in-law of our revered former president, Mrs Ethel Round. She would have been delighted to know that we'd been honoured to serve tea like this, especially as she had catered for so many teas and suppers during her many years at WLT.
WLT is fortunate to have a distinguished fine artist in its ranks. Stan Derbyshire is currently our oldest and longest member and he presented the Prince with a painting of the theatre, (we hope it is displayed prominently somewhere in one of the royal residences!)
During his chats with members, it was very clear that he was entirely engaged and had lots of theatre-related things to talk about. For instance, he said that he'd had his first theatrical experience when his grandmother took him to Covent Garden when he was seven. He added that he'd love to be able to take his own grandchildren "If I am allowed."
After signing a commemorative scroll and giving his good wishes, he left to board a helicopter waiting on the outskirts of Wigan.We understand he was still smiling about the visit as he boarded it.
Members of Wigan Little Theatre are extremely proud to say that they met, spoke to or performed for the now King Charles III.