Wigan author releases children's book to inspire future generations to be part of research
A Wigan author has teamed up with researchers to create a book giving children a greater understanding of health and care research.
Published 17th May 2023, 04:55 BST

- 2 min read
With a background in teaching and a carer to young disabled adults, Alex Winstanley is the author of a popular series of children's books which promote inclusivity and diversity.
Now, he has worked with the National Institute for Health and Care Research (NIHR) on a special project to coincide with International Clinical Trials Day.
Ready For Research is a book which aims to get children thinking about the importance of research from a young age.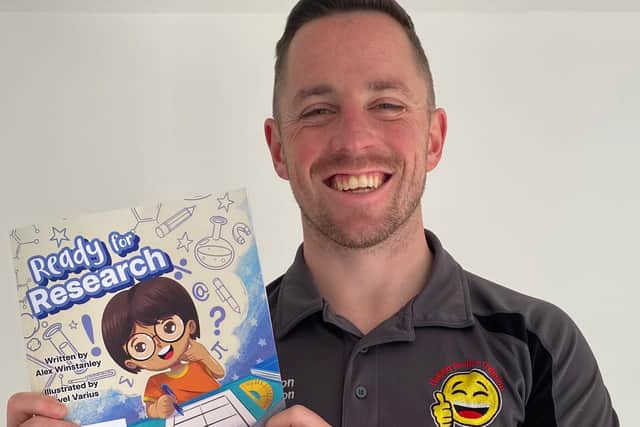 It is aimed at children up to lower key stage two – school years three and four – to align with the school curriculum's focus on introducing pupils to the importance of helping their community.
Alex, who is the co-founder of Happy Smiles CIC, said: "It was a pleasure to be asked to be involved in this project.
"Writing a book that dispels myths and supports inclusion and diversity is something I'm very passionate about and I am pleased to have been able to hopefully do that through this great book about the benefits of research."
Last year, almost 1.3m people, including more than 80,000 in Greater Manchester, took part in health and social care research in England, helping to develop better treatments, improving diagnosis and learning more about prevention of illness.
People might have questions before agreeing to take part in research, so Ready for Research takes the reader on a journey alongside a young person who, after being invited to take part in a study, overcomes their fears and helps others to do the same.
The book will form part of NIHR Clinical Research Network Greater Manchester's strategy for engaging and educating young people in health and care research.
It will be available in schools and care settings to use when discussing research participation.
Emma Oughton, assistant research delivery manager at NIHR Clinical Research Network Greater Manchester, said: "It has been such a fantastic experience to be innovative with this book which will help us raise awareness of research in community settings with the younger generation.
"We hope by sharing a positive message of research this will inspire our future generations to be part of research."