Wigan charity announces finalists in its Poet of the Year contest
Six finalists have been chosen from hundreds of students across the borough hoping to be crowned the 2021 Brick Poet of the Year.
Tuesday, 4th May 2021, 7:00 am
Wigan-based charity The Brick, which supports people facing poverty and homelessness, was inundated with entries for its poetry competition.
It was launched with schools and colleges in Wigan and Leigh after the success of its winter campaign A Soul Like Yours, which raised more than £20,000 with a poem by Matt Kelly.
The finalists have now been selected and a panel of judges will reveal their winners in May.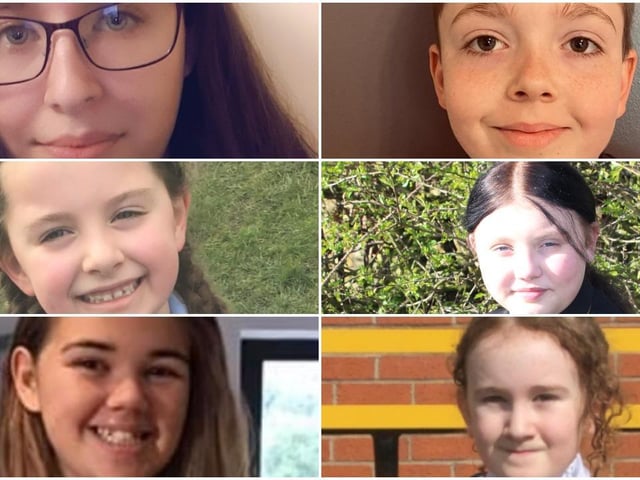 Poetry competition finalists, clockwise from top left, Elisha Foster, Alex Hough, Elise Derricott, Erin Myhan, April Cheetham and Emily Banks
There will be a primary school and secondary school/college winner, with prizes including a festival camping kit and a party teepee. The winning poem will be narrated and recorded by poet Matt.
He said: "It's an honour to be part of The Brick's poetry competition to help raise awareness of the struggles that some people in our society face and we know that poverty and homelessness are really important issues for our young people."
"We wanted to involve children of all ages in this poetry competition, as we believe that it is important to raise awareness of poverty and homelessness at an early age, and by asking children to write their own poems, based on their own experiences and feelings, we are confident that our young people will really bring to life an issue that is affecting so many in our community right now.
"I want to thank all the teachers, parents and carers who have supported us by encouraging their children to participate in our poetry competition. I am overwhelmed by the amazing local talent showcased. I also feel extremely humbled by the high level of understanding and empathy that comes through in their creative writing. For children and young people to consider, reflect and write about such emotive subjects as homelessness and poverty without bias or cynicism, gives me hope that we are raising a future generation committed to equity, fairness and compassion."
The finalists in The Brick's poetry competition are:
Alex Hough, year six at Aspull Church Primary School, said: "I was very surprised and felt really happy that I had been shortlisted. I'm also very proud as I put a lot of hard work into my poem."
Sarah Waller, year six class teacher at Aspull Church Primary School, said: "I am very proud of Alex. He put a lot of emotion and hard work into his poem and really thought about how different his life is compared to someone who is homeless. I think his poem is thought-provoking and highlights his empathy and compassion towards those who are less fortunate."
Emily Banks, year one at Marus Bridge Primary School, said: "I am very happy and proud that I have made it this far in the competition with my poem. I now hope to do more in the future to help people who are less fortunate than myself. Thank you for this opportunity."
Mrs Riley, year one class teacher at Marus Bridge Primary School, said: "As a school, we are so very proud of Emily and the moving poem she has written on such a thought-provoking topic. It is so humbling to see a child of her age understanding and appreciating the struggles of others. Well done Emily. We are all very proud of you."
Erin Myhan, year six at St Thomas' CE Junior and Infant School, said, "I was really happy to be shortlisted and definitely felt more confident in myself afterwards. I really hope all homeless people across the country can be helped."
James Power, year six class teacher at St Thomas' CE Junior and Infant School, said: "We're so incredibly proud of Erin being shortlisted. Her kind heart and incredible talent shines through in her poem. The poem is thoughtful, emotive and superbly pieced together. She often goes out with her parents to help feed people who find themselves homeless and has seen first-hand armed forces veterans on the street, which is where she got her inspiration from. We hope that Erin's poem helps to raise awareness of this issue in society."
Elisha Foster, year 12 at St John Rigby College, said: "I think this competition is special, it gave children of all ages the chance to get their voices heard in a world where our thoughts would normally be left in the shadows. I loved writing my poem and I am so grateful that I was given the opportunity to share it with others."
Chris Chandler, head of English at St John Rigby College, said: "We are so proud of Elisha's contribution to this fantastic competition. We are honoured to be a part of The Brick's wonderful work in supporting those who deserve our respect and support in these very difficult times. Good luck everyone!"
April Cheetham, year 11 at The Deanery Church of England High School and Sixth Form College, said: "In order to write my poem, I took inspiration from different films I had seen surrounding the topic as well as books and texts I had read. In addition, the work The Brick has done has given me a look into different ways that people live, and my poem raises awareness for this cause."
Mrs K Lawrence, English teacher at The Deanery Church of England High School and Sixth Form College, said: "I am extremely proud of April for writing a poem that shows a talent and maturity beyond her years. She has managed to capture a part of life that is hard to describe and comprehend, but one of which we should all be aware. She has shown a tremendous capacity of warmth and compassion through words that I am sure will resonate with anyone who reads them."
Elise Derricott, year nine at St John Fisher Catholic High School, said: "I chose to write about homelessness because it is a real problem in Wigan and the world needs to know that people are actually suffering. I feel proud to be shortlisted."
Rebecca Robertson, head of English at St John Fisher Catholic High School, said: "People are suffering in different ways and Elise has managed to depict the plight of homelessness so well in her poem. There is something about Elise's poem that resonated with everybody who read it. Elise wants everybody to understand that homeless lives do matter. She is a very thoughtful, caring person and we are so proud that her poem has been shortlisted."
​Thanks for reading. If you value what we do and are able to support us, a digital subscription is just £1 for your first month. Try us today by clicking here