Wigan community stalwart receives MBE in Queen's Birthday Honours list
Michele Nel has been recognised after more than 20 years of volunteering.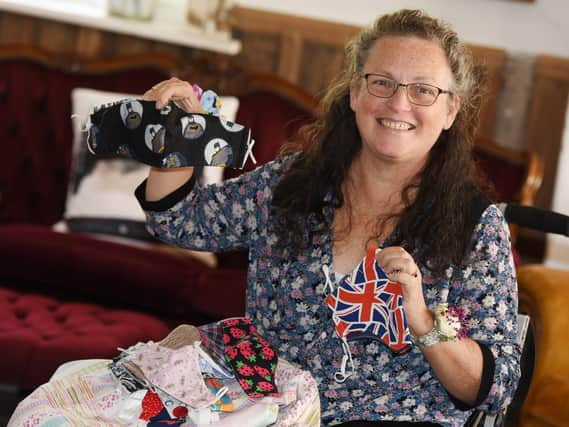 The 58-year-old, from Standish, plays a major role at Today's Community Church at The Edge, runs a number of groups and events helping vulnerable people and those who have recently arrived in the UK and contributed to the response to this year's Covid-19 pandemic.
She is passionate about traditional skills such as knitting, sewing, cooking and crafts and passing these on to ensure they are not lost.
Michele, who is originally from South Africa and came to Britain 22 years ago, said she was stunned to be given the prestigious honour and at first had trouble believing it was genuine.
She said: "It's surreal. I thought it was a joke until I contacted them in person.
"I'm in shock because for me it just feels like an ordinary thing to do.
"The work we've done for the community has been incredible but none of it would have been possible without the close to 200 volunteers who have been helping me.
"It's crazy but I'm very happy for them because they will get some recognition for all the work they've done."
When coronavirus hit earlier in the year Michele formed Headbands for Heroes after a midwife said the elasticated face masks were causing sore and bleeding ears.
The operation grew quickly and 99 sewers, four administrations and 73 couriers worked to produce and deliver more than 13,000 headbands for key workers across the country.
Michele also started Handmade, a group which uses sewing as a way of bringing together people at risk of isolation, promoting conversations and breaking down barriers to integration.
She bought and refurbished dozens of sewing machines so group members could continue their hobby at home.
She also facilitates Good Yarn, which supports women who have experienced trauma or mental health issues, and ran community house parties for asylum seekers and refugees as well as doing translation services and helping them practice their English.
The groups dedicated to sewing, knitting and crocheting also help to bridge the generation gap as they bring together younger people who want to learn these skills and older residents who have been practising them most of their lives but are now at risk of loneliness or isolation.
At the church near Wigan Pier she has taken on roles including donating meals and ensuring new parents in need get food twice a week. Her groups even helped get the coffee shop ready to open.
Michele does all this while also using a wheelchair, and blogs about her experiences as well as talking to other people in a similar position.
Her passion for time-honoured skills is also demonstrated by her YouTube presence, where videos cover everything from sewing to making hand creams.
Michele said: "I've always helped people do things and taught them whatever they need.
"If there has been a need I've been there to try to fill it as best I can.
"I was born a crafter. I've always loved making things.
"I've even got a builder's certificate so I can bricklay and do carpentry.
"Now the school system no longer provides some of these skills, I'm passionate about making sure they aren't lost.
"It just seems natural to me that if I have a gift I should pass it on.
"I also think I have a bit of an affinity with refugees because we emigrated over here. I'm from Durban and my husband is from the Free State in South Africa, but my mum is British.
"I'm quite a privileged white person and it's not exactly the same, but I do have a small glimpse into the problems people face coming from a foreign country."