Wigan dad will wear 80kg diving suit in charity marathon effort
A caring dad is taking on his biggest challenge yet to raise money for a charity supporting people with the same debilitating illness as his son.
Published 20th Mar 2020, 09:55 BST

- 2 min read
Updated 20th Mar 2020, 09:56 BST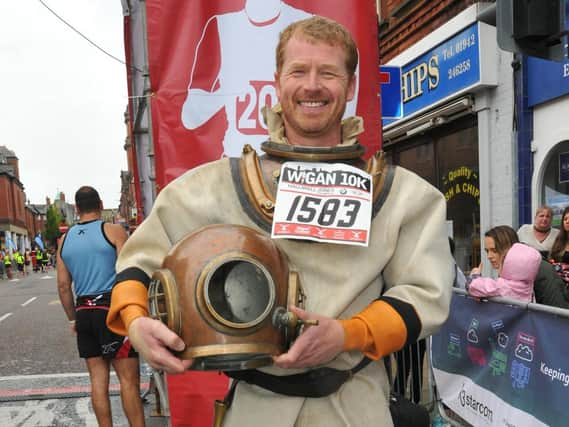 Nigel Brookwell, from Swinley, started taking on eye-catching fund-raisers after his son Harry, now 17, was diagnosed with chronic fatigue syndrome, also known as ME, in 2016.
Harry could not attend school for two years, but he is now doing well and his dad is continuing to take on challenges to fund research into the condition to help other people.
His previous feats include pushing a hospital bed for 10 miles at last year's Run Wigan Festival.
He also completed the Wigan 10k in 2017 wearing a 1930s diving suit - weighing a massive 80kg - and climbedBen Nevis in it as part of a six-man team.
Now, 46-year-old Nigel plans to put the suit back on to walk 26.2 miles - the distance of a marathon.
He originally planned to cover the distance by walking from Wigan to Manchester in the vintage diving suit, taking around three weeks.
But instead he has decided to break it down into one-mile chunks over the coming months.
Nigel will aim to walk in a variety of locations where people will be and encourage them to donate to his appeal.
Having done previous challenges in the suit, he knows what to expect when he puts it back on.
He said: "It's very uncomfortable, it's very hot, I feel quite vulnerable and, strangely enough, claustrophobic. Some people have tried on the helmet and can't wait to take it off. Fortunately I can deal with it.
"It's all part of why I am wearing the suit. People who suffer from the condition will say they feel vulnerable as well because of the physically draining aspect of the condition and the emotionally draining aspect of the condition, where your mind wants to do something but your body won't let you."
Nigel has been training in the gym and it is there where he will begin his challenge on Saturday, April 4. He will walk along a 20m strip at JD Gym in Wigan a total of 80 times to reach a mile!
Future locations for his miles include Haigh Hall, Rivington, Manchester city centre, Albert Dock in Liverpool, Snowdon and the Wigan 10k.
Nigel aims to raise £5,000 for charity FORME to fund research into the debilitating condition.
He has the backing of Marston's brewery, which is producing beer mats promoting his appeal, to be distributed to pubs around the country, including the Balcarres Arms and Boar Head in Wigan.
He is also being sponsored by Uncle Joe's mint balls.
To sponsor Nigel, go to uk.virginmoneygiving.com/NIGELBROOKWELL.