Wigan man's new children's book teaches children about depression
A new children's book is set to help youngsters to learn about depression.
Thursday, 29th April 2021, 4:36 pm
Updated
Thursday, 29th April 2021, 4:38 pm
A new children's book is set to help youngsters to learn about depression.
My Uncle Has Depression is an illustrated book which tells the story of a rugby player struggling with mental health.
Written by Alex Winstanley, it follows on from his first successful children's publication, My Grandma Has Dementia.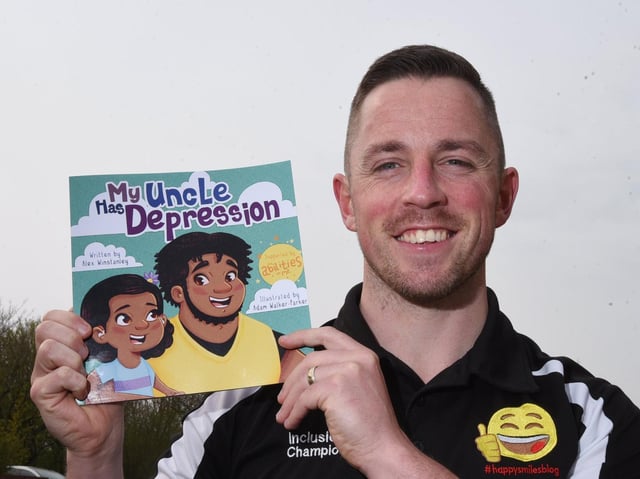 Alex Winstanley has written My Uncle Has Depression
Alex hopes to make the sensitive subject, and the distressing emotions that come with it, easier for young people to comprehend.
Alex said: "I wanted to shine a light, not just on depression, but to show children the fact that anyone can have it, even big strong rugby players.
"I had conversations with people like Danny Sculthorpe and Paul Wood, who told us some amazing stories that really informed the book.
"I spoke to people at the Rugby League Cares charity and different people about the idea.
Alex has written two children's books
"Like dementia, depression is a massively taboo subject, it's just not spoken about, particularly among sports people. I thought if children can see that someone like a big strong rugby player can experience depression, then anyone can."
Alex went on: "I'm really pleased with it, we've had some great feedback from the charities.
"It's been informed by the stories of these former professionals.
"It's something I'm really passionate about, being a big rugby fan and hearing about the amount of people retiring from sport and experiencing depression - people you just don't expect it from.
"It was a real challenge, exciting but a real challenge in terms of getting it across in a child friendly and positive yet realistic way."
Alex had done reading sessions with the help of the council's half-term activities programme, and he has been amazed by the response from young people.
"It was great to have children talking about depression and asking questions about feelings, and who they can talk to if they ever feel low," he said.
"Things like that are great. They are picking up these things from just one reading of the book, so I just really hope that, like the dementia book, the same happens with this.
"It touches so many people's lives, and it's just not talked about.
"There's a big emphasis in the book on being aware of your feelings, and knowing who to talk to and how important it is to talk, not to brush it under the carpet.
"It's a strong thing to talk, not a weakness."
Alex's first book, My Grandma Has Dementia, was released in late 2020 and was inspired by his late grandma Mary, who battled Mixed Dementia for more than a decade.
It has received a whirlwind of praise and has even been read at a dementia centre in Sydney, Australia.
My Grandma Has Dementia and My Uncle Has Depression are available on Amazon.
All proceeds go to Happy Smiles CIC, a disabilities awareness group co-founded by Alex.
Thanks for reading. If you value what we do and are able to support us, a digital subscription is just £1 for your first month. Try us today by clicking here and viewing our offers.