Wigan mum praises 'phenomenal' schoolwear range that gives her son new found independence
A Wigan mum has praised a new range of schoolwear that is helping her son get dressed by himself for the first time.
Wednesday, 5th May 2021, 3:23 pm
Updated
Wednesday, 5th May 2021, 3:24 pm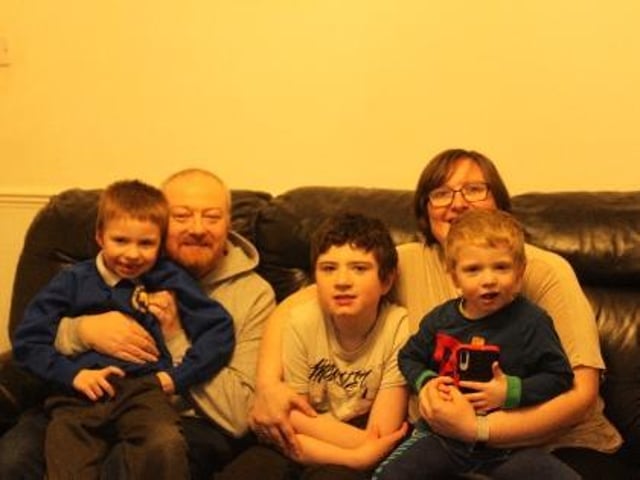 Dad Andrew Perry with sons Tom, Archie (centre) and Jack, and mum Louise
A Wigan mum has praised a new range of schoolwear that is helping her son get dressed by himself for the first time.
George at Asda has become the first supermarket retailer in the UK to offer clothing especially designed for children with specific or sensory-sensitive needs such as autism, through its Easy On Easy Wear range.
The new range includes classic school uniform items, but with special features, for example, buttons have been replaced with easy close fastening, although mock buttons ensure they look just like the regular range.
Asda's Easy On Easy Wear range
Research from George has shown that the move is sorely needed – eight out of 10 parents of children with specific needs say that it is difficult to get their children dressed every day. As such, nine in ten say they have become distressed or upset trying to dress their children or watching them try to dress themselves, with nearly half saying this is the case on most days.
Similarly, 90 per cent ay their children themselves often get distressed whilst trying to get dressed.
One such parent, Kitt Green mum-of-three Louise Perry, said the new clothing range had drastically helped her 13-year-old son Archie.
She said: "Archie can't fasten buttons on shirts properly, can't fasten his own shoes or anything like that. He also has sensory issues, and he would chew buttons off shirts and chew holes through his jumpers.
"He knows how he wants his body to work, but can't always get his body to do what he wants. He can't always find the leg holes or sleeves."
Louise reached out to Asda to explain the trouble Archie was having with his school clothes, and asked if there were any options for children with sensory needs. By chance, Asda was developing its Easy On Easy Wear range at the time, and invited Louise to get involved.
"They sent us some clothes to try, and they were phenomenal," said Louise.
"On the shoulder of the jumper, there are little poppers. For the first time ever, (Archie) put all his own clothes on, it was amazing. They look identical to normal clothes but they're so easy to put on and take off.
"What you get used to, as a parent of children with disabilities, is that anything you need specialised comes with a bigger price tag. Sometimes it can cost double or triple. This range is exactly the same price as regular clothes."
Louise went on: "In Wigan there are several special needs schools, and a lot of the mainstream schools will have children with dexterity issues. These clothes will go a long way to helping a lot of children.
"It impacts your whole independence when you can't even fasten a button. This is hopefully just the start which will lead to greater independence when (Archie) is older."
Tom Purser, Head of Campaigns at the National Autistic Society, said: "It's great to hear that George at Asda will be developing autism-friendly clothing for children. Parents often tell us how sensory sensitivities can mean that autistic children struggle with clothing, like an itchy label, a scratchy seam or an uncomfortable fabric.
"Finding clothing their children can wear can make shopping for clothes time consuming and stressful. Many parents have to scour specialist shops for everyday items that other families are able to buy easily.
"So, it makes a real difference when a major retailer takes this on. Simple changes like removing a scratchy label make an enormous difference. Around one in a hundred children are autistic in the UK – that's around 120,000 school-age children - and they deserve to have the same choices as everyone else. We hope that even more retailers will come up with similar ideas, and do their bit to help create a society that works for autistic people."