Wigan mum swaps careers to follow her dream of being an author
A mum-of-three forced to stop working during the coronavirus pandemic is now pursing her dream of becoming an author.
Thursday, 22nd April 2021, 10:16 am
Lea Reveley previously worked as a children's entertainer and set up Party Princess Hire in 2014, but found herself unable to work when the first national lockdown was imposed.
So she decided it was time to focus on her interest in writing, not only putting together her first book but also learning about self-publishing and setting up her own publishing brand.
Lea, 44, said: "I suppose I have always wanted to do it, but you just think you are not good enough. Because of the situation last year, I thought I had nothing to lose so I would try it and see what happened."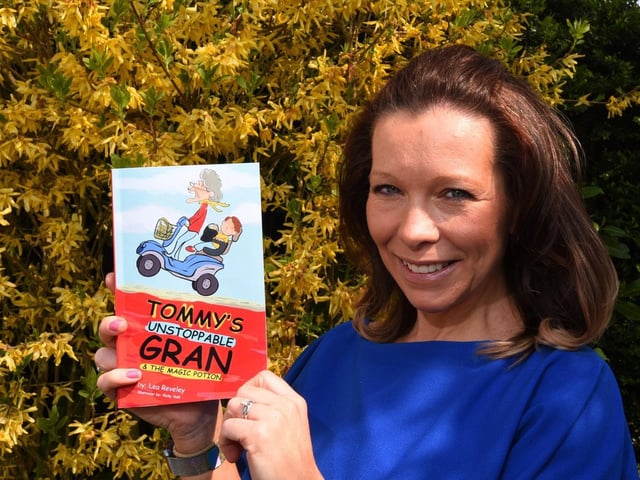 Lea Reveley with her book
She spent 12 hours each day writing the book and says she "absolutely loved it", describing writing as "kind of like therapy" during the pandemic.
Lea said: "I put so much into it. There is so much support out there for writers. I have worked really hard and produced something that's worth putting out there."
Tommy's Unstoppable Gran and The Magic Potion tells the story of a 10-year-old boy and his gran, who often finds herself in tricky situations, is accident-prone and hard of hearing, but has her grandson by her side to help her out.
Their lives change when they stumble across a mysterious book in a charity shop window, which leads to a meeting with the Queen and taking on robbers and dog snatchers.
The book is aimed at children aged seven to 12 and is available to buy from Amazon in both paperback and e-book, with an audio version on the way.
Lea decided to publish the book herself and set up Chestanelle Publishing - a combination of her children's names Chester, four, Stan, 10, and Ellie, eight.
The children proved to be invaluable when Lea, from Astley, was writing the book.
She said: "My children absolutely love it. They were my first readers. It's changed a lot since the first version but they have read every version. Ellie likes to mark it like a teacher and will make lots of notes. Some of her changes I have put in,"
She is now working on her second children's book and hopes she can turn her new passion into a career.
"I'm loving it so much that it doesn't feel like it's work," she said.
"You never know how these things will go once they're out there. If it ends up just being a hobby then so be it, but hopefully I will get some sales."
The book is for sale now, with Lea also planning to secretly leave signed copies in parks and playgrounds for people to find and take home.
​Thanks for reading. If you value what we do and are able to support us, a digital subscription is just £1 for your first month. Try us today by clicking here