CHARLES GRAHAM: Making the most of a bad uni situation
Empty nest syndrome has struck the Graham household after the younger of our two children was deposited at his university over the weekend.
Published 1st Oct 2020, 10:56 BST

- 2 min read
Updated 1st Oct 2020, 11:00 BST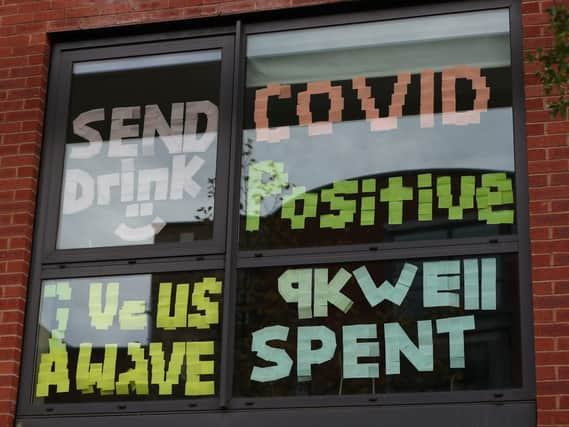 How long he'll stay there though is anyone's guess at the moment.
As we were taking him in a car bursting at the seams with possessions, speculation was rife that students might not be permitted to come home for Christmas because it would precipitate the spreading of coronavirus among older generations.
But that was five days ago. Since then it has been suggested that the arrival of undergraduates for the start of the new academic year be paused because there have already been large outbreaks on several campuses. And the latest is that students already there should be sent home.
Indeed, some teenagers in Scotland have already taken it upon themselves to return to their families, not so much because of the Covid risk, but because they were getting so little of the university experience, both in educational and social terms.
And with most lessons conducted online (all of my son's are going to be for now) and the talk now of a North of England-wide tougher lockdown involving the shutting of all pubs and sit-down restaurants indefinitely, you wonder what incentives remain in this country to pay those huge course and accommodation fees that the universities clearly need to keep rolling in.
It's very true that the likes of my lad aren't going to get anywhere near their value for money at the moment and I feel so desperately sorry for them. I'm not the first to mention that gaining a higher education degree via the Open University is a heck of a lot cheaper.
But I do hope that they don't send the students home (and that's not just because we're enjoying the peace and tidiness in Wigan!)
There is still much to be gained from the independent living experience, exploring a new city and making friends, tough as it may be for now.
And unless you take the bleakest view of vaccine forecasts, this isn't going to last forever.
Bringing home students now could simply bring forward the infection situation feared for Christmas and leave some universities so short of cash they might have to axe courses and even departments.
The students are caught between the devil and the deep blue sea, but at present I think they are best staying at university with their peers who are at a low risk of serious infection, and where they can still make the best of whatever academic, social and city life is available to them until times improve.
The Wigan Post is more reliant than ever on you taking out a digital subscription to support our journalism. For unlimited access to Wigan news and information online, you can subscribe here: https://www.wigantoday.net/subscriptions