Neighbours anger after popular Wigan playing field fenced off
Neighbours have been left angry after a metal fence was erected on a playing field popular with dog walkers.
Published 11th Mar 2021, 07:00 BST

- 2 min read
Updated 11th Mar 2021, 10:30 BST
It was today described as "a real kick in the teeth" after developers sealed off the much-loved green space, off Langham Road, Standish which is to be used as an 80-home extension to the existing Wainhomes estate.
It is the latest greenfield area to be lost to homes in Standish in a building programme which will see more than 1,000 new houses in the village.
Wigan Council backed the planning application for the field in 2016 – despite objections from Standish Voice and others – but only now has fencing been put up ahead of construction.
Residents' group Standish Voice wants the town hall to admit there has been too much housebuilding over too short a period and wants it to pledge to protect the area's remaining green spaces.
A group spokesman said: "There has been real anger that this field has now been fenced off by developers and people cannot walk or exercise their dogs on this land. It is a real kick in the teeth, especially during a pandemic when all people can do is exercise. This is obviously of no concern at all to Wainhomes, which should have waited until lockdown ceased.
"Wigan Council gave planning permission in 2016, despite hundreds of homes already being planned nearby. We objected strongly and put our concerns in person at the planning committee, but these were brushed aside. Standish Voice and our councillors have pushed the council into agreeing that all developer money to the local authority should be spent in Standish but, for many people, it does not compensate for the permanent loss of this green space.
The group called on the council to admit its local plan policies from 2013 "totally failed" Standish people and the housebuilding has been "far too much and far to quick" for any community to cope.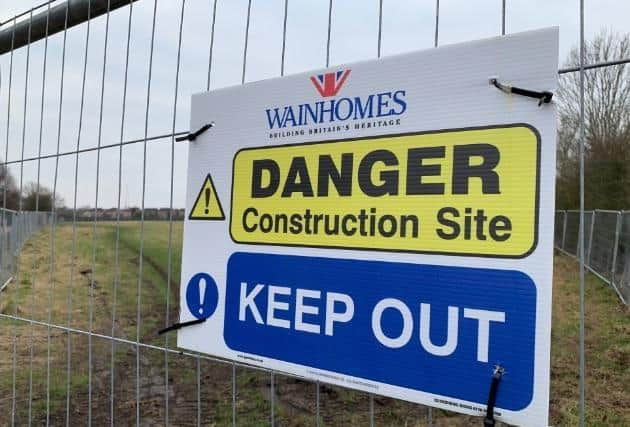 The spokesman added: "We want the council to pledge that they will now robustly defend Standish's remaining green spaces against development, which is what Standish Neighbourhood Plan is trying to do. That plan – created by Standish Voice – was agreed by 95 per cent of voters in the village and shows the depth of feeling here."
Standish councillor, Ray Whittingham said: "The start of building on this field, which was granted permission back in 2017, is just the latest sign of the true impact of the excessive number of houses which have been passed in Standish by Wigan Council. Cllr Marsh and I will be fighting to make sure that Wigan Council realises that Standish has had far more than its fair share of houses.
"The fact is, they need to do more in the new local plan and the re-badged GMSF to protect Standish's remaining greenspaces."