Former boss at Lake District outdoor centres speaks of their value
Geoff Cooper was head of centres responsible for running Hinning House and Low Bank Ground in Cumbria for more than a quarter of a century between 1983 and 2010.
Friday, 2nd April 2021, 12:34 pm
Updated
Friday, 2nd April 2021, 12:34 pm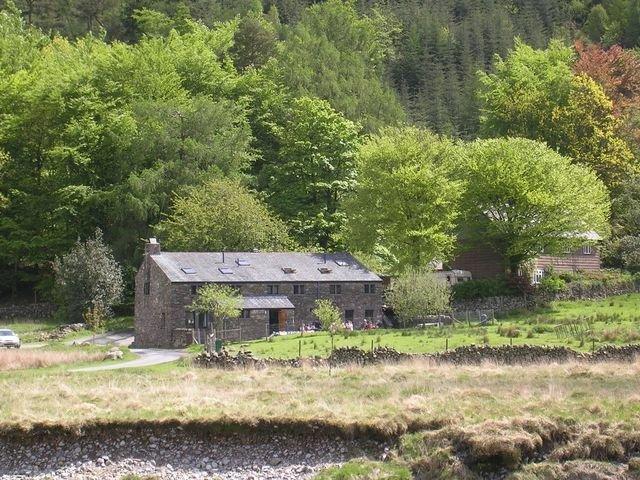 Hinning House
He spoke of how much children across the generations have got out of school visits to the Wigan Council owned facilities after it was revealed that the centres' future is up in the air.
The local authority is about to review its arrangements with the Brathay Trust, which currently manages the two facilities.
But a letter seen by the Wigan Observer suggested the trust is looking to buy Low Bank Ground, located on the shores of Coniston Water, but does not have sufficient cash to purchase Hinning House in the Duddon Valley as well.
Geoff Cooper with a group of youngsters at Low Bank Ground
That leaves the centre not far from England's highest peak Scafell Pike facing an uncertain future.
News of the cloud over the centres provoked a massive social media response, with Wiganers sharing memories of their trips to the stunning landscapes of the Lake District.
And now Geoff, who is retired but still lives in Coniston, told of how much he enjoyed welcoming the Wigan groups to Cumbria and seeing how much they got out of the change of surroundings and the new experiences on offer there.
He said: "There was something wonderful about children coming from a big town to the countryside for the first time.
"We did a whole range of activities like canoeing, climbing, orienteering and sailing. For a lot of those children it was their first opportunity just to be out in the countryside or in a wild place and see sheep or cows.
"As well as trying the activities there was the inspiration they got from spending a week together with their teachers and seeing them in a different light in a more informal setting.
"Teachers often said to us that children who didn't do particularly well at school came out of their shells. A phrase that was used a lot was that it unlocked talents.
"Children who were timid in school would suddenly be leading a group outdoors and would surprise their teachers. I always remember that.
"It was amazing to see so many comments from adults who had come as children and how strong those memories still were. It was terrific and really nice to read those.
"It was a great pleasure to work with the children from Wigan. I remember at Low Bank Ground we used to clean boots with wax and I would tell them it was cow's earwax."
Geoff said the two centres welcomed a huge variety of groups during his time in charge, from older primary school children to pupils at secondary schools doing fieldwork in subjects such as geography and science.
The centres have also hosted special schools for children with disabilities and creative workshops where youngsters worked on art or with writers.
They also put on international events bringing Wigan children and youngsters from countries including Greece, Spain and Italy together, funded by the European Union.
Geoff also suggested that after the past 12 months, where people have had to stay at home most of the time to slow the spread of Covid-19, the trips to the Lake District could be more important than ever over the next few years.
He said: "At the moment kids are being kept indoors during Covid and the outdoor centres are places which can give them confidence, interpersonal skills and the ability to work together in teams."
Geoff said the Brathay Trust has done a good job running the two centres and acknowledged that both the charity and the council face tough decisions with dwindling budgets, high needs for services and the lack of income currently being generated by the Cumbrian facilities due to the novel coronavirus.
Nevertheless, he said they remained hugely valuable and it would be a very sad day of either of them had to be sold off.
He also paid special tribute to Hinning House as the letter mentioned it was the one the Brathay Trust was going to be unable to buy.
He said: "The centres are very powerful places and give children something that remains with them for the rest of their lives.
"It would be a great shame even to lose one.
"Hinning House is a very special place because it is right up in the mountains. There was an amazing atmosphere created in that little centre."
Cath Pealing, assistant director of education at Wigan Council, said: "For 10 years the Brathay Trust has been supporting children and families in Wigan borough from Low Bank Ground and Hinning House.
"We recently extended our contract with the trust for an additional six months.
"We are also in the process of reviewing the existing service and delivery options for the future."
Godfrey Owen, the Brathay Trust's chief executive, said: "Brathay Trust has been delivering outdoor learning programmes for Wigan schools, supporting 2,500 young people each year.
"The contract has been extended from April 2021 for six months and we understand the council is reviewing the existing service and delivery options for the future.
"Brathay remain committed to continuing to offer an outdoor learning experience for Wigan's young people."
South Lakes MP Tim Farron has entered the debate about the two centres.
He said: "This is really worrying news but is sadly typical of what is happening to so many outdoor education centres," he said.
"We are blessed with many amazing outdoor education centres in Cumbria but they have been treated as an afterthought by this Government and now their futures are at serious risk.
"I've written to the Prime Minister, the Chancellor and the Education Secretary this week, pleading with them to act and save these centres by giving them a clear roadmap to reopen and providing them with sector specific financial support, like the governments in Northern Ireland and Scotland have done."
If you value what we do and are able to support us, a digital subscription is just £1 for your first month. Try us today by clicking here and viewing our offers.