Political row erupts over funding to 'level up' town
Labour and Conservative politicians in Leigh have clashed over the consequences of Brexit and what comes next.
Published 18th Jan 2021, 09:43 BST

- 2 min read
Updated 18th Jan 2021, 09:49 BST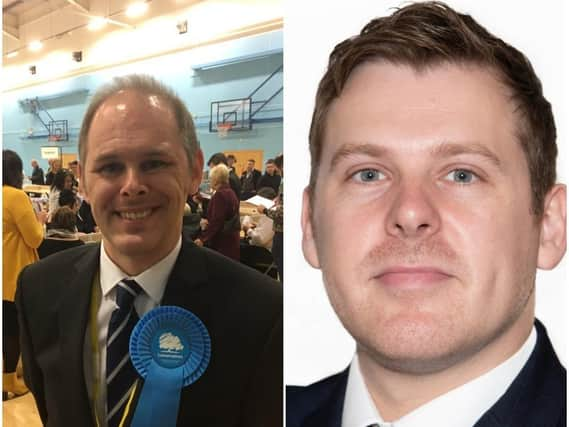 Dane Anderton, who is secretary of Leigh Constituency Labour Party (CLP) and also a councillor for Leigh West ward, initially challenged Conservative MP for Leigh James Grundy.
Mr Anderton said that while he was pleased the UK had a deal it had to be acknowledged there would be negative consequences to departing the European Union (EU), citing the UK no longer being part of the Erasmus scheme.
He also expressed a desire to see Mr Grundy doing more to turn around the fortunes of Leigh.
However, Mr Grundy replied with a furious blast at local Labour politicians, claiming the red rosette was the reason for many of Leigh's problems.
Mr Anderton said: "I want to be realistic about Brexit. I'm glad it's done but the devil will be in the detail.
"Some people won't feel the effect but others will, especially aspiring students looking to study abroad. I'm concerned about this as Leigh has low social mobility.
"It's now about the levelling-up agenda and I want to get serious about what comes next.
"We need Mr Grundy to tell the Government that Leigh needs serious money investing in it. We got nothing from the towns fund and a fraction of our bid from the high streets fund. We've also lost infrastructure like the link road.
"We need Mr Grundy to focus on that. We need him to get ministers to give Leigh the infrastructure it needs to bring the town up to compete."
Mr Grundy said: "Many of my constituents in Leigh will find the claim by the local branch of Wigan borough's Labour Party that the Government isn't doing enough to ensure Leigh receives a fair share of funding completely outrageous, given that Labour-controlled Wigan Council is spending almost 25 times as much money on regenerating The Galleries in Wigan town centre as they are on regenerating the whole of Leigh town centre, to give just one example.
"They themselves are the biggest obstacle to ensuring that Leigh gets the funding it has long deserved, in the way that they have governed Leigh from their seat of power in Wigan.
"I have fought, and will continue to fight, for the communities that make up the Leigh constituency to get the funding they need to restore them to their former glory, as they were before we became part of Wigan Metro in 1973, when we were a thriving and independent town.
"I believe the Turing programme for students will provide wider benefits, including greater social mobility for students in communities like Leigh, as it is specifically targeted at helping people from disadvantaged backgrounds, when the previous Erasmus programme was not, and will provide exchange opportunities around the world, rather than just Europe."
If you value what we do and are able to support us, a digital subscription is just £1 for your first month. Try us today by clicking here and viewing our offers.