Residents prepare for battle over council plans to build on green space
The neighbours are desperate to stop the town hall building bungalows and apartments on open land opposite their houses.
Monday, 10th May 2021, 7:00 am
Updated
Tuesday, 11th May 2021, 3:16 pm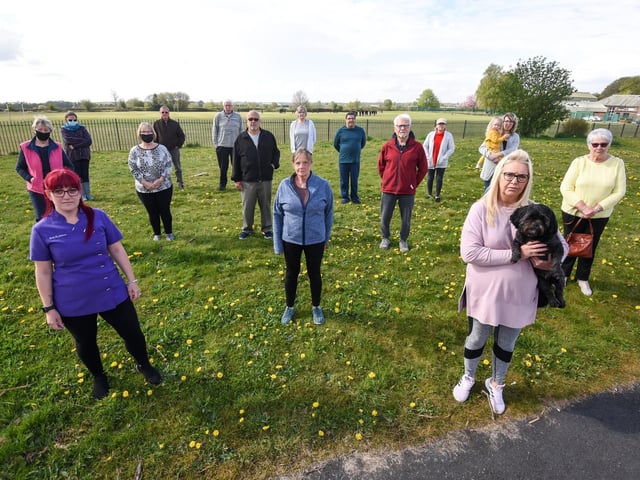 Residents want to prevent open land on York Street in Leigh being built on
Residents of York Street in Leigh were horrified to receive letters from the town hall explaining the site had been earmarked for potential future development.
Correspondence from Wigan Council says the local authority is thinking about building a number of one and two-bed bungalows for older or disabled people along with a small independent living scheme for people with autism and other learning disabilities as well as support staff.
Residents say it would also mean losing an open space which has become all the more valuable to the community during the past 12 months of lockdowns and the Covid-19 pandemic.
A Facebook group has now been formed in an attempt to save the green space from being built on.
The council says residents' views are being taken into account but still believes the site, which has previously had housing on it, is a viable option to help meet an increasing need for affordable and supported housing.
Carol Gray, one of the group's founders, said: "The land they want to build on is beautiful, I bought my house here because of the outlook.
"We've used it for Jubilee parties, kids' birthday parties and other events. We've not got a pub or a shop near here, it's our only community asset.
"It's also kept us sane during lockdown. We did socially-distanced quizzes and bingo for the street there.
"We just want the street to stay the same as it is. The development will bring more traffic and people with mobility scooters already struggle and don't feel safe.
"We're not objecting to the nature of the proposal, it's just in the wrong place."
Residents also criticised the council for originally informing them of the plans by letter just two days before Christmas and suggested they feel the town hall is not doing enough to listen to their concerns
Another of the group's co-founders, Julianne Foster, said: "The whole community is outraged by the proposals as the green space is a safe space for everybody's children to play on.
"I feel like the development team is not taking any notice of us and isn't bothered.
"This is a small estate and it impacts everybody. They've not taken that into consideration."
Residents now want to hold a socially-distanced meeting on the green space itself with town hall employees to air their views about the plan.
The town hall said neighbours' feedback has already been incorporated into the work and there will be more opportunities for them to have their say.
Jo Willmott, assistant director for provider management and market development said: "The number of people desperately in need of affordable and specialist housing in the borough has increased significantly in recent years.
"The council is helping to address this shortage by constructing new affordable housing ourselves, including much needed housing for elderly and disabled people.
"We are committed to providing more high-quality accommodation for our residents with additional needs to ensure they are supported and can live more independently.
"York Street is a site of previously demolished housing that the council is seeking to re-develop with a small scheme of eight bungalows for older or disabled residents, a supported housing scheme with five apartments for adults with learning disabilities or autism, and community play area.
"The site has been identified as a viable option to achieve this and after engagement with local residents, their feedback and insight has helped to shape the final scheme design.
"This includes the addition of a community play area in response to the concerns about the loss of community outdoor space, specifically for children and young people.
"Of course, if brought forward, this scheme will be subject to a formal planning application and members of the public will be invited to submit their views, which will be considered before final decision is made as to whether to proceed with the plans."
To find out more search for Help To Save Our Green Space York Street on Facebook.
If you value what we do and are able to support us, a digital subscription is just £1 for your first month. Try us today by clicking here and viewing our offers.